Big city PBR creates small town magic in Big Sky
By : Darci Miller
December 07, 2018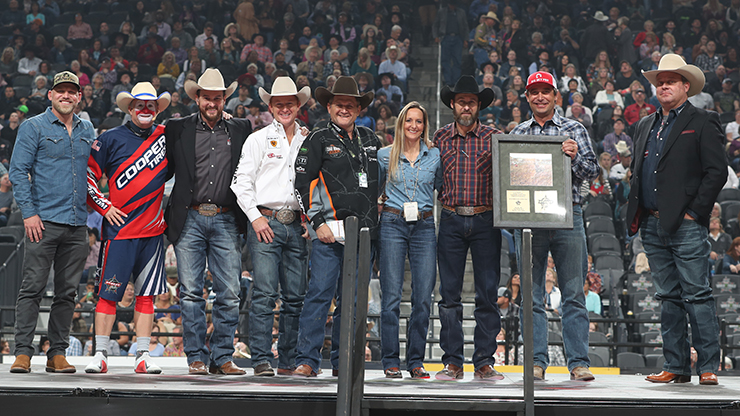 PUEBLO, Colo. – When the PBR first came to Big Sky, Montana, nine years ago, it took an effort from the whole community to even pull it off.
Bleachers were brought over from the local softball field. People sat on hay bales or stood on a semi truck. The local raft company brought their buses down for people to stand on and look over the bleachers.
"The first year, I would kind of compare it to when they built the Field of Dreams in that movie," Eric Ladd, CEO of Outlaw Partners, said. "It was literally the community coming together."
Ladd and Outlaw Partners, a Big Sky-based marketing, media and events agency, have been involved with the Big Sky PBR since those humble beginnings. He's seen the event grow into a PBR institution and, at the 2018 PBR World Finals in Las Vegas, receive its sixth consecutive Event of the Year award.
The event has grown and changed in countless ways. There is now a permanent arena to host the three days of bull riding, expanded from two days after tickets for the 2018 event sold out in 8 minutes. There are four days of activities, including a charity golf tournament, an art auction, numerous concerts and more.
At the 2018 edition of the event, Colten Jesse took home the win with a 91.5-point ride aboard No Prisoners in the championship round. Montana native Matt Triplett, who won the event in front of his home state crowd in 2017, came in a close second.
"We live for this event every year," Ladd said of the Big Sky community. "This is our rallying point on an annual basis. We're very proud of this event. We call it the Big Sky prom every year because everybody gets dressed up. It's our cowboy prom. People put the rhinestones on and their cowboy boots and play cowboy or cowgirl for the night."
The Big Sky PBR is inextricably linked with the local community. According to analysis by Rob Gilmore of Circle Analytics, "Big Sky's Biggest Week" has an economic impact on the community of $3.4 million, including $1.1 million in spin-off benefits as the dollars circulate through the local economy. Approximately $2 million is retained within Gallatin County.
The local impact extends beyond dollars earned and into dollars raised for charity.
"One of the premises that we launched the event from, since the beginning, was to have a strong charitable ethos and be able to raise and give back money to the charities, and that has carried through all the years," Ladd said.
In 2018, $75,000 dollars was raised for the Rider Relief Fund and various local charities.
But lest one think this is a purely local event, those that have attended Big Sky know that this is no backyard bull riding.
"What hasn't changed is that the PBR crew that has come, with it being Flint (Rasmussen) and Brandon (Bates) and Andy Watson and Jacey Watson and the sound guys, it's the same crew that has come every year," Ladd said. "We've had that A+ show since we started.
"This is the same show that's in Madison Square Garden or in Las Vegas, and it's coming to our little town and 3,000 fans get to witness this show. We have those A talents on the dirt here, and then Chad Berger bringing out these A+ bulls. It's magical to get that big city show in a small setting."
Ladd uses the word "magical" numerous times in describing what transpires in Big Sky, and it's not just him. It's a word that's often used to describe the event that has become an institution on the PBR circuit, one that riders and fans alike look forward to each year.
So what is it about Big Sky that makes it so special?
A combination of it all: the big show in a local setting translates to a high-energy, intimate event in an open-air arena in the shadow of Lone Peak.
"There's not a bad seat in the house," Ladd said. "Everybody's down close to the dirt. We're hungry for this event, so our fans, I would say the majority of the time, they're on their feet cheering or dancing along with Flint and the songs or cheering on the riders. So the energy is not like a typical rodeo or PBR. People are really into this.
"We have an appreciation for that Western lifestyle, and I think the ethics and excitement that comes with a bull riding event blended perfectly with the Big Sky and Montana ethos and community."
The mythos has spread far beyond the Montana state lines, as PBR fans from around the country have begun to make the pilgrimage to experience the magic for themselves. Even fans that haven't been have been converted.
"One of the things that I chuckled at when I was in Vegas receiving the award is I looked into the stands and there were people wearing Big Sky shirts and hats," Ladd said. "And they're not from here, and I gained a lot of pride seeing that there are PBR fans from around the country who are watching it on RidePass or who are coming out to watch the event.
"Montana's on the map for PBR now. You look at the fact that you had a World Champion rider like Jess Lockwood come out of here. You've got great riders like Triplett. You've got Flint. You've got the Watsons. And you've got the Big Sky PBR event. So I like to kind of joke that I think, look out. Montana's a force to be reckoned with."