Monster Energy Expands Relationship with Professional Bull Riders
By : Andrew Giangola
January 05, 2018
Brand Takes Primary Position in Four PBR Tours, including elite PBR 25th UNLEASH THE BEAST TOUR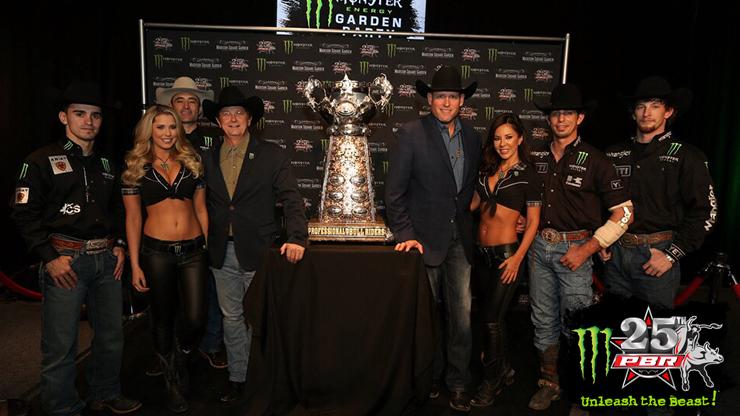 NEW YORK — Professional Bull Riders (PBR) and Monster Energy will announce a significant partnership expansion as PBR begins its 25th anniversary season Friday night at Madison Square Garden in New York. PBR and Monster are making the announcement at the Monster Energy Buck Off at The Garden, a PBR "Major" it has title sponsored the past six years.  
Through this partnership, Monster, which has sponsored PBR riders and events since 2011, will have the primary marketing rights to PBR's 25th anniversary tour, now called PBR 25TH UNLEASH THE BEAST TOUR.  
The multi-year agreement makes Monster PBR's largest global partner and will see Monster become the primary partner for the major PBR tours in Australia, Brazil, Canada, and the U.S. Globally, PBR annual attendance is 3 million fans, and the sport is available in more than 400 million homes on television.  
"Monster and the PBR have built a great relationship over the years," said Mitch Covington, vice president sports marketing, Monster Energy. "The courage, the toughness and the try of these athletes represents Monster very well. We're very excited to take this next step and become the primary brand sponsor of the PBR's 25th anniversary season."
"Monster Energy and its 'unleash the beast' mentality are the perfect complement to a sport that has been unleashing bovine beasts in arenas across the country for 25 years," said Sean Gleason, CEO, PBR. "We are proud to expand our relationship with the bold, exuberant, risk-taking brand that has been a long-time supporter of our great bull riders and animal athletes as we celebrate the 25th anniversary of the toughest sport on dirt." 
Monster became an official league partner in 2013. Monster's stable of riders now includes two-time World Champion J.B. Mauney (2013, 2015) World Champion Guilherme Marchi (2008), Gage Gay, Derek Kolbaba, Jose Vitor Leme, Chase Outlaw, Mason Lowe, and Robson Palermo.
The brand has also supported some of PBR's most attention-grabbing events and marketing experiences such as PBR Monster Energy Bulls on the Beach, a 2014 event held in Huntington Beach, Calif. for championship points that aired on CBS; as well as a promotional demonstration bucking bulls in front of TLC Chinese Theater on Hollywood Boulevard to promote the 2015 premiere of the film "The Longest Ride."
The PBR's elite series, which awards its annual champion with a million dollar bonus and gold belt buckle each year, had previously been known as the PBR Built Ford Tough Series. Ford remains the official vehicle of the PBR.