Burtenshaw will forever cherish final celebration in Sydney despite result
By : Justin Felisko
June 10, 2018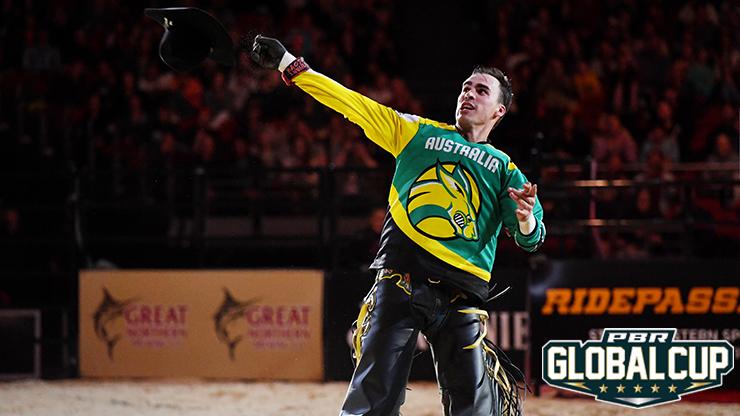 SYDNEY, Australia – Qudos Bank Arena was rocking by the time Nathan Burtenshaw was being engulfed in a sea of cowboy hats after ending the Sydney Global Cup with a qualified ride aboard SweetPro's Enemies Everywhere on Sunday night.
Burtenshaw slammed his chest as Team Australia in their green and yellow jerseys on the back of the bucking chutes began to jump up and down and make their way toward him.
PBR Australia champions Troy Wilkinson and Fraser Babbington stormed the dirt before Burtenshaw escaped their grasps and threw his own black hat with authority back toward the chutes.
Team Australia was pouring onto the dirt.
It was everything head coach Troy Dunn had preached for the last week.
Three days of training camp in Woree, Australia, had created a special bond between the 14 riders that represented the Land Down Under.
Team chemistry. Unity. Passion. Riding for your fellow man.
Everything appeared set for Team Australia to defend their home soil.
Everything.
Except the score.
The energy was sucked out of Qudos Bank Arena and replaced by a Brazilian party on the opposite side of the dirt as a score of 84.75 points appeared on the jumbotron.
Team Australia came up 0.75 points shy of the Global Cup victory on the final ride of the event.
It was a crushing blow for the Aussies as they battled back and forth all weekend with the bull riding powers from Brazil, Canada, Mexico and the United States.
RELATED: Nunes: 'This one was the hardest to win'
Burtenshaw couldn't help but shake his head over and over as Team Brazil belted out their national anthem and received the Australian's soil from Dunn.
"It could've went either way I guess," Burtenshaw said. "If we were in front, it could've been extra points. It's just what happens. Nonetheless, everyone tried their ass off. I guess we didn't take enough opportunities. The first night we didn't take enough opportunities when we should've, and that's what these things are about – taking opportunities. I guess there are a lot of young guys that don't really know that yet. It's just a learning curve for everyone and hope it doesn't happen again."
Burtenshaw gave a Herculean effort to his country this weekend.
The 24-year-old learned he had torn his left ACL a week earlier at the Cairns Invitational and he still went on to go 3-for-3 in Sydney and nearly lead the Aussies to victory.
Burtenshaw began the Sydney Global Cup with 78.25 points on Freight Train Saturday. He then rode Kudu Kid for 81.5 points on Sunday in Round 3.
The 6-foot-2-inch bull rider had missed 46 days of competition until returning in Cairns last weekend following surgery to fix his broken right collarbone on April 18.
"He's a class act, ol' Burto," Dunn said. "He's got a lot of experience over there (in the United States), and I couldn't be prouder of all the fellas. We did everything we could. From the start of the camp all the way through here. I did all I could to try to get them ready, and they did what they could, and that's what makes it so interesting I suppose. That's what people pay money to come and watch. We came up short.
"Sometimes a hard-fought loss is better than an easy win. It's never going to be easy, but the boys can take a lot out of it. Next time."
RELATED: Team USA once again receives monumental performance from Davis
Burtenshaw originally was slated to face 2016 PBR Australia Bull of the Year SweetPro's Hillbilly Deluxe in the Bonus Round.
However, when Burtenshaw nodded for the gate Hillbilly Deluxe just stood there and refused to leave.
Burtenshaw tried to re-set and get out with Hillbilly Deluxe to no avail and was awarded a re-ride.
"Obviously a bit frustrating," Burtenshaw said. "I was very freaking scared at the time. But yeah, I don't know. That bull is usually pretty good. It's just one of them things I guess.
"It just wasn't meant to be."
Team Brazil won the Sydney Global Cup with their best 12 rides equaling 1,006.5 points. Australia finished runner-up with 1,005.75 points.
Dunn paused when asked if he felt the ride was scored correctly, opting to only say he would like to watch the ride back before coming to a conclusion.
That moment at the end, though, was a credit to the chemistry Dunn built during those three days at the Big4 Ingenia Holiday Cairns Coconut Resort last week.
Training sessions, rugby games, boxing matches and late-night convos all helped create something special.
"That's right," Dunn said. "That's what we worked for. They did a lot of work to get up and they did a lot of work through the week. They've done a lot of hard yard through the years and I thought they deserved it. But anyway the Brazilians must've worked harder."
Burtenshaw said that he will forever remember the celebration at the end regardless of the final outcome.
"Yeah, I'll never forget that," Burtenshaw concluded. "It's good to win, don't get me wrong, but it's even better to have fun with your friends, and this is what it's all about. It's going to grow. It's going to get better, and it's moments like that that's going to make it better.
"I'm just grateful to be on the team and grateful to be with my friends and have Troy to coach me. It was definitely a special moment and I hope it gets bigger and better next year."
Follow Justin Felisko on Twitter @jfelisko