Pendleton Whisky Velocity Tour
2017 rookies could be even better in '18
By : Justin Felisko
December 04, 2017
The 2017 rookie class may have only touched the tip of the iceberg when it comes to what their future success may be.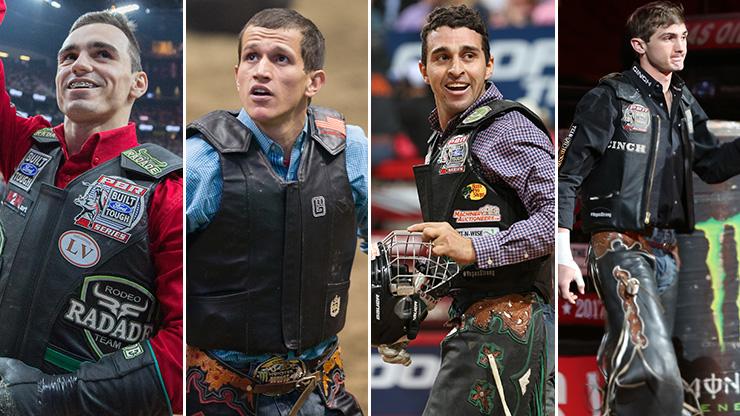 PUEBLO, Colo. – Dener Barbosa became the first rookie from the stellar 2017 rookie class to earn a victory in 2018 after he went 3-for-3 to win the Real Time Pain Relief Velocity Tour event in Huntington, West Virginia, this past weekend.
If not for Jose Vitor Leme's 6-for-6 performance at the World Finals, Barbosa easily would have been the 2017 Rookie of the Year winner after putting forth one of the best rookie seasons in PBR history.
Barbosa's 36 qualified rides fell one short of Kaique Pacheco's rookie record (37), and his 36 rides is tied with 2008 Rookie of the Year Reese Cates for the second-most in PBR history.
However, Barbosa was far from the only talented rookie in this year's class.
There were 12 rookie eligible riders to crack the Top 30 of the world standings at some point this year.
Seven rookies – Leme, Barbosa, Claudio Montanha Jr., Cody Teel, Luciano de Castro, Brennon Eldred and Ramon de Lima – finished 2017 ranked in the Top 30, which is the most in the last five years.
Those seven riders went a combined 147-for-342 (42.98 percent) with three event wins, a 15-15 Bucking Battle victory, 19 Top-5 finishes and 36 Top-10 placements.
Historically the PBR Rookie of the Year title comes down to two or three riders, while 2017 featured a close knit race between Barbosa, Montanha Jr., Teel and Castro for the majority of the season.
J.W. Hart, the PBR's inaugural Rookie of the Year winner, said the 2017 rookie class as a whole is one of the deepest in recent memory, but he cautioned that one good year won't matter if the group doesn't continue to progress and get better in future seasons.
"If those guys come back and they all ride good, a lot of guys come in and have one good year," Hart said during the 2017 World Finals. "Put 12 years together, put a Mike Lee string together, then it gets really impressive. The rookie field is deep. There will be one or two that are stars here, and they will shine brighter than they ever will now, but someone is going to be brighter."
Without taking anything away from Leme's World Finals domination or Barbosa's strong run, Hart pointed out two rookies that he think may take the next step in a few years.
"I think Eldred will have a good shot at them," Hart said. "Claudio and him will be my two favorites to excel three years from now."
Eldred finished his first PBR season ranked 27th in the world standings and sixth in the rookie standings. Eldred is set to compete at the upcoming Wrangler National Finals Rodeo, which begins on Thursday.
Meanwhile, Montanha easily could have been the Rookie of the Year if he was a part of a different class of rookies.
Montanha finished third in the final Rookie of the Year standings despite having one of the best rookie seasons in PBR history.
Only four Rookie of the Year winners since 2000 – Pacheco, Joao Ricardo Vieira, Silvano Alves and Reese Cates – had more qualified rides than Montanha's 32 rides in 2017.
Montanha is off to a good start to 2018 with a second- and fourth-place showing at two Real Time Pain Relief Velocity Tour events.
Three-time World Champion Adriano Moraes believes Leme will one day be a PBR World Champion, but he reiterated his belief that Castro may still become the best rookie in this year's class.
Castro was the third highest-finishing rookie at the World Finals after his 3-for-6 performance led to a ninth-place finish in Las Vegas.
Moraes said at the World Finals that Castro's showing was the kind he had been waiting to see since Castro made his debut on American soil in the fall of 2016.
"We haven't seen Luciano yet," Moraes said. "The reality I have seen with Luciano (in Brazil), we have not seen yet. He had some family problems. Some relationship problems that have bothered him this year. You saw what he is (at the Finals). That was no fluke. That was solid. That was as good as it can be.
"I believe in all this group."
It is then hard to not mention 2012 PRCA champion Cody Teel.
The 25-year-old finished fourth in the Rookie of the Year race and 14th overall in the world.
Teel went 22-for-61 on the PBR's Premier Series and was one of three rookies to win an event this year. He was also the only rookie to win an event and a 15-15 Bucking Battle.
"This rookie class has been so stacked," Teel said at the Finals. "At the PBR, the level of competition has been getting better and better, from the bulls to the riders, every year. I am really happy to be here. It has really lit a fire in me being here."
Follow Justin Felisko on Twitter @jfelisko
FINAL 2017 ROOKIE OF THE YEAR STANDINGS
Jose Vitor Leme
Dener Barbosa
Claudio Montanha Jr.
Cody Teel
Luciano de Castro
Brennon Eldred
Ramon de Lima
Koal Livingston
Troy Wilkinson
Cody Rodeo Tyler