First PBR Major Iron Cowboy 
takes place at AT&T Stadium on Feb. 28
By : Jordan Marie Johnson
February 26, 2015
Six PBR bull riders will have the chance at $1 million during richest weekend 
in Western sports.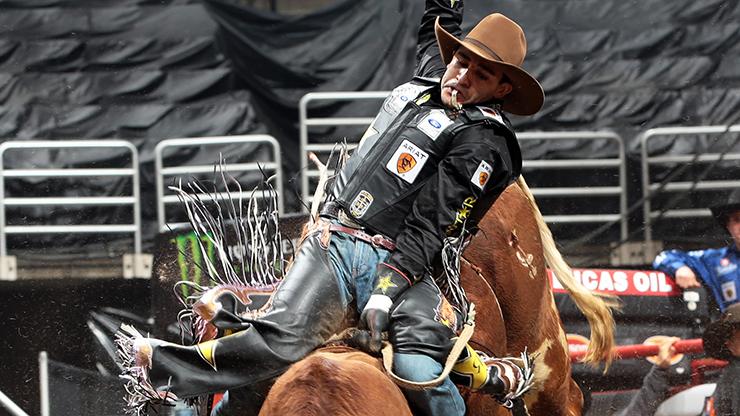 ARLINGTON, Texas – For the first and only time during the 2015 season, the Professional Bull Riders (PBR) Built Ford Tough Series will stop in Texas this Saturday with the Choctaw Casino Resort Iron Cowboy powered by Kawasaki Strong, taking place at AT&T Stadium in Arlington on Feb. 28 beginning at 5:50 p.m.
As the first of four PBR Majors, Choctaw Casino Resort Iron Cowboy powered by Kawasaki Strong will feature the Top 40 riders in the world competing in an updated format event, offering increased prize money and increased PBR world points. The total prize purse is now $250,000, up from $150,000 in previous years, with the winner receiving a guaranteed $180,000 including the $100,000 Bad Boy Mowers Bonus.
The Choctaw Casino Resort Iron Cowboy powered by Kawasaki Strong kicks off the richest weekend in Western sports history. Tickets, ranging in price from $20 to $150, can be purchased at the AT&T Stadium Box Office, all Ticketmaster locations, ticketmaster.com or by calling (800) 745-3000.
Alongside the Top 35 bull riders in the world, the winners of five PBR's BlueDEF Velocity Tour (BDVT) events have also been added to the draw this weekend. Neil Holmes, winner of BDVT Detroit, Michigan; Alexandre Cardozo, winner of Little Rock, Arkansas; Bonner Bolton, winner of Yakima, Washington; Austin Meier, winner of Worcester, Massachusetts; and Kaique Pacheco and Dakota Louis, winners of Salt Lake City; earned their spots on the Iron Cowboy roster with their victories.
Every rider will take on one bull in each round, striving to make the 8-second buzzer. If a rider successfully covers his bull, he will advance to the next round. If he gets bucked off, he is finished. Through a minimum of two, and a maximum of five rounds, these athletes will continue to ride until one cowboy prevails and is declared the Iron Cowboy.
Seven Texas natives will be competing in the Iron Cowboy, as well, starting with 2004 PBR World Champion Mike Lee (Decatur, Texas), 2014 PBR Rookie of the Year J.W. Harris (Mullin, Texas), Stormy Wing (Dalhart, Texas), Bonner Bolton (Odessa, Texas), Bryan Titman (East Bernard, Texas), Cooper Davis (Jasper, Texas) and Neil Holmes (Houston, Texas).
Four other former PBR World Champions will ride on Saturday, including three-time defending World Champion Silvano Alves (2011, 2012, 2014), J.B. Mauney (2013), Renato Nunes (2010) and Guilherme Marchi (2008).
Alves and Marchi both currently reside in Decatur, Texas, as well as fellow Brazilian contestants, rookie  Pacheco, Eduardo Aparecido, Marco Eguchi, Valdiron de Oliveira, Fabiano Vieira, Joao Ricardo Vieira, while up-and-coming rider Cardozo resides in Dallas.
Last year's Iron Cowboy event winner, Joao Ricardo Vieira, will face Grandpa Joe (Dakota Rodeo/Chad Berger Bucking Bulls) in Round 1. Grandpa Joe has bucked off three out of the five BFTS riders he has faced, including Mauney, Nunes and Sean Willingham.
Jeff Robinson's KISS Animalize takes on Lee in the first round. In 25 outs on the BFTS, 12 riders have covered the bovine athlete for an average score of 87.97 points. This will be the first time the 2004 PBR World Champion has attempted KISS Animalize.
Round 1 also has current No. 1 rider in the PBR world standings Matt Triplett slated against Hungry Eyes (W/Y Bucking Bulls), who will make his 2015 BFTS debut. Being ridden only once in eight outs, Fabiano Vieira has been the only rider to cover this bull at the 2014 PBR World Finals for 86.50 points.
CBS Sports Network will air Round 1 of the Choctaw Casino Resort Iron Cowboy powered by Kawasaki Strong at 10 p.m. ET on Saturday, Feb. 28.
CBS Television Network will air the final rounds on Sunday, March 1 at 1 p.m. ET.
The Iron Cowboy is followed on Sunday, March 1, by THE AMERICAN, the world's richest one-day rodeo, which will showcase some of the most talented, toughest, grittiest rodeo athletes Dallas has ever seen.
Sixteen PBR bull riders will also participate in THE AMERICAN on Sunday, and six of those bull riders will have a chance at a $1 million payout. Ben Jones, Tyler Harr, Jason Malone, Stetson Lawrence, Lachlan Richardson and American Qualifier Semifinals winner Stormy Wing all qualified for the event, which grants them the ability to compete for a $1 million bonus. If these men win the bull riding event of THE AMERICAN, they will receive the $1 million bonus or a portion thereof shared with any other qualifiers who win their events at THE AMERICAN.
Arlington is stop No. 9 of 27 on the 2015 Built Ford Tough Series. The season will conclude at the PBR Built Ford Tough World Finals in Las Vegas on Oct. 21-25 when the 2015 PBR World Champion, the bull rider who earns the most points during the 2015 season, will be crowned and receive the coveted World Championship belt buckle and a $1 million bonus.
The BFTS is televised every week on CBS, CBS Sports Network and networks around the world. BFTS telecasts are produced for the PBR under a multi-year agreement with David Neal Productions, a Los Angeles-based production company led by 34-time Emmy® Award winner and Peabody Award winner David Neal, who serves as executive producer.