Filming underway on 'The Longest Ride'
By : Denise M. Abbott
July 30, 2014
From 20th Century Fox, 'The Longest Ride' stars Scott Eastwood, Britt Robertson, Alan Alda, Oona Chaplin, Jack Huston, with Professional Bull Riders signed as technical advisors.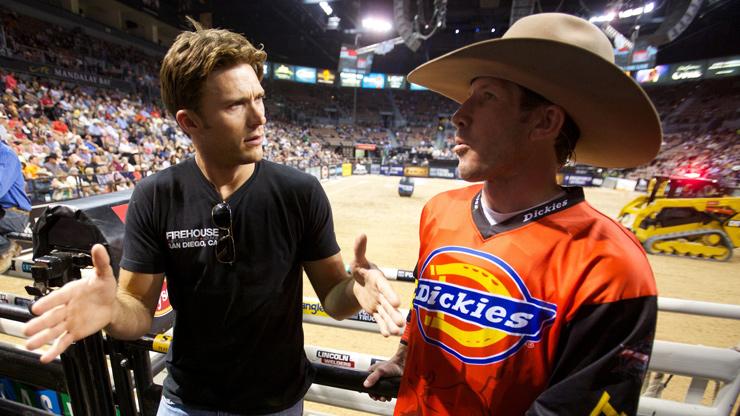 PUEBLO, Colo. – Filming is now underway on the movie adaptation of New York Times best-selling author Nicholas Sparks' novel "The Longest Ride." 
The film stars Scott Eastwood, Britt Robertson, Alan Alda, Oona Chaplin and Jack Huston. Eastwood portrays Luke, an injured bull rider making his way up the ranks of the Professional Bull Riders Touring Pro Division. His chance meeting of Sophia, played by "Under the Dome's" Britt Robertson, after an event begins their love story which weaves its way in and out of the PBR's Built Ford Tough Series. 
The PBR has been signed as a technical advisor to the film and will produce all of the movie's bull riding events.
PBR productions are currently taking place in Jacksonville, North Carolina, after a week of filming in Wilmington, North Carolina.  The production team will also travel to Winston-Salem, North Carolina, in August to shoot the final bull riding scenes. 
Current and active PBR Built Ford Tough Series riders will not only act as stunt doubles for Eastwood, a few of them, such as 2009 PBR World Champion Kody Lostroh and Galax, Virginia's Billy Robinson, have been asked to appear in the movie as themselves.  
"Nicholas Sparks captured the essence of a PBR bull rider with his character Luke Collins in 'The Longest Ride'," said Sean Gleason, PBR COO. "We're enjoying working with FOX and Scott Eastwood to bring the character to life on the big screen as a PBR cowboy in and amongst the real-world stars of the sport."
Directed by George Tillman Jr, "The Longest Ride" will be in theaters everywhere April 3, 2015.
Stay tuned to PBR.com over the next several months for behind-the-scenes updates and news from the set of "The Longest Ride."