PBR returns to Cowboys Stadium
By : Denise M. Abbott
February 18, 2013
The Professional Bull Riders will ride into Cowboys Stadium in Arlington, Texas, for the Dickies Iron Cowboy IV presented by WinStar World Casino on March 2.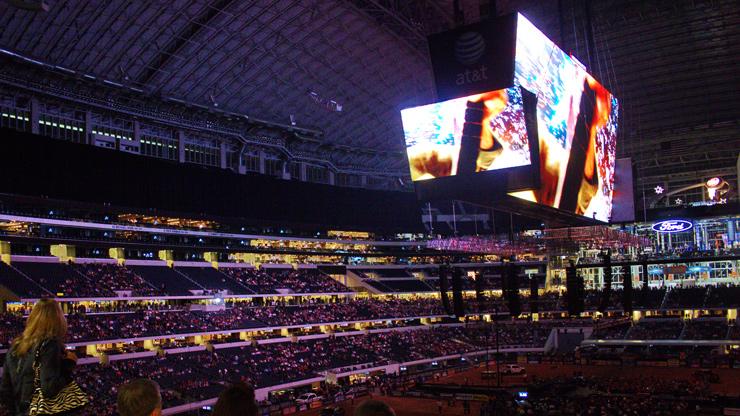 ARLINGTON, Texas - The Professional Bull Riders will ride into Cowboys Stadium for the Dickies ® Iron Cowboy IV presented by WinStar World Casino on March 2. It's the fourth consecutive year that the PBR and Cowboys Stadium have partnered to bring this special event to Arlington, Texas.
Tickets are available online now at www.ticketmaster.com or by calling (800) 745 3000. They range in price from $20 to $150 and include not only two hours of fierce battles between the world's best bull riders and the country's rankest bulls, but also all of the activities surrounding this one-day-only event.
The Dickies® Iron Cowboy IV begins at 8 p.m. Doors open at 5:30 p.m. Before the competition begins on Saturday, fans are invited to experience the thrill of the PBR and party with the stars at the PBR Fan Zone located outside Cowboys Stadium in Silver Parking Lot #4.
The Fan Zone is open to the public and starts at 10 a.m. A special meet-and-greet will be held at 10:30 a.m., featuring all of the bull riders competing at the event. The Fan Zone will also include interactive booths and activities from PBR sponsors, including Ford, Monster Energy, Bass Pro Shops, Pabst Blue Ribbon, Caterpillar, Big Tex Trailers and others. PBR University will be in the center of the action, featuring PBR Wool Warriors, a mutton-bustin' event designed to introduce young boys and girls to the world of bull riding. Also showcased will be two-time PBR World Champion Chris Shivers' Mini Bull Riding Tour, an event featuring bull riders in two age groups, 8-11 and 12-14, competing on miniature bucking bulls. On the Cooper Tires Stage, PBR entertainer Flint Rasmussen will be hosting a special version of his "Outside the Barrel" show.
Two-time PBR World Champion Justin McBride and Brice Long will perform in the Fan Zone, as well as during the Dickies® Iron Cowboy IV intermission.
To get the party started, Kevin Fowler, an Austin, Texas, cowboy whose mix of "rock music with a good country lyric" has made him a Texas favorite, will perform live starting at 7 p.m. Fowler describes his music as "country with a bad attitude; country with an edge." He is a great PBR fan and is sure to excite the crowd with his signature style.
"Each year, the Iron Cowboy IV gets better and better," PBR Chairman and CEO Jim Haworth said. "Cowboys Stadium has been very supportive of the event, helping us bring the best of the best to Arlington - the best cowboys, the best bulls and the best entertainment. With our sponsors' commitment, Justin McBride and Chris Shivers' involvement, Kevin Fowler's concert and other special activities, the fans are sure to have a memorable PBR experience."
The Dickies® Iron Cowboy IV is a bracket-style event featuring 24 bull riders competing for a total purse of $150,000. The rider with the highest score in each bracketed match-up wins $1,000 and advances to the next level. If neither rider in a match-up makes a qualified ride, the rider with the longest riding time advances. The match-ups continue until one cowboy prevails and is declared the Iron Cowboy.
The winner receives $50,000 and the opportunity to win an additional $50,000 if he can ride the event's bonus bull, Monster Energy Money Bull Shepherd Hills Tested of Luthy/Duckwall/D&H Cattle/ Shepherd Hills Cutlery. Shepherd Hills Tested has not been ridden in four attempts this season. His average score of 45 points out of a possible 50 ranks him among the top Built Ford Tough Series bulls competing today.
Competing for the distinction will be five former PBR World Champions: Silvano Alves (2012, 2011), Renato Nunes (2010), Kody Lostroh (2009), Guilherme Marchi (2008) and Mike Lee (2004); the defending Iron Cowboy winner J.B. Mauney, three-time PBR World Finals event winner Robson Palermo and two-time Iron Cowboy runner-up Austin Meier.
The Dickies® Iron Cowboy IV will be broadcast in two segments, starting Saturday, March 2, at 10 p.m. ET on CBS Sports Network and finishing on Sunday, March 3, on CBS at 1 p.m. ET.
Arlington is the ninth stop of 26 across 18 states on the 2013 Built Ford Tough Series. The season culminates at the PBR Built Ford Tough World Finals in Las Vegas, October 23-27, at UNLV's Thomas & Mack Center when the series' best bull riders compete for the ultimate prize, the PBR World Champion's title, a $1 million bonus, a new Ford truck from the series' title sponsor and the coveted PBR World Champion buckle.
The PBR is celebrating 20 years of competition in 2013. Its Built Ford Tough Series is televised every week on CBS, CBS Sports Network and networks around the world. BFTS telecasts are produced for the PBR under a multi-year agreement with David Neal Productions, a Los Angeles-based production company led by 34-time Emmy® Award winner and Peabody Award winner David Neal, who serves as executive producer.