PBR Brazil title still up for grabs in Barretos
By : Eugenio Jose Santos
August 20, 2016
Barretos, Brazil, home to the largest rodeo in Latin America, is the home of the 2016 Monster Energy PBR Brazil Championship. Two days into the contest the PBR Brazil title is still very much up for grabs.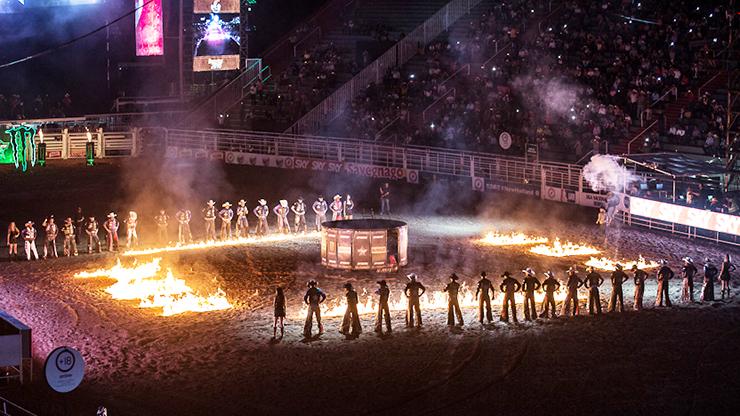 BARRETOS, Brazil – After two days of competition, the 2016 Monster Energy PBR Brazil Championship is still very much up for grabs in Barretos.
For the third consecutive year Barretos, home to the biggest rodeo arena Latin America, is hosting the PBR Monster Energy Brazil Finals. Organizers are expecting close to 900,000 fans to attend over the course of the 10-day celebration.
On day one in Barretos, Nilton Batista won Round 1 after a 91-point ride on Blindex.
"It was my dream to ride this bull," Batista said. "Today I draw him and I am happy for this."
Edmilson Goncalves answered in Round 2 when he rode Cazuá for a round-winning 89 points.
"I'm happy in my new phase," Goncalves said. "I rode in PBR Australia a few days ago. It is the fourth time I ride in Barretos, this place is great and I'm always impressed. Today it went well and I won the round."
Marcos Fernando finished in second in Rounds 1 and 2 and is currently leading the event for the Finals event title.
Current PBR Brazil standings leader Giliard Antonio has gone 1-for-3 in Barretos and is in danger of losing the grip on his current lead to Dener Barbosa.
Barbosa is 2-for-2 and is currently in second place in the event.
Defending Monster Energy PBR Brazil Champion Luciano Castro has also gone 2-for-2 and is fourth in the event standings.  Castro is currently third in the PBR Brazil standings and is eyeing an upward move.
The Monster Energy PBR Brazil Finals in Barretos will come to an end Sunday night. The riders will get to attempt three more bulls, after which the 2016 PBR Brazil Champion will be crowned.