Looking back at the Thomas & Mack
By : Keith Ryan Cartwright
November 04, 2015
The Thomas & Mack Center has played host to various memorable moments in PBR history ever since hosting the PBR World Finals for the first time in 1999. Now, the PBR is ready for a slew of new moments at the state-of-the-art Las Vegas Arena.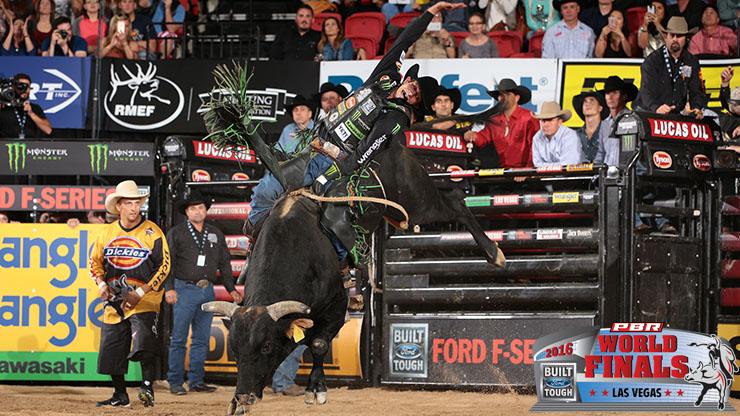 It's as if Ty Murray's entire illustrious career took place inside the Thomas & Mack Center.
During his professional rodeo career, he won nine world titles there. In 1999, when the PBR moved its World Finals event to the University of Nevada-Las Vegas (UNLV) facility, he won the Finals average title, and he began his broadcasting career there shortly after announcing his retirement from the sport in 2002.
So the famous arena certainly holds a special meaning to the King of the Cowboys and PBR co-founder.
"Everything is still taking place in there," Murray said. "It's such a historic place. There are a lot of amazing historical moments that have taken place in there. You can look at a lot of legends that their whole career took place in there."
In addition to the PBR World Finals and the National Finals Rodeo, which all 20 of the PBR co-founders competed at multiple times throughout their respective careers, the Thomas & Mack Center has hosted various events. There have been boxing events, WWE matches, concerts, awards shows, Arena Football games and, of course, home games for the Running Rebels men's and women's basketball teams.
The Thomas & Mack Center first opened in 1983 and its opening gala featured Frank Sinatra, Dean Martin and Diana Ross.
The 2015 World Finals was the 17th and final time the PBR hosted its season-ending event at the venue.
Beginning in 2016, the PBR will hold the World Finals at the new $375 million Las Vegas Arena, which is located on the Las Vegas Strip.
DON'T MISS THE 2016 WORLD FINALS: GET YOUR TICKETS HERE!
5-Day Prices:
P1 - $1255
P2 - $630
P3 - $500
P4 - $430
P5 - $255
P6 - $180
"It's a cool building," said Murray of the Thomas & Mack Center. "It's still a really good venue. It really is. It's still a great venue."
Ring of Honor member Cody Lambert echoed Murray's thoughts about the importance of the Thomas & Mack Center for the PBR.
"It's a great place and, for me, the Thomas & Mack Center goes back even further than that. The first time the NFR was in Las Vegas that's where it was. I was a bull rider at that time. I never rode in the Thomas & Mack Center as a PBR bull rider. I rode there in a PBR Touring Pro event we held there one time, and won it."
The TPD event was in the early 1990s and the organization's sights were set on the yearend event from day one.
"We needed a little bigger arena and we had been at the MGM Grand Garden for five years and we were building that up and we were ready to go to a bigger arena," Lambert added. "At the time, we wanted to stay in Las Vegas and the Thomas & Mack Center was the place to go. It's been a great arena for us. I still look forward to going there for the PBR World Finals."
Murray added, "That was a huge milestone for sure. We never stopped trying to grow and moving to the new building is no different. We remember our past, but, it's just like a riding career, if you're not waking up every day trying to be better—then I don't know what you're doing."
Looking back there have been 14 riders who have won the World Finals event at the venue – Robson Palermo (three times) and J.B. Mauney (two times) are multiple winners – while 11 of them have won world titles in the 17 years with Silvano Alves (three), Adriano Moraes (two of his three total), Chris Shivers (two), Justin McBride (two) and Mauney (two) having claimed multiple world titles.
Ten of the Top 50 scores in PBR history have taken place in Las Vegas during the Finals at the Thomas & Mack Center.
"I can't say enough," said Palermo. "I want to have about 20 events in Las Vegas."
Just a sampling of the incredible moments include McBride hanging off the side of Camo in the final round of the 2005 Finals to win the first of two world titles or Kody Lostroh edging out Mauney in what was the closest race in PBR history for the 2009 title.
Mauney said there's no better feeling than when a sold out crowd is standing on their feet in the Thomas & Mack Center cheering for him.
In 2013, Mauney became only the third rider in PBR history to win both the Finals average and world title as he completed the greatest comeback in PBR history to edge out Alves for his first world title.
A year later, Alves, who became the first rider to win back-to-back titles in 2011 and 2012, then became the fourth rider in history to win the average and gold buckle in the same year.
"My most memorable moment was when I won it," said 2001 World Finals event-winner Luke Snyder. "It was pretty surreal. It was my first Finals and I went out there—it was a surprise to me when I did it because I went out there wanting to do that, but when it happened it was just overwhelming. … It's great when a dream that big comes true."
However, those individual moments pale in comparison to what is universally referred to as the greatest round of professional bull riding ever.
"Was unbelievable," said Lambert of the Friday night round in 1999.
Murray added, "That was history that night."
There were 11 scores of 90 points or better.
To put it into perspective, there were 15 scores of 91 points or more in five rounds of competition that year and eight of them – or more than half – happened on that Friday night's Round 2.
Even more impressive, five were 94 points or higher.
Shivers and Terry Don West were both scored 96 points, while Murray scored a career-high 95.5 points on Red World.
Everyone has their own memories of years past. However, collectively there's no denying what that night in 1999 meant to those men who were part of it.
"I'll never forget that night," Murray said. "That's one of those moments that you don't look back on it and say, 'Wow. That was an amazing moment.' We all knew that night that would probably never happen again. I know I did and I think everybody else did too."
"The guy's rode like we hope they ride again someday," Lambert said. "They ran in the rank ones and they rode them all Friday night. It's the greatest round of bull riding that anybody's ever seen and I hope someday we see another round like that."
Throughout its existence, the PBR has always been an organization focused on the future.
In fact, it recent years, the World Finals was the first place it used instant replay and they've tried other sorts of advancements in the sport and its safety while at the Thomas & Mack Center, which is where the PBR, under the direction of Randy Bernard, became widely known for its over-the-top openings and rider introductions.
They've done everything from fly McBride down to the chutes from the rafters above to hanging a full-sized jet above the crowd below.
PBR founders and current riders universally agreed they're anxious for a fresh look at the Las Vegas Arena.
"It'll be interesting going someplace else," said Lambert, "but we're going to a new state-of-the-art facility and I'm excited about that too."
Murray concluded, "I love the history that we have. I also love the fact that the PBR doesn't let itself become stale and constantly tries to make things better for the fans."