The Morning Line - Oklahoma City Round 2
By : Slade Long
February 02, 2019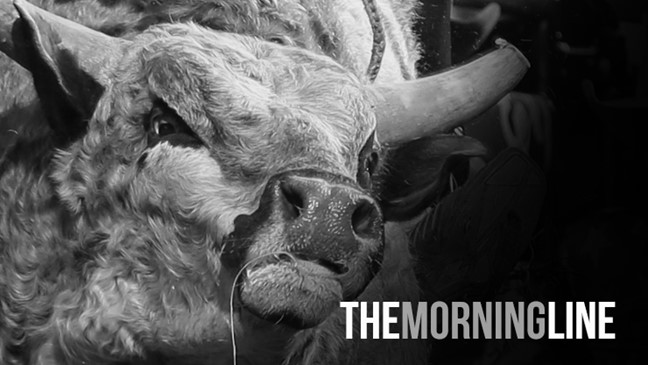 Chase Outlaw on 417 Real Gun:
Outlaw came down in Round 1, but don't look for that to happen again here. Real Gun is a good bull, but the margin of error on him is much greater than the bull Outlaw had last night. He has some out of line, herky-jerky moves, but he gives the rider plenty of time to readjust after each jump.
Jess Lockwood on 159 The King:
This matchup has big potential. The King is a salty little bull who is impressive to look at and hard to ride. He's given up just one score in 13 career outs, but he hasn't faced a lefty as good as Lockwood is. Stetson Lawrence started this bull well in the short round in New York, and the bull was fast and to the left there. That would be a great fit for Lockwood, and this could produce a round win.
Lockwood stood out in Round 1 because he was the least fragile-looking rider. When you watch any bull ride, you often get the feel of how hard it is to stay on a bull. You can see the rider struggle to match each move, and you get a sense that the bull is perpetually on the verge of winning. With Lockwood you get the sense that the bull is going to have to do a whole lot more if he wants to win, and this is something we don't see as often. The clearest example of this is J.B. Mauney down the stretch in 2013, or Justin McBride near the end of his career. Great riders at their best go through spells where there just aren't many bulls that can get them on the ground. You can see Lockwood right now making his adjustments in perfect time and just outclassing most of the bulls he faces.
Cody Jesus on Y2 Stone Cold Crazy:
I'm pretty sure this bull can go either way, but he's out of a left delivery here and if he goes to the left Jesus should own him. Stone Cold Crazy gave up 89.5 points and a round win a couple of weeks ago in Denver, and by the numbers he's one of the better bulls to ride in this round.
Keyshawn Whitehorse on 621 Wicked Dreams:
Whitehorse was 89.5 points on this bull at the World Finals, but this can be an out-of-line and hard-to-ride bull. He threw Jose Vitor Leme off in Glendale two weeks ago, and he had an outstanding trip at the Fort Worth ABBI event earlier this month.
Luciano de Castro on 44A Smooth Over:
These two met at the World Finals where Castro was 82.5 points. Smooth Over is usually a better bull than that. He can be one of the wildest and craziest bulls going – like a balloon someone blew up and let go. Castro is riding well, and picked up a score in Round 1, but this won't be an automatic win for him. There's no telling what this bull will throw at him.
Ryan Dirteater on 4860 Bandit:
Dirteater drew well here. He placed second in Round 1, and he has a chance at another big score in this round. Bandit is likely to go away from his hand, but Dirteater is fine with that, and this is a solid bull. Cannon Cravens was 88.25 points on him in New York.
Joao Ricardo Vieira on 138 M.A.G.A.:
Vieira will have to deal with a bull going away from his hand here, but he's been alright with that lately. M.A.G.A. is a quality bull Vieira can get a round win on. He's not easy, but in his last two outs he's given up two big rides to left-handed riders Cody Jesus and J.B. Mauney.
Ramon de Lima on 432 Barn Cat:
Lima didn't get on the board in Round 1, but he probably will here. Barn Cat is a textbook spinner who goes to the left with even timing. He's 6-2 at the UTB level, but he's not as difficult as that record makes him look, especially for a lefty rider.