The Morning Line - Los Angeles, Round 1
By : Slade Long
February 22, 2019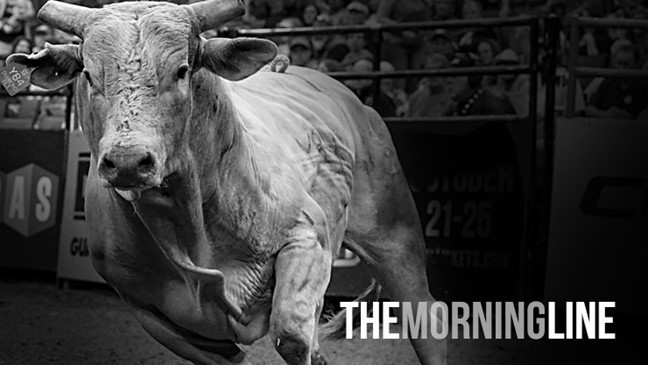 LOS ANGELES – In any normal long round, there are a number of guys who draw bulls that they should be able to ride, but they may not be able to win the round unless the bull has a good day.
In the Last Cowboy Standing / Iron Cowboy format, that aspect of it is less important. The best path to overall victory here at STAPLES Center is to draw rideable bulls that have even timing.
In each round, you want a bull who will get you a score for the least amount of physical effort. Every rider will have to face difficult bulls in the draw this weekend, but the best-case scenario is to minimize the total amount of adversity.
If a guy makes it through to Round 3 or Round 4, he's hoping for bulls he can sleepwalk through in two of those rounds.
Fans can watch Round 1 exclusively on RidePass at 10:30 p.m. ET.
Derek Kolbaba on 303 Force Awaken:
This bull is a near perfect fit for Kolbaba, and a great opening round draw for any rider. Force Awaken tends to go to the left and his timing is fantastic. He's weak against top-level riders because good riders are dominant on bulls that have good timing.
Chase Outlaw on 3127 Something Magical:
In a contest that can only be won by riding the most bulls in a row, the riders who have the best record of staying on bulls are the obvious favorites. Outlaw has the most qualified rides (17) at all levels so far this season, and he's a close second to Jess Lockwood in riding percentage.
He was 87 points on this bull just last November. Something Magical does have a respectable record at this level. He's not easy, but Outlaw should be able to handle him. Either way, Outlaw is almost certainly going to advance to Round 2 with a qualified ride or his position as the highest ranked rider coming it.
Alisson de Souza on 503 Pure Gangster:
This is a fairly new bull, but he gave up a qualified ride (87.75 points) to Sage Kimzey in Arlington a couple of weeks ago. He had good timing there, but was indecisive as to which way he was going to spin. He went two or three jumps and looked to the left before going to the right. He's a solid draw for Souza, but he may have a trick or two before turning back.
Ryan Dirteater on 453 Rake It Up:
Dirteater bucked off this bull in Sacramento, but he lasted 7.8 seconds. Joao Vieira did get a score on Rake it Up (82.75 points) at the same event. Vieira and Dirteater are the only two high-level riders the bull has faced at all, both of them are lefties, and that points to this being a pretty nice draw for a lefty at this level. Look for Dirteater to get the job done here
Cody Jesus on 361 Hedoo:
Hedoo is a fantastic draw in any normal long round because he's all but guaranteed to deliver a great score and a probable round win. He's not the best draw in this format because he is far from the nicest, easiest bull in the round. He is something of an old school bull with a lot of up and down. He's big, strong and somewhat slow. He's rideable, but he requires a lot of effort.
Jose Vitor Leme on 2-1 Mortimer:
Leme couldn't have asked for a nicer draw here. Mortimer isn't a pushover, but he's ridden a lot – especially at this level. He has great timing. The only downside is that he usually goes away from Leme's hand, and he can sometimes cover some ground before he turns back. There's an outside chance he could do both and entice Leme to just fall off, but it's not likely. Leme should win this match easily.
Silvano Alves on 1017 Dream Catcher:
If you could build a rider to win this specific competition format, you would end up with something that looks exactly like Alves in 2011-2012. He rode way more bulls than anyone else, and he didn't look like he was working all that hard to do it. This is the same guy, and although he hasn't been dominant in recent years, there's always the possibility that he might show up and be that guy again for one event at least. This bull is one of the easier bulls in the round for left-handed riders, but it's a different story for righties. He's 7-0 against them. In 2012 he would have had no chance against Alves, but the 2019 Alves is an underdog here.
Koal Livingston on 33A Pop-A-Top:
Livingston rode this bull in the opening round of the Last Cowboy Standing in Las Vegas last year for 84.75 ppoints. Pop A Top is notably weaker against right-handed riders in general. Livingston should earn a spot in Round 2.
Tanner Byrne on 803 Red Sails in the Sunset:
This bull is one of the best in the round for any rider at this level. He's been ridden in about half his outs at UTB events, he's weakest against the better riders, and he's given up rides to right- and left-handed guys at an equal rate. He has good timing, and Byrne should get along with him.
Alan de Souza on 254 Dynamite Cap:
We don't know a lot about this bull. Daniel Tinsman was 86.5 points on him in Sacramento. We don't know a lot about Souza either, but he's no stranger to making the whistle. His riding style is similar to his twin brother Alisson, who we've seen a lot of. Both guys are high-effort riders who don't have the cleanest or sharpest mechanics, but they make up the difference with try. Alan has ridden about half the bulls he's been on here in 2019, and he should be able to compete at this level.

Joao Ricardo Vieira on 248 Squirrel:
Vieira has been on this bull twice, couldn't get out on him the first time, and rode him the second time for 85.5 points. Squirrel tends to go to the left, and is a great draw for a left-handed rider. Look for Vieira to advance easily on this bull.