Riding for his brother, Tinsman makes his return to the Unleash The Beast
By : Darci Miller
February 28, 2019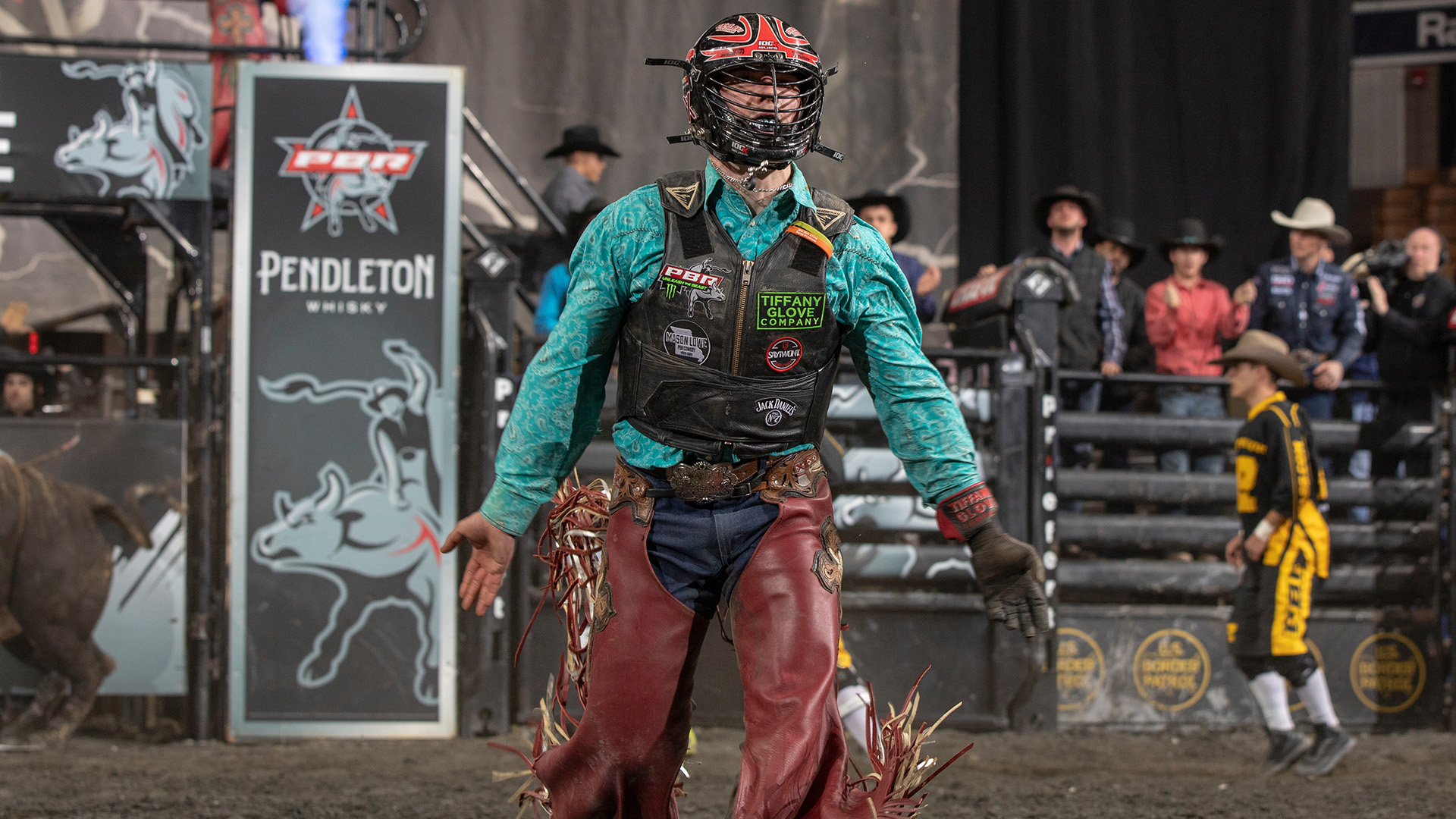 PUEBLO, Colo. – For Daniel Tinsman, bull riding is so much more than strapping himself to the back of a bull.
And when he competes this weekend at the Bad Boy Mowdown in North Little Rock, Arkansas, he won't be alone.
Growing up in the small town of Farmland, Indiana, Tinsman decided in third grade that he wanted to ride bulls. His cousin had been competing for years , and he and his brother, Caleb, got started in the sport at around the same time.
"My cousin done it there for a long time, and I kind of looked up to him," Tinsman said at the Pendleton Whisky Velocity Tour Denver Chute Out in January. "And I tried to kind of soar past what he'd done, and that was my biggest thing – to go at it and swing for the fences."
Even in those earliest days, bull riding required a significant effort. Living in Indiana, far from a bull riding hotbed, meant making a commitment.
"You're going to have to drive more miles," Tinsman said of his home state. "You're going to have to hit it harder than anybody else around you, and eventually you'll catch a break."
But when he was 16 years old, tragedy struck.
On December 28, 2012, Caleb was killed while riding bulls at a Southern Extreme Bull Riding Association event.
Suddenly, bull riding wasn't just a hobby or even a passion. It was a life-altering decision.
Tinsman took a year off from riding following his brother's death, contemplating whether or not to continue. He eventually decided that his love for bull riding was too strong to ignore and returned to the sport. But even that had its consequences.
"I was 17 when I wanted to come back and do it," Tinsman said. "I had to either move out of the house or quit riding bulls altogether until I moved out of the house. So I moved out when I was 17. My parents, they stand behind me to this day, though."
He returned to bull riding with a heavy heart and a new outlook on both the sport and his life.
"Never take any day for granted," Tinsman said. "Don't make the opportunities any bigger or smaller, but you dang sure can't take them for granted. You've got to wake up every morning and know what you're doing and be happy that that's the life that God has helped me get."
But he and his family know that the stakes are always high.
"Every time my momma hugs me, she hugs me like I'm never coming home," Tinsman said. "It's not necessarily a bad thing. It's a mom thing. So I'm okay with that."
Tinsman made his PBR debut in 2016 at the Potash PBR Invitational Touring Pro Division event. He competed at three TPD events in 2017 before climbing the ranks: in 2018, he was a regular on the Velocity Tour and made his Unleash The Beast debut at the Billings Invitational, where he went 0-for-1.
"The lights and the pressure, I think I took it a little too much to my head," Tinsman said. "I didn't just stay back and keep it simple, one bull at a time. So I got that out of the way. It's time to move past it, learn from it, and let's fix it to the next one."
He returned to the premier series at the Sacramento Invitational in January, courtesy of winning the Pendleton Whisky Velocity Tour's Toledo Invitational, and got his first ride at the PBR's elite level under his belt, an 86.5-point ride aboard Dynamite Cap.
The win in Toledo was his first on the Velocity Tour.
"I've been kind of beat up, banged up, but I wanted to go back out and keep proving to myself that I deserve to be at this level," Tinsman said.
"In Toledo, it was just kind of the right bulls, the right mood. My biggest motivation was I was broke. And I was like, 'I can't keep falling off these bulls! I've got to learn how to stay on these bulls!'"
It wasn't long before Tinsman got back into the proverbial winner's circle, taking the victory at the Worcester Rumble last weekend. He's a bit heavier in the wallet – the win nabbed him $7,900 – and now No. 18 in the world after earning 170 world points.
It also earned him an entry at the Bad Boy Mowdown this weekend. Tinsman has drawn Slice of Heaven (1-0, UTB) for Round 1 on Friday night (8:30 p.m. ET on RidePass).
With both money and injury worries – he's been struggling with a slight ACL tear in his right knee, and got his left knee stepped on in Toledo– Tinsman is working on finding the balance between riding for business and for pleasure.
"It's kind of a 50/50 thing, really," he said. "It's kind of how you approach it. You either ride harder because you're broke, or you're pressured up and you don't ride as hard because you're thinking too much about it; you're making it more of a business than a hobby, and it has to remain the same. You have to treat it like a business and as a hobby."
Tinsman grew up idolizing two-time World Champion Chris Shivers, admiring his crisp lower body. He cites two-time World Champion J.B. Mauney, Derek Kolbaba, 2017 World Champion Jess Lockwood and 2018 Rookie of the Year Keyshawn Whitehorse as current UTB riders he looks up to.
When sharing a locker room with them he prefers to observe from afar – "I try to stay out of their hair as much as possible" – and acknowledges that riding with the best brings some nerves.
"One day you wake up and you're kind of just like, 'Wow, I'm here with the people I've looked up to my whole career,'" Tinsman said. "And you want to put some sort of pressure on yourself, but you have to remind yourself not to. They're your idols for a reason, but they're also your competitors. They're also people that you can learn from, but you can challenge."
Never far from his mind, though, is the memory of his brother Caleb.
Tinsman knows he's never really just riding for himself.
"My brother's gone but he's still with me," Tinsman said. "He's always in my heart, and it's just another angel sitting on the panels watching me go.
"He's kind of the reason why I'm here, you know? Not only am I riding for me, I'm riding for him, in a weird way. Trying to keep that legacy alive."