Taylor Toves wins Round 1 of the U.S. Border Patrol Invitational
By : Kacie Albert
March 09, 2019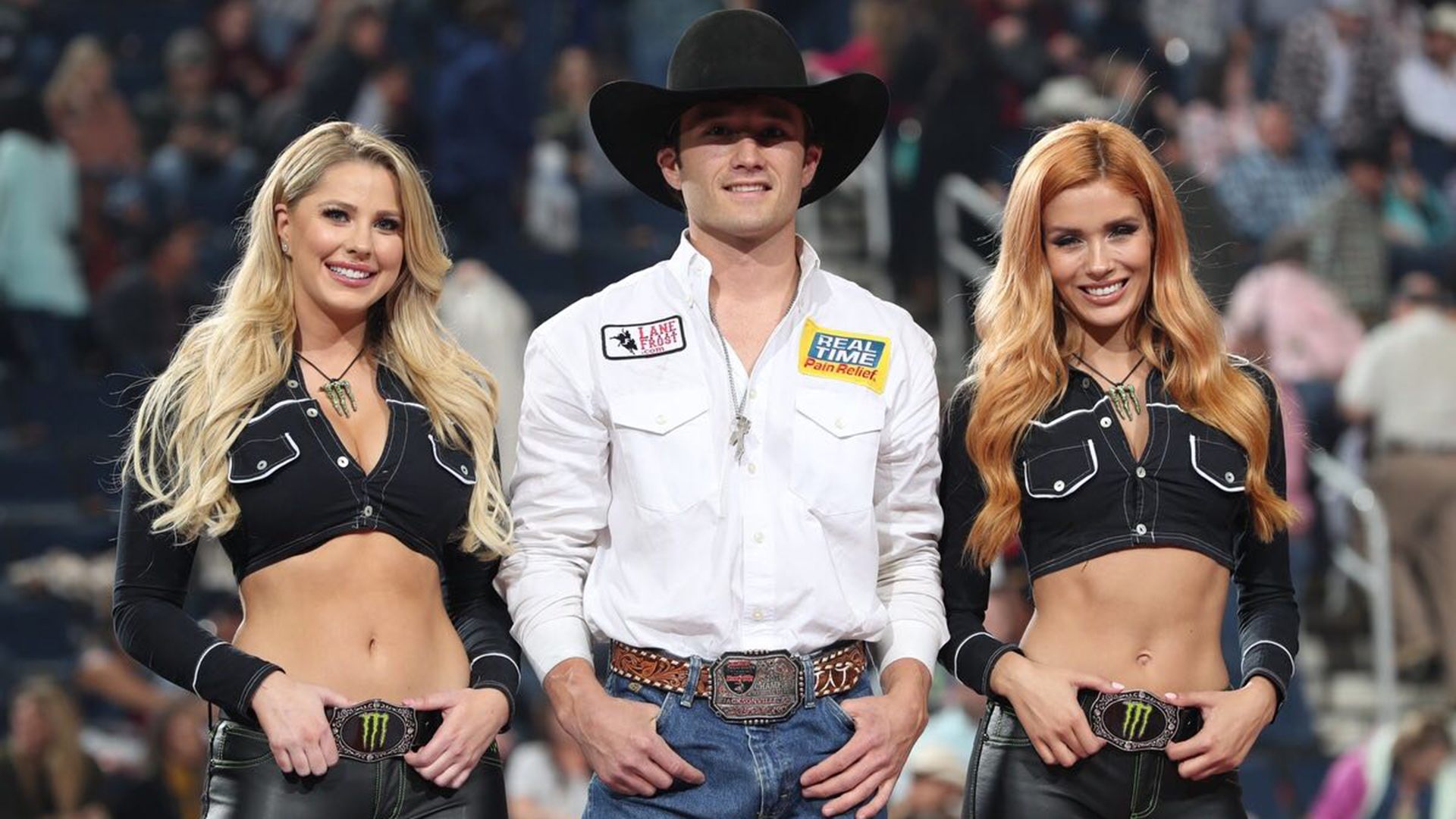 DULUTH, Georgia – In front of a capacity crowd at the Infinite Energy Arena in Duluth, Georgia, Taylor Toves (Stephenville, Texas) captured the first PBR (Professional Bull Riders) Unleash The Beast round win of his career, recording the top score in Round 1 of the U.S. Border Patrol Invitational.
As just the sixth man to leave the chutes, the 25-year-old captured the event lead early, covering Millennium's Buck (Torres Brothers Bucking Bulls LLC) for 88 points. In addition to propelling Toves to the top of the leaderboard, the marks are a career-high for the Texan on the premier series.
Earning 100 world points, Toves rose six spots in the world standings, now No. 18 after beginning the first round No. 24.
Eduardo Aparecido (Gouvelandia, Brazil) finished second to collect 60 world points.
The Brazilian sensation's 8-second effort came aboard Show Me Homie (Jo Z Bucking Bulls/K –C) for 87.75 points.
Catapulting from No. 83 to No. 28 in the world standings last weekend courtesy of his third place finish in Little Rock, Aparecido gained further ground Saturday evening in the Peach State, rising an additional three positions in the rankings to No. 25.
Extending his ride streak to five, an electric Joao Ricardo Vieira (Itatinga, Brazil) rode All The Way Up (K-C Bucking Bulls) for 87 points to finish third in Round 1.
Collecting 50 world points for his efforts, world No. 2 Vieira, who leads the league in event wins with three, inched closer to the world No. 1 ranking. The 34-year-old now trails No. 1 Jess Lockwood (Volborg, Montana), presently sidelined with a broken collarbone, by just 147.5 points.
Fourth went to Stormy Wing (Dalhart, Texas) who was making his season debut on the elite tour.
By covering Joker (Rickey West Bucking Bulls) for 86.5 points, Wing snapped an 18-out buckoff streak. For the 8-second effort he netted 40 world points and climbed from No. 34 to No. 29 in the world standings.
Two-time PBR World Champion J.B. Mauney (Statesville, North Carolina) and Cody Teel (Kountze, Texas) tied for fifth, each earning 22.5 world points for their matching 86-point rides.
Mauney's qualified ride came aboard Polaroid (Torres Bucking Bulls), while Teel's trip was atop Handsome Jeff (Jo Z Bucking Bulls/K-C).
For Mauney, the 8-second effort helped him inch closer to further etching his name in the PBR record books. In his storied career, the 32-year-old has now covered 525 bulls on the PBR's elite tour, tying him with 2004 PBR World Champion Mike Lee (Decatur, Texas) for second-most of all time. Both men trail 2008 PBR World Champion Guilherme Marchi (Tres Lagoas, Brazil) who leads the PBR with 635.
Two more milestones also remain within reach for Mauney in Duluth.
Compliments of his elite tour victory last weekend in Little Rock, Mauney tied two-time PBR World Champion Justin McBride (Elk City, Oklahoma) for most elite tour wins in league history with 32. Should Mauney capture the win at the U.S. Border Patrol Invitational, he would take over sole ownership of that record.
Additionally, in Little Rock, Mauney sealed the win with a 90.75-point ride, which allowed him to tie with McBride for the second-most 90-point rides in PBR history with 74. If Mauney were to score 90 points or more in Round 2 and/or the championship round in Georgia, he would also take over lone ownership of that ranking, where he would only trail two-time PBR World Champion Chris Shivers (Jonesville, Louisiana) who recorded 94 in his career.
On a night that saw 18 qualified rides, Claudio Montanha Jr. (Pacaembu, Brazil) was the final cowboy to earn world points. Montanha finished the round seventh after riding Conceiled Blind (Torres Bucking Bulls) for 85.75 points to net 5 world points.
Fans can relive all the action from Round 1 of the U.S. Border Patrol tomorrow on RidePass.com or via the RidePass mobile app starting at 8:00 a.m. ET.
The U.S. Border Patrol Invitational concludes Sunday, March 10 inside Infinite Energy Arena with Round 2 and the championship round starting at 1:45 p.m. ET.
CBS Sports Network will broadcast all the action from Championship Sunday on Sunday, March 10 at 9:00 p.m. ET. Fans can tune into the listen LIVE stream of the final rounds on RidePass.com or via the RidePass mobile app beginning at 1:45 p.m. ET.
PBR Unleash The Beast
U.S. Border Patrol Invitational
Infinite Energy Arena – Duluth, Georgia
Event Leaders (Round 1-Round 2-Round 3-Event Aggregate-Event Points)
1. Taylor Toves, 88-0-0-88.00-100 Points.
2. Eduardo Aparecido, 87.75-0-0-87.75-60 Points.
3. João Ricardo Vieira, 87-0-0-87.00-50 Points.
4. Stormy Wing, 86.5-0-0-86.50-40 Points.
5. J.B. Mauney, 86-0-0-86.00-22.5 Points.
(tie). Cody Teel, 86-0-0-86.00-22.5 Points.
7. Claudio Montanha Jr., 85.75-0-0-85.75-5 Points.
8. Jose Vitor Leme, 85.25-0-0-85.25
9. Cody Jesus, 85-0-0-85.00
10. Chase Outlaw, 84.75-0-0-84.75
11. Lucas Divino, 84.5-0-0-84.50
12. Ezekiel Mitchell, 84.25-0-0-84.25
13. Luciano De Castro, 83.5-0-0-83.50
14. Tanner Byrne, 82.75-0-0-82.75
15. Scottie Knapp, 82.5-0-0-82.50
16. Cannon Cravens, 81.75-0-0-81.75
17. Dakota Buttar, 71.5-0-0-71.50
18. Junio Quaresima, 70.75-0-0-70.75
Ryan Dirteater, 0-0-0-0.00
Cooper Davis, 0-0-0-0.00
Alisson De Souza, 0-0-0-0.00
Colten Jesse, 0-0-0-0.00
Rubens Barbosa, 0-0-0-0.00
Silvano Alves, 0-0-0-0.00
Danilo Carlos Sobrinho, 0-0-0-0.00
Cody Nance, 0-0-0-0.00
Dylan Smith, 0-0-0-0.00
Mason Taylor, 0-0-0-0.00
Sean Willingham, 0-0-0-0.00
Derek Kolbaba, 0-0-0-0.00
Marcus Mast, 0-0-0-0.00
Stetson Lawrence, 0-0-0-0.00
Ruger Piva, 0-0-0-0.00
Matt Triplett, 0-0-0-0.00
Juan Carlos Contreras, 0-0-0-0.00
Marco Antônio Eguchi, 0-0-0-0.00
Kaique Pacheco, 0-0-0-0.00