Pendleton Whisky Velocity Tour
Jake Lockwood wins Round 1 in Fresno
By : Mandi McCary
March 23, 2019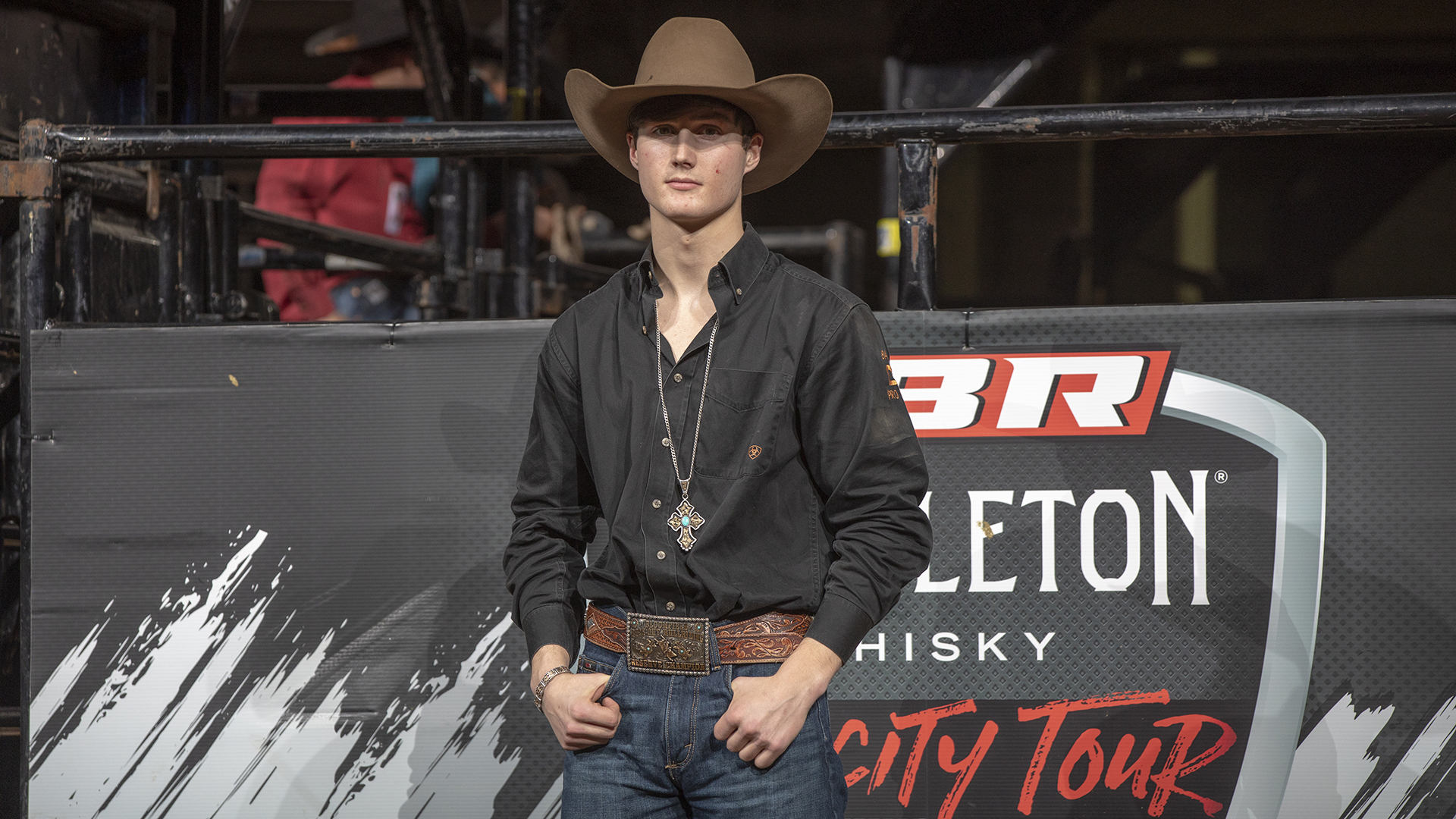 FRESNO, Calif. – PBR's (Professional Bull Riders) Jake Lockwood (Volborg, Montana) won Round 1 of the Pendleton Whisky Velocity Tour's Fresno Invitational at Save Mart Center on Friday night.
As one of only six riders to cover a bull in the opening round of the weekend, the young gun from Montana had the northern California crowd on its feet with his 86.5-point ride aboard Angry Elf (Evan Matthews). For his efforts, Lockwood collected 50 world points.
Mexico's own Francisco Garcia Torres (Sal, Mexico) and 2018 World Finals event winner Marco Eguchi (Poa, São Paulo, Brazil) tied for second place with matching 85.5 ride scores. Earlier in the evening Torres made the 8 aboard Steak Sauce (Diamond Bar Cattle) while Eguchi, the last rider of the night, covered Bit A Bad News (Rocking Forty-Five Cattle). Each rider collected 17.5 world points.
Finishing in fourth place was Torres' countryman Juan Carlos Contreras (Huichapan, Hidalgo, Mexico). As the crowd cheered, Contreras rode Twisted X (Hawkins Bucking Bulls/Arthur Saabye) to record an 84.5-point ride score.
Rounding out the Top 5 in Round 1 was Brazilian rider Paulo Ferreira Lima (Bezerros, Pernambuco, Brazil) who rocketed out of the chutes aboard Red Fury (Broken Arrow Bucking Bulls) for 83 points.
Fans will be able to watch all the action from Fresno each night on RidePass.com or via the RidePass mobile app. Round 1 can be viewed beginning on Saturday, March 22 at 8 a.m.
Velocity Tour Event Results
Fresno Invitational – Save Mart Center – Fresno, California
Name, Round 1-Round 2-Event Aggregate-Event Points
1. Jake Lockwood, 86.5-0-0-86.50-50 Points.
2. Marco Antônio Eguchi, 85.5-0-0-85.50-17.5 Points.
(tie). Francisco Garcia Torres, 85.5-0-0-85.50-17.5 Points.
4. Juan Carlos Contreras, 84.5-0-0-84.50
5. Paulo Ferreira Lima, 83-0-0-83.00
6. River Stephenson, 81-0-0-81.00
7. J.T. Pettitt, 71-0-0-71.00
Lindomar Lino, 0-0-0-0.00
Alex Marcilio, 0-0-0-0.00
Koal Livingston, 0-0-0-0.00
Bryan Titman, 0-0-0-0.00
Lucas Fideles Souza, 0-0-0-0.00
Joe Frost, 0-0-0-0.00
Ramon de Lima, 0-0-0-0.00
Kurt Shephard, 0-0-0-0.00
Luis Blanco, 0-0-0-0.00
Cody Casper, 0-0-0-0.00
Kache Moosman, 0-0-0-0.00
Travis Briscoe, 0-0-0-0.00
Tye Chandler, 0-0-0-0.00
Austin Richardson, 0-0-0-0.00
Thor Hoefer II, 0-0-0-0.00
Francisco Morales, 0-0-0-0.00
Rafael Marcelino de Montanha, 0-0-0-0.00
Tyler Harr, 0-0-0-0.00
Cristiano Figueredo, 0-0-0-0.00
Alex Cardozo, 0-0-0-0.00
Jake Gowdy, 0-0-0-0.00
Cody Tesch, 0-0-0-0.00
Leonardo Lima, 0-0-0-0.00
Santiago Castellanos, 0-0-0-0.00
Dallee Mason, 0-0-0-0.00
Colt Galvan, 0-0-0-0.00
Dakota Louis, 0-0-0-0.00
Jorge Valdiviezo, 0-0-0-0.00
Garret Lange, 0-0-0-0.00
Dalton Rudman, 0-0-0-0.00
Wyatt Rogers, 0-0-0-0.00
Ryan McConnel, 0-0-0-0.00
Josh Tucker, 0-0-0-0.00