Mitchell enjoys touring Negro Leagues Baseball Museum
By : Justin Felisko
March 27, 2019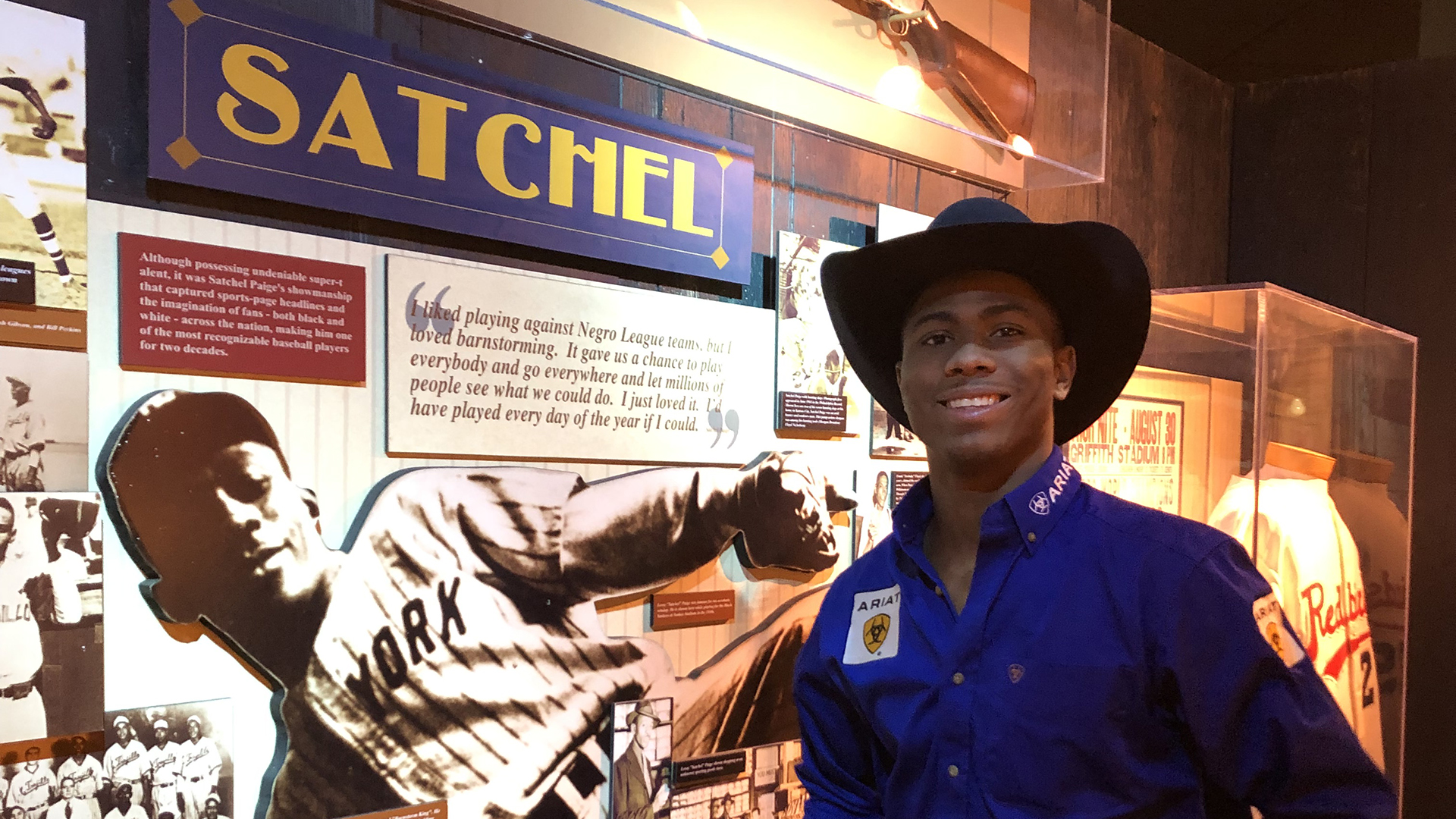 PUEBLO, Colo. – Ezekiel Mitchell was rocking his fresh new Kansas City Monarchs hat inside the Sprint Center locker room in downtown Kansas City with tremendous pride.
At first glance, it appeared as if Mitchell were a University of North Carolina fan for this year's March Madness. In reality, Mitchell had bought the hat at the Negro Leagues Baseball Museum in Kansas City.
Mitchell wore the Monarchs cap almost every day he was in Missouri after touring the museum last Friday before competing at the Caterpillar Classic.
The 22-year-old was always a black cowboy history buff growing up in Rockdale, Texas, but he admitted his knowledge of baseball and the Negro Leagues was lacking.
"I have always been a black cowboy. Looking into other black history is something I have been getting into lately," Mitchell said. "When I was younger, I didn't feel like I had time to do any of that. But looking into it now, looking into not just black history, but history of America and stuff is pretty cool."
Mitchell toured the museum dedicated to preserving the history of Negro league baseball in America in downtown Kansas City as part of his PR duties with fellow bull rider Luis Escobedo.
He was inspired and motivated by the stories Bob Kendrick, President of the Negro Leagues Baseball Museum, told him.
"That was awesome to be able to see the patriarchs of black people in baseball," Mitchell said. "Being there opened my eyes to a whole new sport. Just to see what they went through to get where they wanted to be. It reminds me that everything can be changed. It does not matter the color of your skin or anything like that.
"Do your job, and do what you love and eventually it will all pay off."
Mitchell was able to listen to tales from Kendrick about Hall of Famer Satchel Paige – the first man who played in the Negro leagues to pitch in the World Series.
He loved seeing the Paige exhibit and made sure to pose for photos with the Satchel Paige statue.
"One time they were playing against an all-white team and Satchel threw one in and the guy tipped a ball and it stayed in and rolled down the third baseline," Mitchell said. "The dude said, 'He is just an overrated darkie.' Satchel then says, 'Bring them in (motioning to his outfielders).'
"He then pitched nine strikeouts in a row."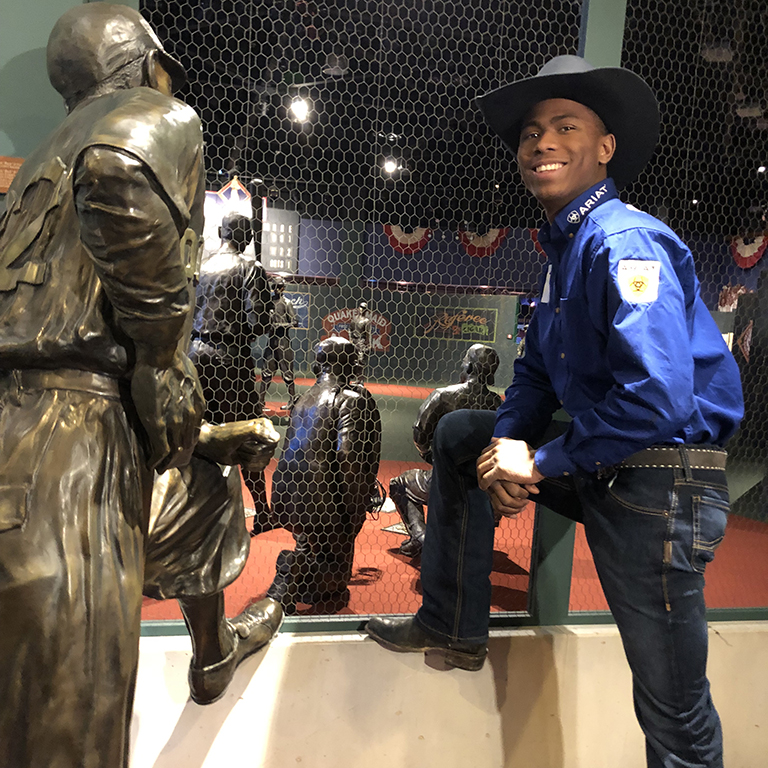 The No. 11-ranked bull rider in the world standings is now on his own path to joining a historic group of black bull riders.
At his current pace, Mitchell could become the fifth black, American-born bull rider in PBR history to qualify for the PBR World Finals if he rides at T-Mobile Arena this coming fall in Las Vegas. He would be the first black, American bull rider since Neil Holmes (2016) to do so. Brazil's Juliano da Silva also was a Velocity Tour Wild Card qualifier in 2016.
Mitchell is currently 310 points ahead of the Top 35 cutline.
Holmes qualified as a Velocity Tour wild card winner in 2015 and 2016. Therefore, Mitchell would be the first black rider to qualify via the world standings since Lee Akin in 2005.
"I would be the first one to qualify in 14 years," Mitchell said. "That would be pretty cool. But you definitely can't forget what Neil did too."
Mitchell says he understands the importance of what he may achieve, but he also is not necessarily attempting to be a trailblazer by any means.
"Everybody says you can set history now, but I never got into this to set history," Mitchell said. "I am just trying to enjoy it. That is what pretty much what Bob said about Satchel. Many of those guys weren't looking to make history, they just enjoyed playing baseball.
"If the history comes with it, then I will enjoy it too."
Mitchell is set to take on Justify (0-0, UTB) in Round 1 of the Tacoma Invitational, presented by Cooper Tires, on Saturday night.
Fans can watch the action Saturday night exclusively on RidePass beginning at 9:30 p.m. ET.
Mitchell is 7-for-21 (33.33 percent) in eight Unleash The Beast events. Two weeks ago, he went 3-for-3 for a career-best second-place finish at the U.S. Border Patrol Invitational in Duluth, Georgia.
The first-year premier series rider is also in contention for the PBR's Rookie of the Year title. He trails Cody Jesus by 406.67 points.
Not having to worry about his spot on the Unleash The Beast is a huge benefit, Mitchell explained.
"That has always been my biggest thing," Mitchell said. "I am a numbers guy. I always look at the money, points and all this stuff. For the first time in my life, I don't have to look at the numbers or my money.
"There is a sense of relaxation that I can sit back and do my job and not worry about anything else."
Follow Justin Felisko on Twitter @jfelisko