Pendleton Whisky Velocity Tour
Granger looks to qualify for Velocity & World Finals
By : Justin Felisko
March 28, 2019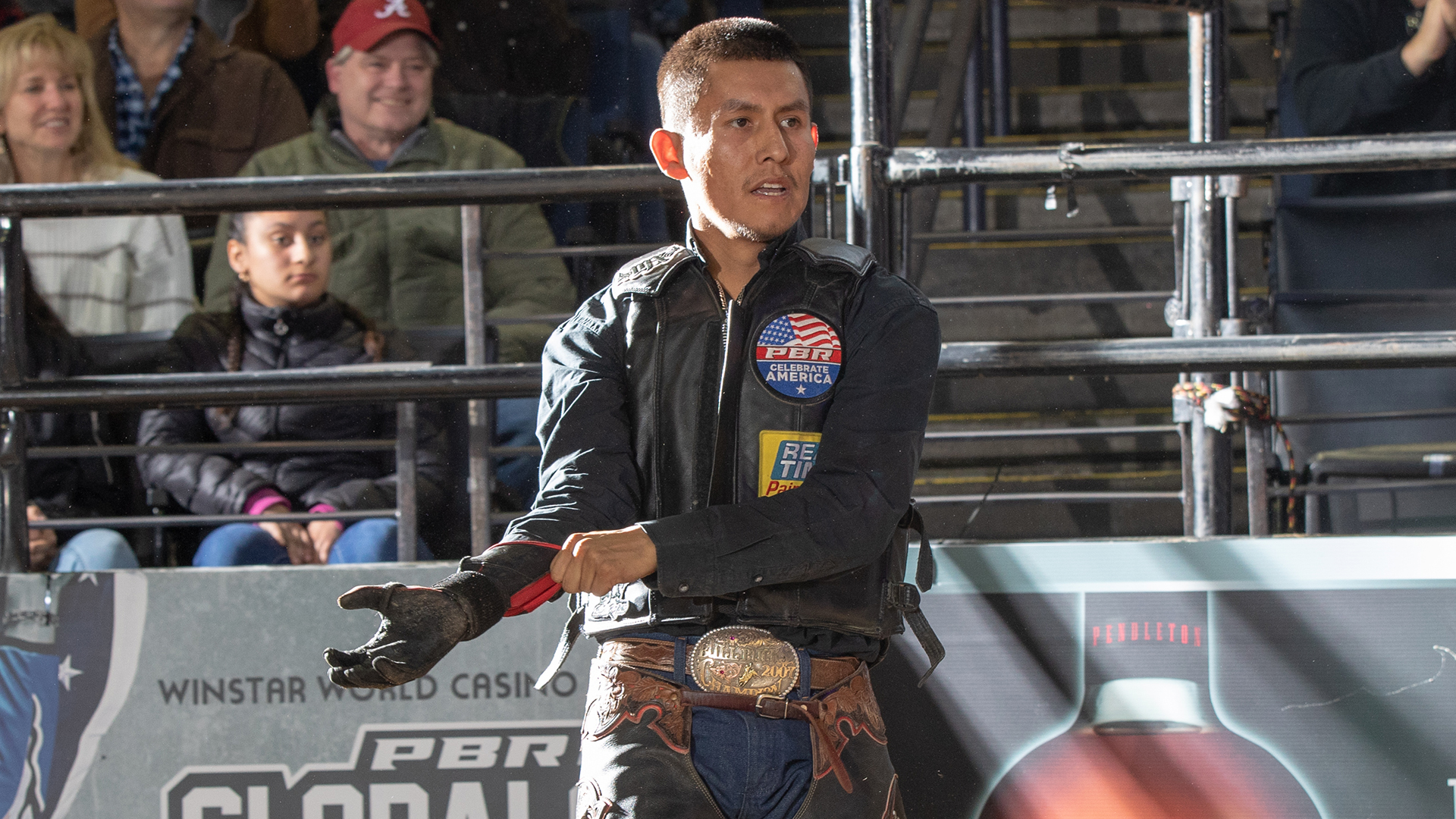 PUEBLO, Colo. – 23 years ago, all the small 5-year-old boy wanted to do was climb aboard a tiny sheep inside a local practice pen in Phoenix.
The problem was there were no sheep for Justin Granger.
Therefore, Granger's father, Teddy – a bull rider in his own right – decided a small steer might be a good test for his son.
Justin was stoked for the challenge.
Things went about as well as one could expect, Justin recalls with a laugh nowadays.
"Wooo! Face-first into the dirt," Justin said last weekend in Kansas City, Missouri. "I was scraped up all over my face. No tears. Probably just some mud."
Granger was hooked on the sport immediately, and it began a lifelong passion for Justin to pursue.
"It never scared me," Granger said of the little steer. "I got back up. I started to ride sheep, and that's what I did for a few years, and I kept climbing the ranks."
With his dad as his mentor, as well as his uncle, Terrance – an Arizona State High School Rodeo Association champion bull rider – in his corner, Granger eventually graduated to big bulls at 14 years old and has since reached the PBR's highest level of competition.
Granger is set to ride on Saturday night at the Pendleton Whisky Velocity Tour's Casper Classic in Casper, Wyoming.
The Tuba City, Arizona, native has drawn Red Sails In The Sunset (15-15, UTB) for Round 1.
Fans can watch all of the action exclusively on RidePass beginning at 9 p.m. ET.
Also competing in Casper are 2017 Velocity Tour champion Alex Marcilio, 2018 Rookie of the Year Keyshawn Whitehorse, No. 51 Lindomar Lino, No. 54 Bryan Titman, No. 55 Paulo Lima and No. 68 Ramon de Lima.
RELATED: Casper daysheet
The event winner in Casper will also earn an automatic bid for the Days of '47 Cowboy Games & Rodeo, presented by Zions Bank, on July 19-23.
Granger went 0-for-2 at the Caterpillar Classic last weekend after being awarded an exemption to the event as a Native American invite. Prior to the event, he met with members of a Boys & Girls Club from the Potawatomi Indian reservation.
Granger has essentially hit the reset button on his 2019 season.
The father of four, including a pair of twins, pulled his left groin competing at the Oakland, California, Velocity Tour event on Jan. 5.
"It is crazy. I only went to three events this past year," Granger said. "I had a groin injury. Pretty major strain, almost torn. It was bothering me after Global Cup. I have been hiding out at home."
Granger went 0-for-2 for the Team USA Wolves – an all-Native American team – and the experience was one he will never forget.
"I would like to go back next year and get the job done and help the team out more," said the full-blooded Navajo. "It was great. Being at a professional level to ride for your Native American tribe is over the edge."
It was the first time that Granger had ever competed inside the state-of-the-art AT&T Stadium.
"There are so many memories, but just going inside the building," Granger said. "I had never been in that big of a building before.
"That first night, when I went out for the intros it was all packed. I was like, 'Wow.' I was not expecting the seats to be packed and for it to go up levels and levels. It was pretty amazing."
The next Global Cup has yet to be announced, but Granger says he is hopeful he can prove in 2019 he deserves to be on the team at the next installment.
The best way to do that is to have an even better season in 2019 than he did a year ago.
Granger finished 71st in the 2018 world standings, going 13-for-61 at all levels of competition.
He was in contention for the 2018 Velocity Tour championship heading into the Velocity Tour Finals before finishing eighth in the race. He was 9-for-34 (26.67 percent) with a victory and four Top-5 finishes on the Velocity Tour.
Granger, who is currently No. 96 in the world standings, is hopeful he can make a return to Las Vegas in November and compete at both the Velocity Tour Finals and the PBR World Finals.
He still remembers growing up in Arizona watching PBR legends chase a gold buckle in Las Vegas on his television.
"I've watched the PBR ever since I was a kid," Granger said. "Chris Shivers. Justin McBride. I looked up to all of those guys.
"They motivated me to come off the reservation and do this."
Don't forget to watch "PBR Ride to Glory" every Tuesday at 9 p.m. ET on RideTV to see more footage of the PBR's Pendleton Whisky Velocity Tour.
Follow Justin Felisko on Twitter @jfelisko