Pacheco working back to form
By : Justin Felisko
April 18, 2019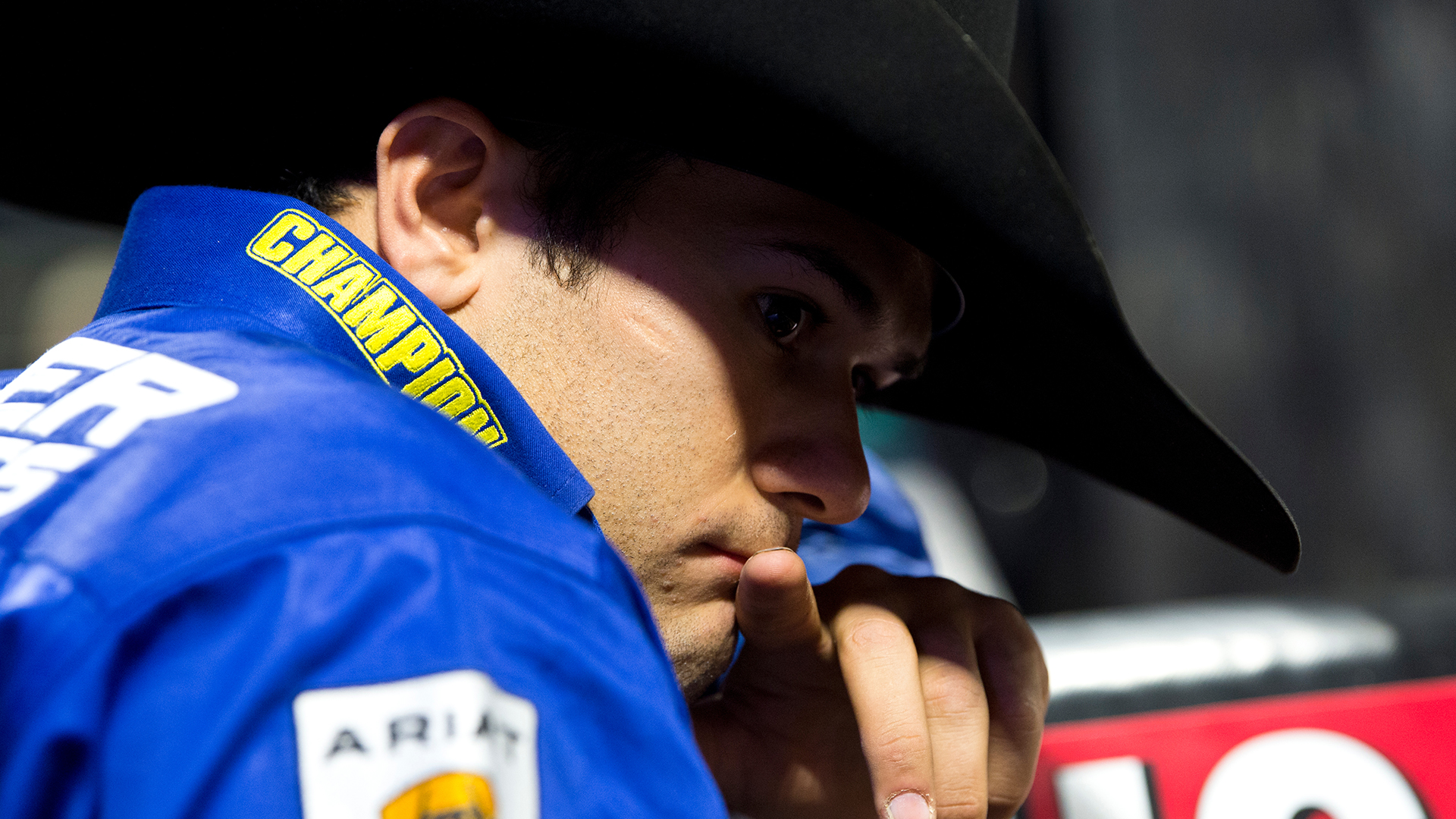 PUEBLO, Colo. – Reigning World Champion Kaique Pacheco took a step towards getting back to his championship form last weekend at the Billings Invitational, presented by Cooper Tires.
Pacheco rode three bulls at an event for the first time all season, his 3-for-4 performance netting him a seventh-place finish overall.
But the biggest gain of all for Pacheco inside Rimrock Auto Arena was comfortability.
Pacheco admitted, with the help of three-time World Champion Silvano Alves translating in Billings, that he has been learning how to ride with a knee brace full time after he tore his left MCL/PCL during last year's Velocity Tour Finals.
There have been times this season where it appeared Pacheco was favoring his knee, which caused him to miss the first five events of the year, but instead it was actually him trying to readjust his brace.
Adjusting to how things feel in and out of the chute with the brace on was a learning curve for Pacheco.
"At first it was not comfortable and it was different," Pacheco said. "But I am starting to get comfortable and feel normal. It was a lot different. I feel more difference inside the chute because sometimes the bull can lean and you feel big bulls on your legs."
Pacheco pointed out that the width of the brace caused him some discomfort. However, now that he has competed at eight Unleash The Beast events, he is no longer paying as much attention to the brace as when he first returned.
"It feels different because of the brace," he said. "The little piece makes me feel a little more far from the bull. Last weekend (in Sioux Falls, South Dakota) I took it off for the second and third rounds and tried just tape, but I (will) try to keep the brace (now)."
Pacheco is getting back to doing what he has done throughout his entire career.
Riding bulls.
The 47.58% career bull rider ended a streak of 10 consecutive buckoffs with three straight qualified rides in Billings – 67.5 points on Reggae Cowboy (declined re-ride), 80 points on Happy Dance (declined re-ride) and 84.5 points on Big Show.
"I am happy to ride my bulls," Pacheco said. "I just try to do the same thing I do my whole life. I just exercise and prepare."
2002 World Finals event winner J.W. Hart never wore a full brace like Pacheco, but he said on CBS Sports Network he could understand the difference in feel.
"I was real weird about tape," Hart said. "I didn't like tape on my wrist. I never taped my wrist much unless there was something really wrong with it or my hand. I only had to wear a knee brace one time. I sprained or stretched my MCL one time. I had a paddle brace, it was just on the outside, and I still had tape between my knee and a bull. Even that felt weird. I can't imagine the braces some of these guys have to wear feeling anywhere normal."
World No. 6 Ryan Dirteater has been riding with knee braces or tape since 2010, and the 30-year-old admitted it did take some time to mentally adjust.
"It crossed my mind, but physically no because I had to (wear it) if I was going to continue to ride bulls," Dirteater said.
Pacheco was bucked off by Scared Famous in 3.04 seconds in the championship round in Billings.
The buckoff cost Pacheco a chance at his first event win of 2019, as well as the opportunity to crack the Top 35 of the world standings.
Pacheco is ranked 65th in the world standings and is 6-for-20 in eight UTB events.
The fifth-year pro trails No. 35 Daylon Swearingen by 214.17 points heading into the Easter Break.
Therefore, he will have to use one of his 10 World Champion exemptions to compete at the Wrangler Long Live Cowboys Classic, presented by Cooper Tires, on April 27-28 in Columbus, Ohio.
Pacheco understands it will not take much for him to turn things around.
Oddly enough, he began his 2018 championship season 5-for-20 in the first eight events.
The difference in 2019 is that Pacheco did not miss the first five events of the year like this season, and he also had two 15/15 Bucking Battles under his belt.
"Like last year, I try to start to clear my mind and ride my bulls," Pacheco said. "I will keep trying to ride my bulls one at a time."
Follow Justin Felisko on Twitter @jfelisko