2019 rookies thriving together
By : Justin Felisko
April 19, 2019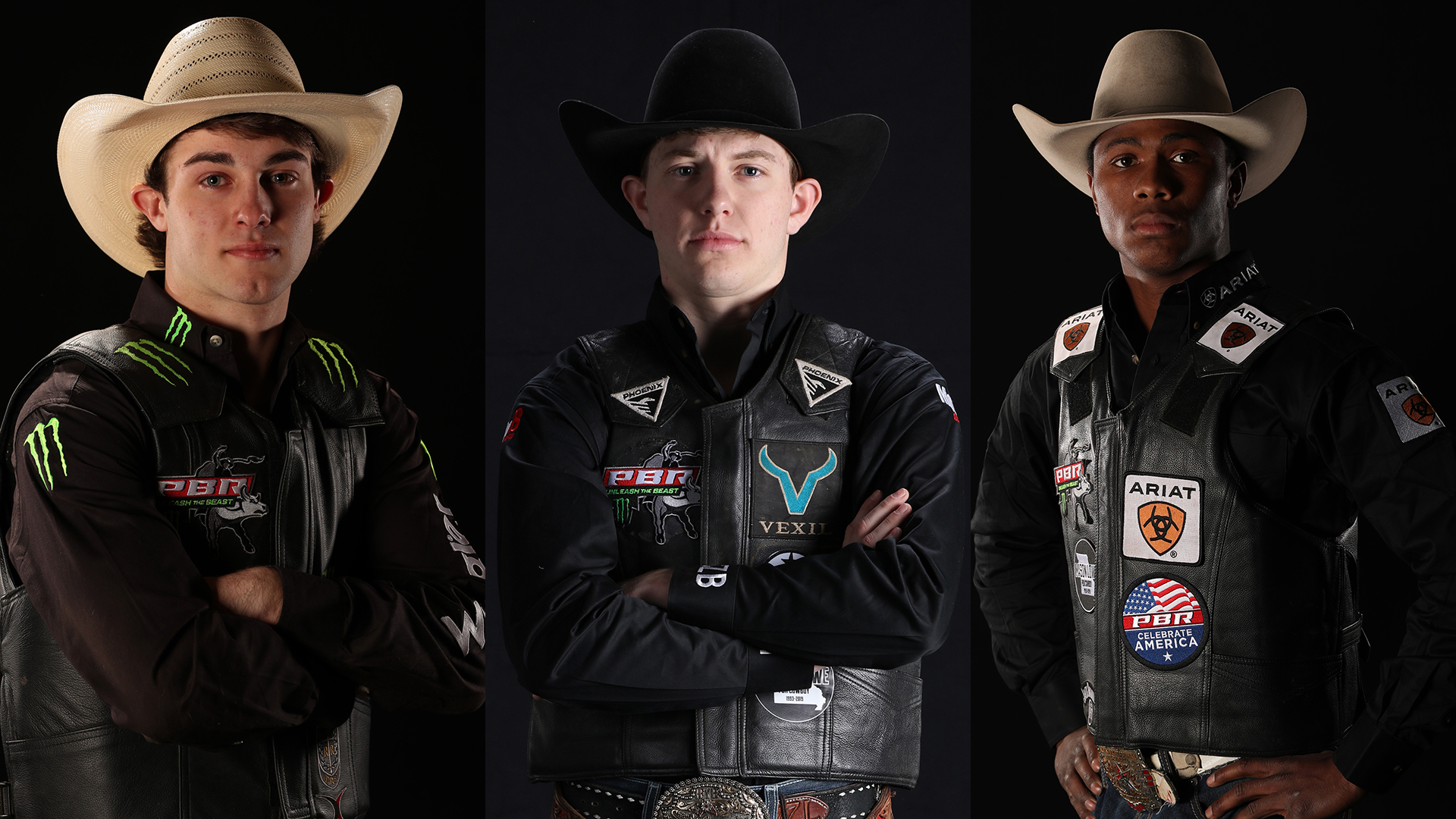 PUEBLO, Colo. – It was a Sunday night in Tacoma, Washington, when the group of rookie cowboys went zooming up Broadway at close to 15 mph.
The adrenaline rush of racing an electric scooter through the streets of downtown Tacoma may pale in comparison to riding a 2,000-pound bucking bull, but the competitive fire between many of the members of the 2019 rookie class remains the same.
It was in Tacoma last month when Mason Taylor, Cannon Cravens, Taylor Toves, Dylan Smith and Lawson Nobbs were racing each other all throughout the city.
"Oh, me without a doubt," Taylor said jokingly when asked who the best racer was that night. "We found those speed bumps in the parking lot and we would jump them. We have a blast together. If there are those remote scooters anywhere, we will go out there and ride the crap out of those things."
The 2019 rookie class is currently 10 riders deep, and the group, especially the younger trio of Taylor, Cravens and Ezekiel Mitchell, continue to push each other in the arena while remaining the best of friends outside of it.
Electric scooter races, games of pool and, of course, bull riding are just some of the scenarios that may lead to friendly trash talking among the friends that have known each other since competing against each other at the Youth Bull Riders World Finals.
"I have known them since my career started," Mitchell said. "I met Mason at a junior bull riding challenge, and then I really met them at the Youth Bull Riding Finals.
"We go back like Cadillac seats."
Cravens said the group was always a threat to win bull ridings as young teenagers.
"Every big bull riding around the house as kids, all three of us would show up," Cravens said. "It was always going to be one of us to win it. That is where it started."
RELATED: Mitchell enjoys touring Negro Leagues Baseball Hall of Fame
Cravens and Taylor are also cousins.
Since those early years, the group continued their friendship at various bull ridings, including once they turned pro and began to travel to Velocity Tour events in 2018.
"Me, Cannon and Zeke have a brotherhood more than a friendship or anything," Taylor said. "We have been around each other for a long, long time. Me and Cannon have been together even longer. We don't care who wins. We want to keep it in the room or in the truck. We want it to be one of us three."
That is true, but don't think there is not some friendly rivalries going on as well inside the room.
Mitchell, 22, and Cravens, 18, were extremely happy when Taylor, 19, became the first rookie to win a regular season event since October 14, 2017 when he was victorious in Sioux Falls, South Dakota, two weeks ago.
They also took it as a kick in their rears to step up their own game.
All of the rookies wanted to be the first rider to reach the event winner's pedestal, and Taylor beat them to it.
"Man, seeing Mason win was one of those bittersweet moments because we are all pulling for each other," Mitchell said. "We are friends in the locker room and out of the locker room. We hang out and eat together, play pool. But it does push you to a certain level because you want to be doing the same thing.
"We are competitive. We are not competing against each other so much, but seeing him get a win fires us all up because we already know the rookies came to play and we all have to do it if he's done it."
Taylor gave kudos to Mitchell and Cravens for keeping him honest at times this year.
The group says they will hold each other accountable if the other is caught being lazy in the arena.
There are no high-fives for buckoffs.
"That is where the brotherhood comes into it," Taylor said. "We will tell each other if we are being quitters and falling off and not doing the right thing. We will tell each other that. I count on them to tell me what I do right, and if I make a great bull ride, they are going to applaud me for it and I am going to applaud them for it."
Cravens recalled what Mitchell said to him when Taylor was receiving his Sioux Falls event buckle inside the Denny Sanford Premier Center.
"Man, we have to stop riding so bad now," Mitchell quipped.
Cravens added, "We both started laughing. When you see younger guys start winning, you know it is possible. When we are all showing up here with all of these older guys. It is just different. When Mason won, it just fired us all up.
"It is going to be different now. For sure."
Taylor, Mitchell and Cravens are the Top-3 rookies among active bull riders heading into the Wrangler Long Live Cowboys Classic, presented by Cooper Tires, in Columbus, Ohio, on April 27-28.
Current Rookie of the Year leader Cody Jesus is out of competition because of a left groin injury, while No. 3 rookie Lucas Divino is out with a separated shoulder.
Therefore, the top of the class for the time being is Taylor, Mitchell and Cravens.
Alisson de Souza, Joe Frost, Danilo Carlos Sobrinho, Toves and Scottie Knapp are also only an Unleash The Beast win away from getting right back into the thick of the race.
The last two Rookie of the Year races (Jose Vitor Leme and Keyshawn Whitehorse) both came down to the final day of the World Finals.
This year's class expects the 2019 race to be just as exciting.
"It is cool," Cravens said. "Whoever gets it, it is going to be a story to be told. I figure it is going to be me, Mason, Zeke or Cody."
The 2017 rookie class was one of the deepest in recent memory with seven rookies finishing inside the Top 30 and 12 rookies competing for the award won by current world leader Jose Vitor Leme.
The 2019 group is hoping they too can have quite the memorable year.
"I don't know if I ever watched one this good. Honestly, not to try and tear anybody down, but we have a lot of season left," Mitchell said. "We have not proven ourselves as the best rookie class to come through. If you look at guys like Joe Frost, he is decorated in pro rodeo and all these guys coming up, the competition is there. We all feed off each other and like each other."
Taylor concluded, "Our rookie class can ride bulls either way no matter how hard they buck. We have a throw caution to the wind attitude. I think we dang sure will hold a candle to them."