Wing accepts retirement as best decision for his future
By : Justin Felisko
May 15, 2019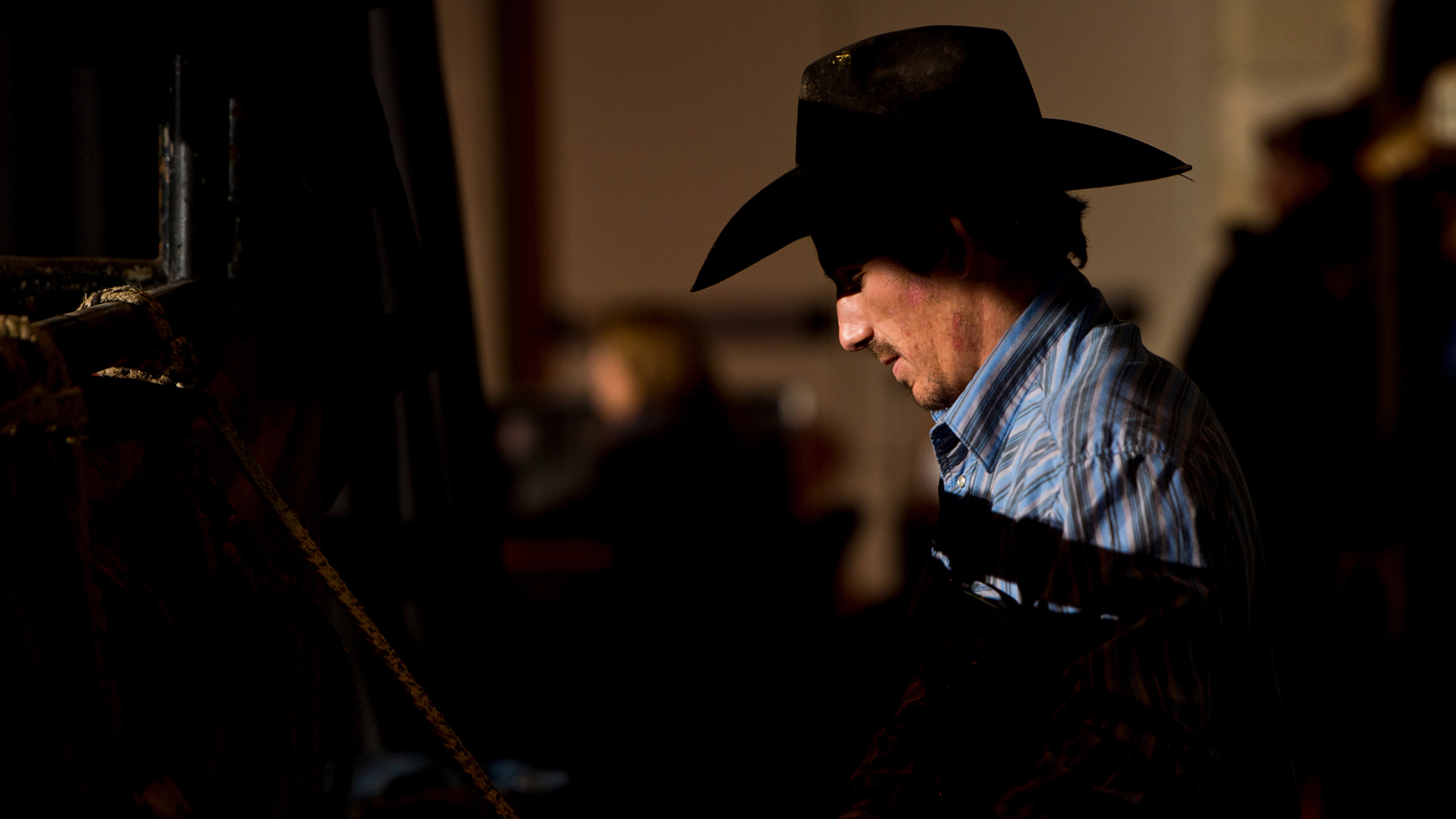 PUEBLO, Colo. – Stormy Wing finished walking up the seemingly endless staircase inside The Pit in Albuquerque, New Mexico, with an angry snarl on his face.
Wing's pent up frustration about bucking off Lil Deacon (6.79 seconds) in Round 3 of the 2017 Ty Murray Invitational provided all the energy he needed to storm up the stairs to the makeshift locker room.
The Dalhart, Texas, cowboy huffed and puffed his way toward his chair where two-time World Champion and close friend J.B. Mauney was sitting close by.
"I was pissed off," Wing recalled this past weekend. "I am climbing up to the top of those damn stairs being a little pouty baby and Mauney was sitting there. He told me, 'Blow that shit off. You were trying your ass off.'"
Wing began to settle down as he pulled out the piece of paper for the championship round draft. The veteran bull rider would often go to Mauney for advice, and on this sunny Sunday afternoon in the Land of Enchantment, he was perplexed.
Should he take BC Circular Insanity, or should he go ahead and try to channel his frustration and select World Champion Bull SweetPro's Bruiser?
Mauney was aghast that Wing even asked the question.
"Would you rather be 88 or would you rather go be 94 points?" Mauney growled at Wing.
This was not a question.
"That is the bull you pick," he continued.
One of the greatest bull rides of the last decade may not have happened if not for a nudge from one of the legendary bull riders of all time.
Wing, secure with the confidence of one of his idols in his corner, would go on to select Bruiser and ride the D&H Cattle Company bovine athlete for a career-high 95.25 points.
"That was the rankest ride I probably ever made," Wing said. "He is a World Champion bucking bull. That son of a gun is so big and so fast, but he doesn't feel strong. He spends so much time in the air that it is (like a flash) of light. From when I nodded to when the whistle blew, thinking back about it feels like a split second. Yet there was a whole ride in between there. That is one of the coolest bulls."
To this day, the ride ranks 23rd all time, tied with Mauney's herculean 95.25-point ride aboard Bushwacker. They are the only two rides to be scored over 95 points in the last 10 years.
"It is right up there with them," Mauney said in Albuquerque. "That was rank as shit. I feel like I just went 94."
Event namesake Murray – a nine-time World Champion and PBR co-founder – still believes Wing's ride was one of the greatest all time.
"That ride can be any bull rider in the history of the sport's marquee ride," Murray said. "That was everything bull riding is supposed to be. That was an athletic bull doing things that don't seem possible for an animal that size to do, and that was a cowboy's bull rider doing everything a bull rider should ever do, from the attitude to the perfect form to the 'going at it all' mentality.
"It was poetry. When we talk about this sport, that is what it is. That is perfection. You are not going to see a ride better than that. Look up the greatest bull rides of all time, and you won't see them any better than that ride, that bull, that day, that moment and that crowd. Any bull rider in the world would be proud to have that as their No. 1 bull ride."
It's an epic ride that Wing won't be able to attempt to eclipse.
WING: 'I GAVE IT MY ALL'
The PBR's Unleash The Beast is set to return to the site of one of Wing's greatest athletic accomplishments this weekend for the Ty Murray Invitational, presented by Isleta Resort & Casino.
However, Wing will not be competing following a serious head injury he sustained on March 23 in Kansas City, Missouri, attempting to ride Sun Country.
After a series of meetings with neurologists and Dr. Tandy Freeman, Wing has decided to announce his retirement from the sport of professional bull riding at their recommendation.
"As the result of an injury with bleeding in the brain sustained at the PBR event in Kansas City in March, Stormy Wing has been advised by neurologists with expertise in treating professional athletes with head injuries and concussions that continuing to ride bulls or participating in other collision activities places him at a high risk for additional, potentially catastrophic, damage," Freeman said.
Wing said he trusts Freeman's diagnosis, and that he was not going to go against the recommendation of his doctors no matter how hard a decision it is to step away from the sport and career he loves.
"Your brain is not something to mess with," he said. "I sit here and think about it, there is no way humanly possible that I can go into an Unleash The Beast event knowing I have damage on my brain and guarantee myself I won't get hit in the head. There is no way. These are the rankest bulls in the world. It came down to the fact that I have had to accept it.
"It's been hard, but there is no need for people to feel sorry for me. They shouldn't. I did this for 25 years (since my first calf at 4 years old). When I was there, I gave it my all. I tried. Not everybody can say they went to eight PBR Finals."
Wing concludes his 10-year career 143-for-571 (25.04%) with 10 90-point rides, three event wins and two 15/15 Bucking Battle victories to go along with those eight World Finals qualifications.
The tough-as-nails cowboy, of course, would love to continue riding, but he understands head injuries are something that need to be taken seriously.
"(This retirement) ain't by my choice," Wing said. "It ain't by Tandy's choice. It is one person. It is God's choice. That is all I can say. God wants me to do something different because I am not going to go against the doctors' orders."
Freeman recommended Wing see Dr. Alan Martin, a Dallas-based neurologist following the wreck that sent him to the hospital for two days.
Wing met with Martin four weeks following his injury in Kansas City, and he informed Wing that a brain scan showed he was still at risk for further injury if he continued to ride bulls.
Wing, who says today that he feels fine and has no lingering symptoms from Kansas City, was hopeful he could sit out for a year and ride with a helmet, but Martin and Freeman explained that even then one more hit to his head could have life-threatening consequences.
"(Martin) said it could be as little as someone slapping you or it could take a semi-truck hitting you," he said. "Whatever it is, I could die.
That was the deal-breaker.
Wing does not want to put his daughter Suede Marie in that position, nor any of his loved ones.
Therefore, he is slowly coming to terms with his decision to walk away from the sport he loves.
"We would be having a different conversation right now if it was just me, if I was a single (guy) without any kids" Wing said. "Suede changes it. I won't do that to her or to my family to where they would have to deal with that."
Murray said he is proud of Wing being able to walk away from the sport to focus on his family.
"I am as proud of him as I was when I watched him make that ride on Bruiser," Murray said. "It is bred into a bull rider to have that intestinal fortitude of, 'I don't quit no matter what.' Not only are you born that way, but you train yourself that way every day of your life. It makes sense how hard it is for somebody to say, 'Okay, it is time for me to get off the train.'
"I am so happy that he is doing that. If Tandy tells you that, you can take it to the bank. This allows him to be remembered for rides like Bruiser that time in Albuquerque instead of that guy that should have got off the train a long time ago."
2017: A CAREER YEAR
Wing made his premier series debut on January 30, 2010, at the Tampa Invitational and picked up the first qualified ride of his career with 85.5 points on Legacy.
Four years later, on September 26, 2014, Wing got his long-awaited first victory at the Kawasaki Strong Battle at the Bay in Oakland, California, with a 90.75-point ride on Mr. Bull.
"The win that I really enjoyed (the most) was the first one," he said. "It was a while ago, but I rode Game Over for 87.75 points then Rudolph (86.5 points) of Julio Moreno's and Mr. Bull. That is the same weekend I was able to get on Bushwacker for a $50,000 bounty. He jerked me down and put a big ole knot on my head."
It was the only time Bushwacker and Wing met up, but he sure would have loved to have gotten another crack at him, especially if Bushwacker was still bucking in 2017 during his standout season.
Wing's ride aboard Bruiser in 2017 was the beginning of what would be a career year.
The Texas cowboy had qualified for the PBR World Finals seven times before he conquered Bruiser, but never before did he ride like he did in 2017 following that season-changing 8 seconds.
Just before he was spurring his way to victory in Albuquerque, the No. 33-ranked bull rider had been flirting with the premier series cutline.
His memorable ride on the future Brand of Honor recipient propelled him to his first premier series victory in three years; he would then go on to win the Tacoma Invitational the next month as well.
The 5-foot-6 bull rider was firing on all cylinders.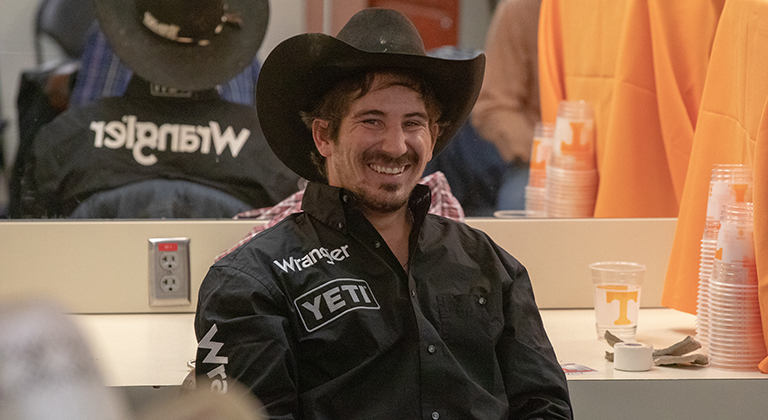 Wing then won the Tulsa, Oklahoma, 15/15 Bucking Battle in August with an 89.5-point ride on Wired Child to kick off the stretch run to the 2017 PBR World Finals, where he would ride Red Bandana for 90.25 points to finish the World Finals in eighth place – also a career-high.
He concluded 2017 a career-best ninth in the world standings after setting personal marks for qualified rides (23), riding percentage (29.87%) and event wins (two).
"That was the best year of my career," Wing said. "The only regret I have is I thought of myself being a World Champion. I wanted to be a World Champion. Not because that was my goal for a long time, but because I had another World Champion in J.B. Mauney sitting there telling me, 'Whenever you are on your game, and you are riding like you can, you can be better than all of us.'
"I know I could have been a World Champion. Not being able to do that is the only thing I resent. Other than that, as far as what I have done and people I have met and the relationships I built, places I have seen, no. I have no regrets."
GLOBAL CUP HEROICS
Wing achieved one of the next best things outside of a World Championship or a World Finals victory later that year.
Less than a week following the World Finals, he put forth an even greater performance with the weight of the United States on his back at the inaugural PBR Global Cup in 2017.
Wing teamed with 2016 World Champion Cooper Davis to lead the Americans to victory in Edmonton, Alberta, with a Hulk Hogan-esque performance for the red, white and blue underdogs.
The second-oldest member of Team USA that year went 3-for-4 to win the $50,000 individual aggregate title, contributing 40% of the Americans' total score inside Rogers Place.
"Everybody on this team has been a star player, but Stormy really stepped up and, just like all year long, he has been riding amazing," Davis said in Edmonton. "I don't know if he will be a guy next year to look out for a world title, but if he keeps riding like this he may be."
Wing was close to flawless in Edmonton with 82.5 points on Rat Trap, 88.25 points on Red Bandana and 87 points on Ulterra's Night Vision.
Team USA coach Justin McBride echoed Davis' sentiment.
"We talk about Cooper always being the team captain, but Stormy was really the spark for that team," McBride said. "Everybody kind of rallied around Stormy because he was riding so good. He was probably the biggest factor in us winning it. Cooper has the credentials going into them, everybody looks to him, and he has that gold buckle. You have to have a guy like Stormy. The guy that isn't the biggest name on there that isn't the one that everybody is looking at that rises up to the occasion and does that."
McBride added that Wing can walk away from the sport knowing he had a lasting impact with all he achieved.
"Stormy was always such a momentum guy," McBride said. "You would see these huge rides out of him. You might see him buck off several in a row, but when he was on and he was feeling it, he could ride anything. He was always really exciting to watch. He had that great little bitty body style and he would move his feet.
"He led his team to winning the Global Cup. He made the PBR World Finals a bunch of times. He rode Bruiser. He had some great career highlights for a kid from the panhandle of Texas."
Wing, though, humbly did not want to make that Edmonton victory about himself.
Just like he always wanted to credit his buddies for his success, the same is the case when it comes to the Global Cup.
He did his part, yes, but it was an overall team effort for the United States, he said.
"I was telling myself not everyone gets asked to be on Team USA, or any of them for that matter," Wing recalled. "I felt honored and happy to be representing the good ol' people of the USA. I had been riding pretty good and Cooper and McBride selected some pretty good (riders).
"It was fun. We had an excellent group of guys, make no mistake about it. It was a team deal and it took all of us to get it done. We did. I'll never forget it."
WING WILL CONTINUE TO BE A COWBOY
Wing has slowly begun to transition to the next phase of his life. He is temporarily back at home in Texas working with his dad and grandfather on their cattle and some of the family's colt race horses for an upcoming June sale.
The third generation cowboy is hopeful to stay involved in the Western way of life in some capacity and is beginning to look into what those opportunities may be with the help of the Western Sports Foundation.
The Western Sports Foundation is a non-profit organization dedicated to enhancing the overall success of Western sports athletes by advancing their health and well-being. The foundation provides medical, life counseling and financial resources to meet immediate needs and prepare athletes for life beyond competition.
"The Western Sports Foundation, along with the educational efforts of organizations like the Ty Pozzobon Foundation, has spurred greater awareness and conversation about head injuries. Stormy's decision to take care of himself following the diagnosis of a neurologist he was referred to, shows the system is working," said Sean Gleason, CEO, PBR.
Wing jokes that he will most likely not become a "badass horse trainer" but does hope to start roping a bit and learn how to further train horses.
He also is using the Western Sports Foundation's recently-launched career and education program to explore additional career options and avenues.
Wing donated to the non-profit organization in the past, and it has helped him feel a little bit more at ease about receiving some monetary assistance as well since his injury.
The Western Sports Foundation will continue to be a resource for Wing, and will connect him with neurologist Dr. Anthony Alessi in Connecticut if he needs an appointment in the future.
He remains thankful for the WSF, the PBR, Dr. Freeman and all the fans that have been checking in on him in the past month.
"I absolutely appreciate it," Wing said. "I appreciate Tandy. It has been one hell of a ride. I have to thank the PBR, and I can't thank everyone enough for the support."
https://www.gofundme.com/stormy-wing
Follow Justin Felisko on Twitter @jfelisko