Lockwood: 'You can't sit at home. You have to cowboy up'
By : Justin Felisko
May 22, 2019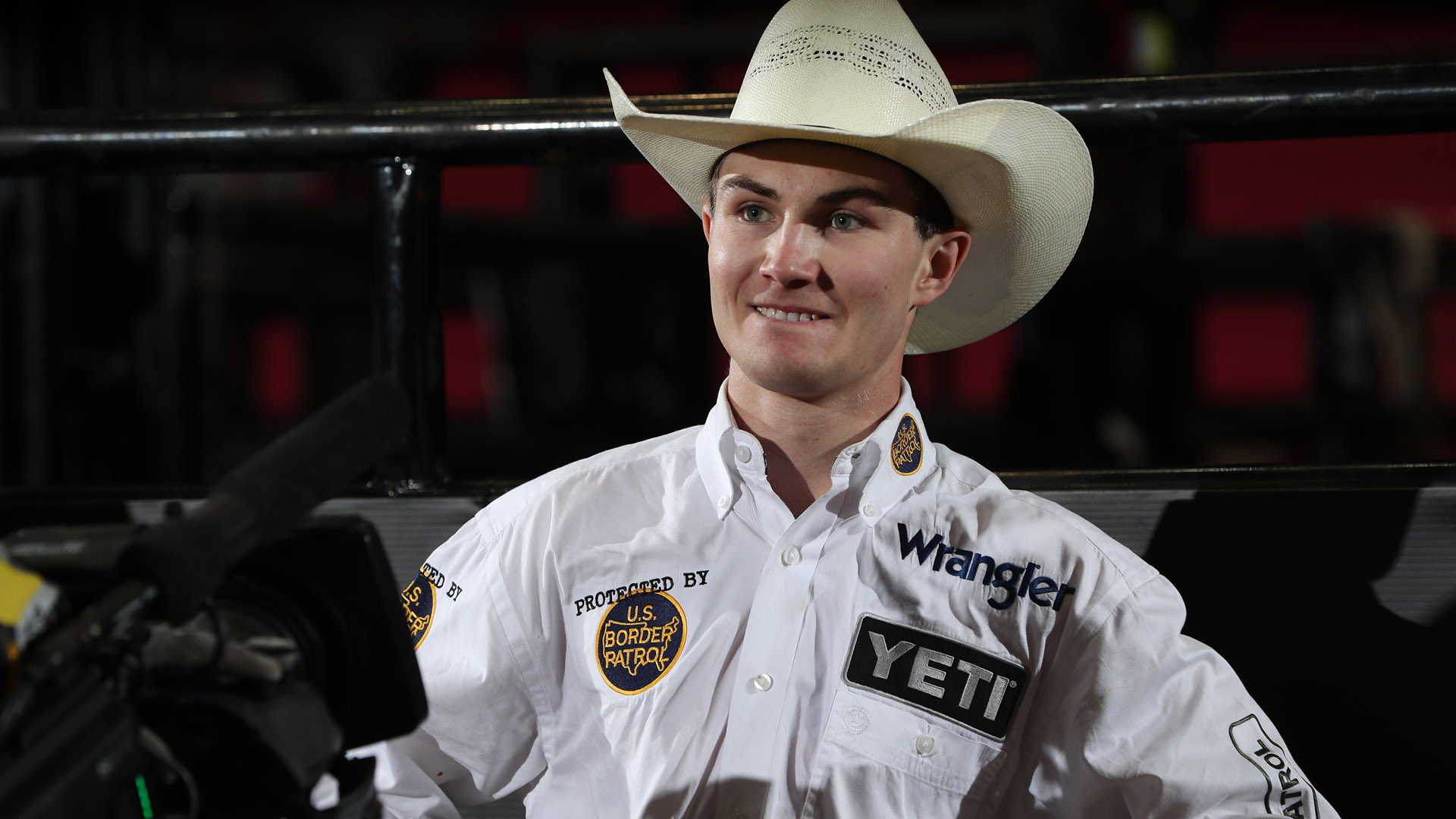 PUEBLO, Colo. – Did the sleeping giant awaken from his three-month slumber?
That sure may be the case when it comes to 2017 World Champion Jess Lockwood.
The No. 4-ranked bull rider in the world may have gone just 2-for-5 at the Ty Murray Invitational, presented by Isleta Resort & Casino, but the two rides Lockwood put together in The Pit were wake-up calls to the rest of the PBR locker room that he is ready to make a push at the 2019 world title.
Lockwood started off the three-day event by becoming the first rider to reach 8 seconds on Legit in 11 premier series outs when he took the Chad Berger Bucking Bulls bovine athlete for 89.5 points.
The 21-year-old then bounced back from a 4.24-second buckoff by Lightning Before Thunder in Round 2 to win the 15/15 Bucking Battle with 91.25 points on Bad Decisions – the ride was his second-best of the season.
"Shit, I ain't think nothing has changed," Lockwood said in Albuquerque of his return to the Unleash The Beast for the first time since breaking his left collarbone on Feb. 19 at the 2019 WinStar World Casino & Resort Global Cup USA, presented by Monster Energy.
"I proved it (last) weekend that nothing has changed. If I could have been doing that the last three months, I don't want to say anything that could or didn't happen, but I think I could have been ahead by even further."
Lockwood, who did admit on Instagram that Albuquerque was not his best showing overall, was the No. 1 bull rider in the world before Wild Goose slammed him forward, breaking the collarbone of his riding arm.
The fourth-year pro lost a firm hold (967.5 points) on the world lead when he was injured, and he has now fallen to a season-high 1,119.16 points behind No. 1 Jose Vitor Leme, who emphatically answered Lockwood's two round wins by going 4-for-4 to win the Ty Murray Invitational.
Lockwood knows he has ground to make up, especially considering he missed nine Unleash The Beast events because of that broken collarbone and Leme just picked up 700 world points.
Therefore, Lockwood is hauling his gear bag to Shipshewana, Indiana, for the first time this coming weekend for the PBR Memorial Day Weekend Bull Fest.
RELATED: Shipshewana daysheet
Lockwood is double-entered in the two-day event and could potentially earn 90 points toward the world standings with a first- and second-place finish.
"I am going to anything and everything if I am feeling good," Lockwood said. "You can't sit at home. You have to cowboy up and get shit done."
Lockwood has drawn Neon Ghost (0-0) for Round 1 at the Michiana Event Center.
Also tentatively expected to compete in Indiana are No. 16 Cannon Cravens, No. 21 Rubens Barbosa, No. 34 Scottie Knapp and No. 39 Dylan Smith.
Lockwood won two of five rounds, including the 15/15 Bucking Battle, in Albuquerque to give him the second-most round wins (6) in the PBR behind Leme (10).
The Volborg, Montana, bull rider leads the PBR with a 62.5% percent riding percentage in six events (15-for-24) and is determined to pick up points wherever he can.
Lockwood is actually still on pace to shatter his previous career-high for qualified rides in a season. He is only 13 rides behind the 28 he posted in 2017 when he won the World Championship.
There are still 11 Unleash The Beast events remaining before the 2019 PBR World Finals begins on Nov. 6 in Las Vegas at T-Mobile Arena.
Lockwood could have let the broken collarbone hurt his morale and focus, but that has been far from the case.
"I wasn't too worried at (that) point of the year," Lockwood said. "I had a strong start and I was ahead by a long ways. I wasn't worried about getting too far behind that I couldn't catch up. It was more or less I couldn't run away with it as quick as I can this first half of the season as much I would like to.
"Let alone I am still going to be in the world title race."
Follow Justin Felisko on Twitter @jfelisko