Guilherme Marchi to be inducted into Ring of Honor at 2019 PBR Heroes & Legends celebration
By : Andrew Giangola
June 02, 2019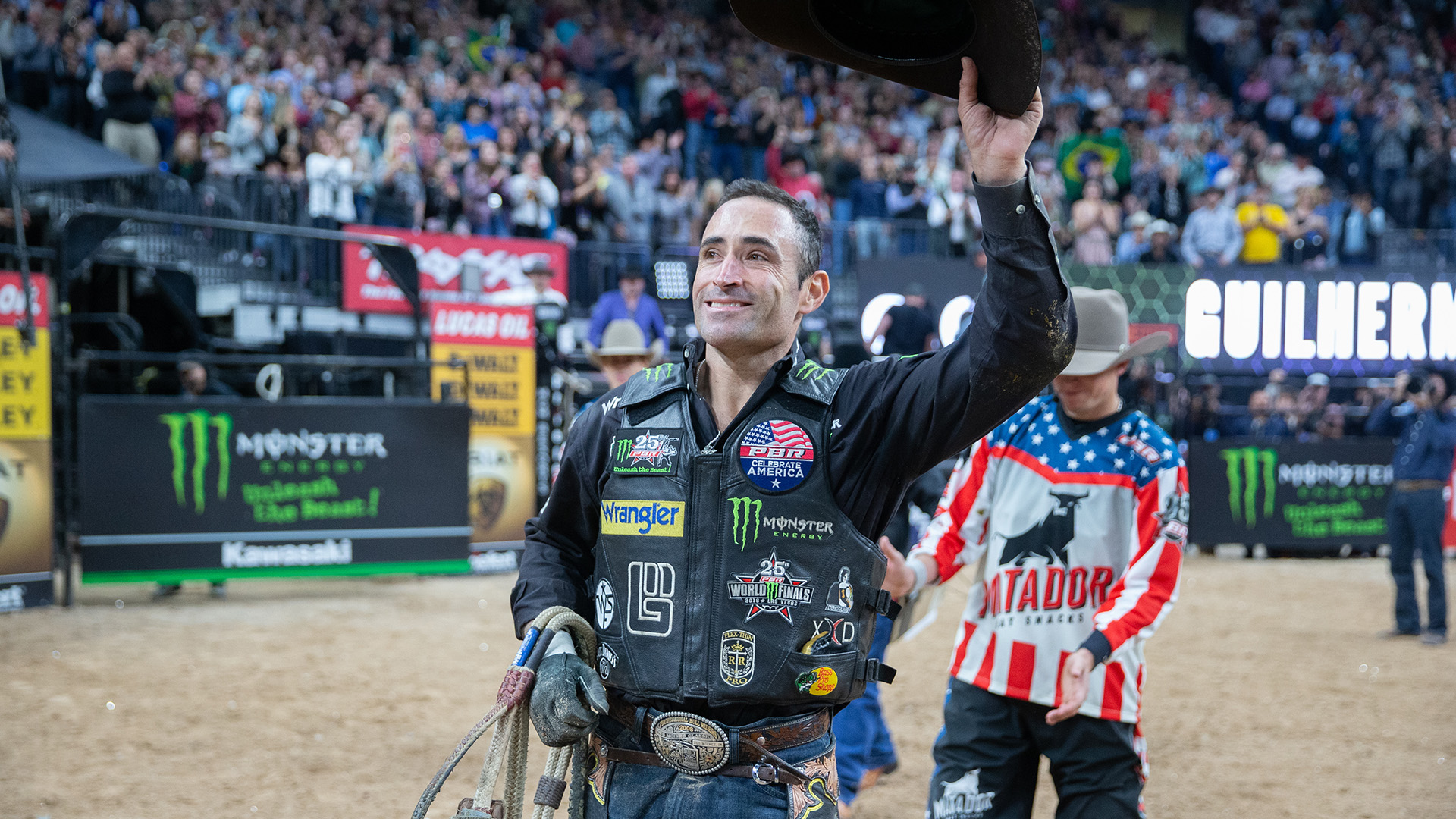 PUEBLO, Colo. – 2008 PBR World Champion Guilherme Marchi headlines the list of honorees to be feted at the 2019 PBR Heroes & Legends Celebration at South Point Casino & Hotel on Tuesday, Nov. 5, 2019.
Marchi will be inducted into the PBR Ring of Honor, and 1995 World Champion Bull Bodacious will be presented the PBR Brand of Honor, the sport's highest recognition for a bovine athlete.
The Ty Murray Top Hand award, introduced last year for athletes from the rodeo world exemplifying excellence and traditional cowboy values, will go to rodeo legends Phil Lyne and Larry Mahan. The Jim Shoulders Lifetime Achievement Award will be awarded to Neal Gay and Mack Altizer. Kylie Shivers will receive the Sharon Shoulders Award.
Heroes & Legends Celebration tickets will go on sale on Monday, June 3 and are available for $40 through PBR Customer Service (800) 732-1727 or by calling the South Point Showroom Box Office at (844) 846-8689.
RING OF HONOR
No rider in PBR history has stayed on more bulls than 2008 PBR World Champion Guilherme Marchi – the all-time ride leader with 635 qualified elite series rides. A beloved figure among fans around the world, the determined rider with the warm smile retired from U.S. competition after the 2018 PBR World Finals, where he had competed 15 consecutive times from 2004-2018. Less than a month later, Marchi would ride once more – a dramatic farewell performance to win in Goiania, Brazil, his native country. During his 15-year career, Marchi won 25 premier series events, including the PBR World Finals in 2005. He came heartbreakingly close to becoming a multi-time World Champion, finishing runner-up in the world standings four times (2005-2007, 2012). His accomplishments and approachability have helped PBR move into the mainstream. In 2016 Men's Fitness named him "the fittest athlete in sports."
BRAND OF HONOR
Bodacious (Andrews Rodeo Company / Sammy Andrews), the 1995 PBR Champion Bull, will be bestowed the Brand of Honor, the highest honor for a bovine athlete in the sport. To some, the powerful 1,900-pound yellow bovine was also the greatest ever to buck. As a two-time PRCA champion bull (1994, 1995), he and Bruiser are the only two bulls to have won both PBR and PRCA titles. He is also considered the world's most dangerous bull. After Bodacious seriously injured several bull riders, his owner Sammy Andrews retired the notorious bovine in 1995. Bodacious passed away in 2000.
TY MURRAY TOP HAND AWARD
Many still believe Phil Lyne was the most talented cowboy ever to compete in a rodeo arena. The Texas cowboy, the PRCA Rookie of the Year in 1969, would go on to win a combined five world titles (the all-around title in 1971-72; tie-down roping in 1971-72, and coming out of retirement in 1990 to take the steer roping title) as well as aggregate title at two events at the National Finals Rodeo. Lyne was the only man in professional rodeo to win the NFR average in three different events – bull riding, tie-down roping and steer roping. He was awarded the PBR Ring of Honor in 2007.
Larry Mahan's records might have been broken, but the eight-time world champion will always be remembered as one of the great cowboys of all time. Only 14 years old when he broke into professional rodeo, Mahan developed an individual talent for all three riding events – each requiring entirely different styles and skills – that has been matched by only a few in rodeo history. He used those skills to capture five consecutive world all-around titles from 1966-70, a record that was matched nearly a decade later by Tom Ferguson and finally surpassed in 1994 by Ty Murray. Mahan won world bull riding titles in 1965 and 1967 and then took a record sixth world all-around title in 1973, another mark broken by Murray in 1998. He was awarded the PBR Ring of Honor in 1998.
The rivalry between Lyne, then a young upstart, and Mahan, the seasoned veteran, was the subject of the film, The Great American Cowboy, which won the 1974 Academy Award for Best Documentary Feature.
JIM SHOULDERS LIFETIME ACHIEVEMENT AWARD
Neal Gay is a true living legend whose career began as a contestant in 1945. He rode bulls, saddle broncs and barebacks, and wrestled steers. Gay would make an even bigger mark on the sport as a stock contractor and promoter. In May 1958, he put Mesquite, Texas on the map with the opening of the Mesquite Championship Rodeo. At 93, he says he has loved every single day devoted to his industry and sport and still holds the title of managing director of a rodeo that has its own stock and performances seen globally on cable television.
Mack Altizer, owner of Bad Company Rodeo, was a pioneer who introduced high-energy modern marketing techniques and rock music to rodeo in early 1980's. In addition to taking the fan experience to new heights, injecting excitement and entertainment into traditional rodeo, and making the bulls stars unto themselves, the West Texas-native also helped establish higher payouts for rodeo contestants. He is the son of Jim Bob Altizer, considered the greatest match roper of all time, and inducted into the PRCA Hall of Fame in 1979. By thinking outside the box as a stock contractor, competitor and promoter, Mack Altizer built Bad Company Rodeo into a bull riding dynasty that has lasted decades.
SHARON SHOULDERS AWARD
Kylie Shivers is recognized as one of the great women in professional bull riding. Her unwavering support, kindness, and faith have been as integral to the sport as to the tremendous success of her husband Chris Shivers, a two-time PBR World Champion (2000, 2003). Kylie's partnership with Chris was instrumental in helping him become the second cowboy to win multiple PBR world titles, and setting records including being the first PBR bull rider to register 13 90-point rides in one season (1998); the highest-marked ride in PBR history (96.5 points, twice); and the first to win three consecutive elite series events (2000). Kylie, who teaches at a Christian Academy, is an exemplary ambassador for the western lifestyle and the sport of professional bull riding.
South Point Hotel, Casino & Spa is the Official Host Hotel of the PBR Heroes & Legends Celebration. Special room rates and packages, starting at $75 and $119 (plus taxes and resorts fees), respectively, are available to fans at South Point by using the code FAN1101. For reservations and information, call 866-791-7626.
The 2019 PBR World Finals, the richest bull-riding event in the world, will take place Nov. 6-10 at T-Mobile Arena in Las Vegas, Nevada. The five-day event will crown a $250,000 event champion and also determine the overall 2019 PBR World Champion, who will receive a $1 million bonus and the coveted world championship belt buckle. The 2019 PBR World Finals are preceded by the 2019 Pendleton Whisky Velocity Tour Finals on Nov 2-3 at South Point Arena, with some of the best riders in the world chasing a $100,000 purse, and five riders receiving an invitation to compete at the 2018 PBR World Finals.