Nance on Team USA Eagles: "This year we're going to come running"
By : Darci Miller
July 01, 2019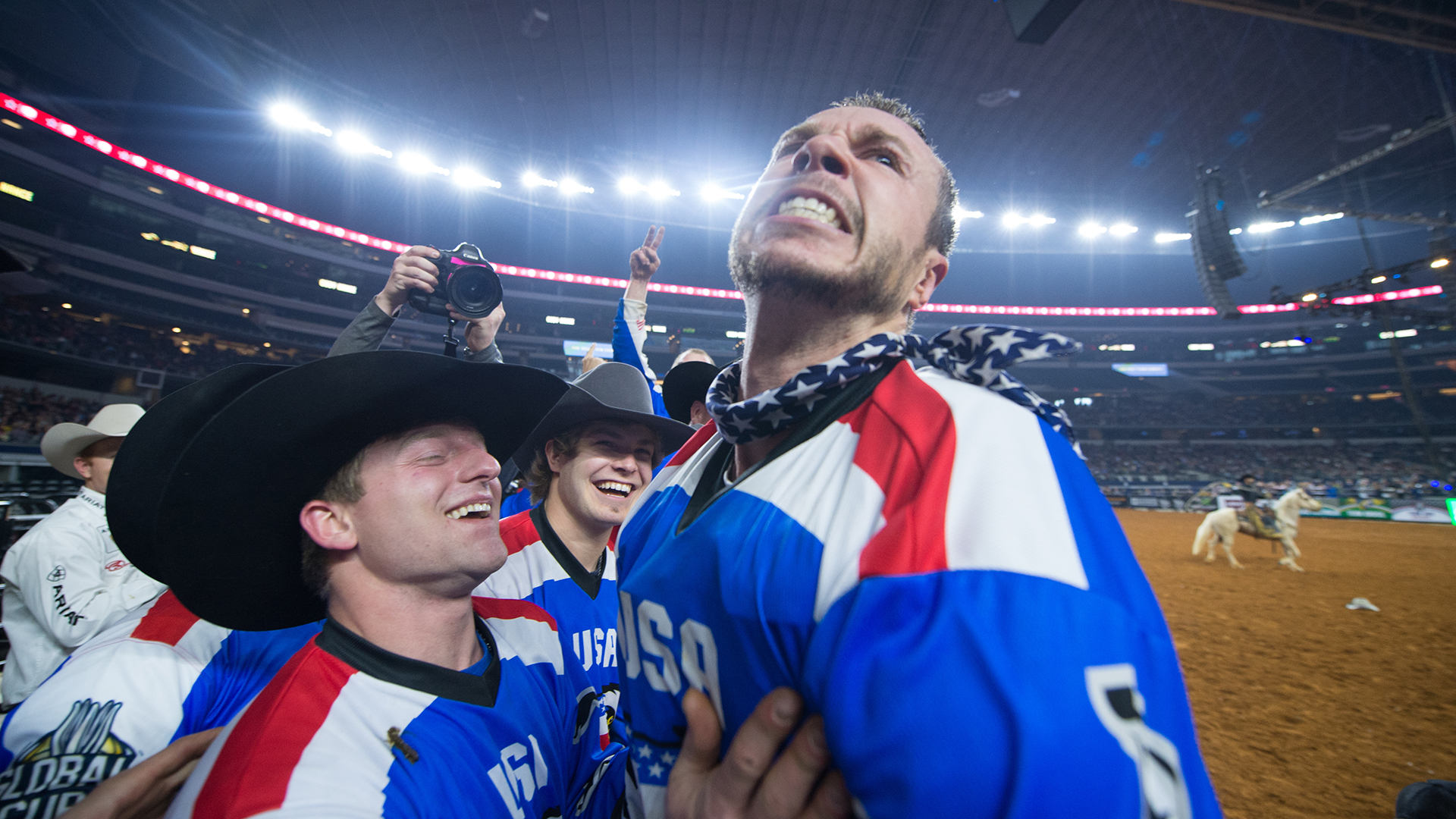 PUEBLO, Colo. – The scene: AT&T Stadium in Arlington, Texas. Round 3 of the 2019 WinStar World Casino & Resort Global Cup USA, presented by Monster Energy.
The Team USA Eagles had been battling from behind from just about the get-go, trying to defend home soil and catch reigning champion Team Brazil.
Now just one ride behind, the Eagles had the opportunity to finally sneak into the lead.
The man tying his hand into his bull rope was Cody Nance.
"I knew it was serious," Nance said. "I knew we were close. I knew every one of them counted, so I was going to dang sure try to get mine.
"I knew I needed to do my job, and that was about it."
Nance did indeed do his job, riding Blue Crush for 87 points to put the Eagles ahead.
After dismounting, Nance leapt onto the bucking chutes, roaring in celebration as his teammates raucously surrounded him.
"It was pretty intense," he said, able to smile about the moment months later.
Unfortunately, the Eagles' moment of glory was short-lived, as Jose Vitor Leme immediately rode Biker Bob for 89.25 points to give Team Brazil a lead it would not relinquish.
The Brazilians won their second consecutive Global Cup title with 939 points, while the Eagles finished second with 867.
"I wish we would've followed up and gotten a couple more rode, but this year we're going to come running," Nance said.
"And hopefully I'll be on the team," he added quickly, laughing. "We haven't gotten that far yet but I mean, I'm just assuming! Hopefully I'll be there!"
You'd be hard-pressed to imagine a Team USA Eagles without Nance on it. He's taken part in each of the first three editions of the Global Cup, going 3-for7 in Arlington, Sydney and Edmonton.
He chipped in an 84.5-point ride on Mental Revenge towards the Eagles' title win in Edmonton, and counts lifting the trophy as one of his favorite bull riding memories to look back on.
"It was heavy," he joked. "No, it was cool. It was an honor. Edmonton was really fun. Just coming out of there and winning, being out on top. That was a great time."
While his current rank of No. 32 in the world standings might not appear to do him any favors when it comes to future roster selection, all athletes for the 2020 WinStar World Casino and Resort PBR Global Cup USA, presented by Monster Energy, will be coaches' picks.
Nance's fate rests in a coaching staff he's very familiar with. Last week, it was announced that Justin McBride and J.W. Hart will lead the Team USA Eagles in 2020. There has never been a Global Cup without McBride helming the Eagles, nor has there ever been an Eagles squad without Nance.
Additionally, while Nance has two Top-5 finishes on the Unleash The Beast this season, he's been slowed by a dislocated hip he suffered on March 23 when Pan Am stepped on him following his 87.25-point ride in Kansas City.
He returned to action at the Ty Murray Invitational, presented by Isleta Resort & Casino, in May, and is still working on rounding back into form.
"I feel really good," he said. "The hip feels really stable. There's no pain."
He's in full health for a strong second-half run, beginning at Last Cowboy Standing at Cheyenne Frontier Days on July 22-23.
Nance is also set to ride this week at the Ranchman's PBR Canada Touring Pro Division event in Calgary. Fans can watch the event exclusively on RidePass (9 p.m. ET).
Also tentatively slated to ride is No. 4 Chase Outlaw, No. 12 Matt Triplett, No. 14 Aaron Kleier, No. 23 Joe Frost, No. 24 Brennon Eldred and No. 34 Dakota Buttar.
Nance finished the 2018 season ranked No. 9 in the world, and a strong push to the PBR World Finals on Nov. 6-10 could put him back in a similar spot.
Regardless of where the world title race ends up, Nance looks forward to having another chance to celebrate with his teammates at the Global Cup.
"It's a lot more support than what we're used to," he said. "(Bull riding is) mostly an isolated event. You have a couple buddies there supporting you or whatever, but you're not competing against them at the Global Cup. You're competing with them. And that was the difference."
Nance bleeds red, white and blue, and appreciates every opportunity he has to pull on an Eagles jersey and represent his country.
"That's an honor," he said. "You watch the Olympics and everything all growing up, and for us to have that opportunity is such a blessing."
But don't ask him if he has a favorite sport to watch.
"No," he said, cracking a smile. "We cheer for USA."