WCRA Triple Crown could mean a giant payday for one hot PBR cowboy
By : Andrew Giangola
September 12, 2019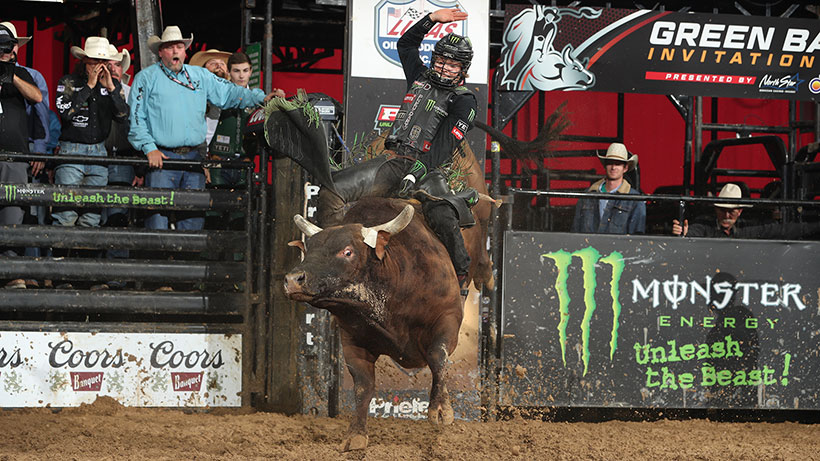 A new twist to the World Champions Rodeo Alliance (WCRA) could lead to a PBR rider cashing one giant paycheck.
The new rule in effect for the 2020 season – the WCRA Triple Crown of Rodeo – is simple and lucrative: win three consecutive WCRA Majors and pocket $1 million.
PBR riders including Jose Vitor Leme, Joao Ricardo Vieira, Chase Outlaw, J.B. Mauney and Jess Lockwood have competed in WCRA majors, which are often paired with PBR events to create western sports extravaganza weekends.
Rewind to last year and Derek Kolbaba walking into The Resch Center in Green Bay, Wisconsin, for the WCRA Title Town Stampede.
Kolbaba had already won the bull riding at the WCRA Windy City Roundup in Chicago in January and at the Days of 47 Cowboy Games and Rodeo in Salt Lake City in July.
"With this new cash bonus, Derek would have been eight seconds away from the WCRA Triple Crown of Rodeo and $1 million," said WCRA Vice President Scott Davis.
Kolbaba is not the only athlete who would have been competing for that kind of massive check had the TCR been in effect.
Bareback rider Wyatt Denny and Team Ropers Garett Tonozzi and Joe Mattern had also won in Chicago and Salt Lake City and would have had a chance for three straight WCRA wins and a seven-figure paycheck.
Next season, two of the $1,000,000 WCRA Major Rodeos will be coupled with a PBR Unleash the Beast event: Kansas City, Missouri, for the Royal City Roundup on Feb. 28 and Tacoma, Washington, with the Puget Sound Showdown on August 28.
The other WCRA Major that's part of the TCR, the Stampede at The E in Guthrie, Oklahoma, will be held May 17.
All three TCR events in 2020 will be broadcast on CBS Sports. (The full CBS broadcast will be set and released at a later date and is subject to change.)
"We endeavor to lift the entire sport of rodeo," said WCRA CEO Gary McKinney. "The WCRA Triple Crown of Rodeo is another tremendous advancement for all stakeholders; the athletes, the rodeos and the fans. Historically, outside of the road to the finals there has been no platform or continuity to align major rodeos – the TCR provides that vehicle."
"The three rodeos CBS Sports brought to fans this past summer from Green Bay, Salt Lake City and Calgary, reached more than 3.1 million unique viewers, proving a strong market for major rodeos in mainstream media," said Sean Gleason, CEO, PBR. "The WCRA Triple Crown of Rodeo is an exciting addition that will bring more drama, news value and fan buzz to major high-payout rodeos."
The TCR bonus will be available to all athletes who nominate their current rodeo efforts through the WCRA Virtual Rodeo Qualifier (VRQ) and are crowned champions at three consecutive WCRA Major Rodeos.
This revolutionary annual incentive is not limited to just the WCRA 2020 season. It allows athletes to rack up wins on a rolling calendar basis.
This means athletes' three consecutive wins can cross calendar years, however, the $1,000,000 bonus will only be paid one time annually, according to Davis. If two or more athletes achieve this milestone at the same time, the bonus will be split.
"Our 2020 WCRA Major Rodeo Event Series is already scheduled to pay over $5.1 million," said WCRA President Bobby Mote. "The TCR is the platform that links this on-going series of events together from a media and public relations standpoint – with athletes in pursuit of the $1,000,000 bonus at every event. This is a big damn deal."
Athletes from around the globe have the opportunity to compete in the WCRA Major Events Series and compete for the TCR after qualifying through the VRQ. Qualifying for the Royal City Roundup is currently underway and athletes can continue nominating until December 1. All rodeo athletes interested in learning more about the VRQ should be directed to wcrarodeo.com while those inquiring more about the TCR may visit triplecrownofrodeo.com.
Fans will be able to witness the first Triple Crown of Rodeo stop at the Royal City Roundup at the Sprint Center in Kansas City, Missouri, February 28.
Tickets for the one-day $1,000,000 major rodeo go on sale Monday, Nov. 4 at 10 a.m. CT and start at $10. All tickets for the event can be purchased at the Sprint Center Box Office or by visiting sprintcenter.com.
Since launching in May of 2018, the WCRA and its partners have awarded more than $5,600,000 in new money to rodeo athletes. All rodeo athletes interested in learning more about the WCRA or the VRQ should be directed to wcrarodeo.com.