Leme impressed by Brazilian soccer star Neymar's focus; ready to continue world title push in Fairfax
By : Justin Felisko
September 17, 2019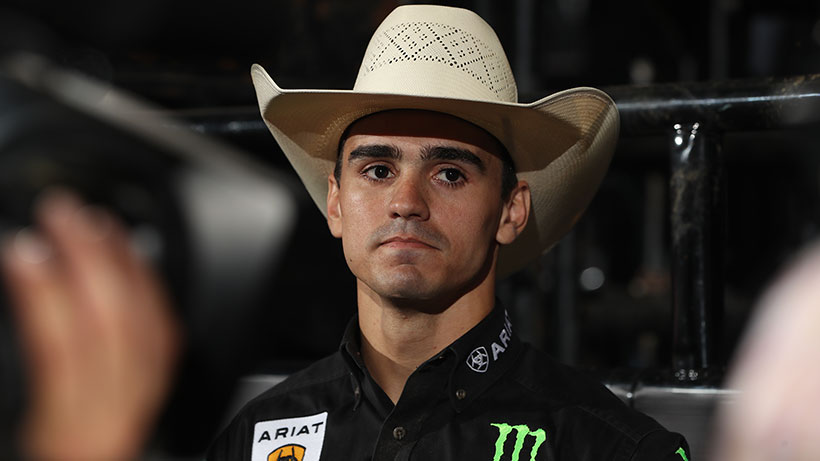 PUEBLO, Colo. – Jose Vitor Leme intently stared at the big screen inside JQH Arena on Saturday night.
His eyes flickered back and forth while he honed in on the replay, trying to discover what he did wrong attempting to ride Hammerhead Blu during Round 2 of the PFIWestern.com Invitational.
The world No. 1 bull rider had snapped his fingers in frustration immediately when he picked himself off the cold dirt, a small sign that he knew he let an opportunity pass him.
Leme continued to stare at the screen while U.S. Border Patrol bullfighters Cody Webster and Jesse Byrne slapped him on the back and handed him his bull rope.
The 23-year-old's failure was a moment of the past once Leme finished watching the replay of his 5.18-second buckoff and headed out of the arena to the locker room.
"It is not like I don't feel sad or mad when I get bucked off, but after I walk through that gate in the arena I leave that behind me," Leme said with the help of Paulo Crimber translating. "I cannot change the past. It is already gone. I just try to look for the future and think it is a new day, and if you keep your head down you are going to stay on the ground. You are never going to lift up.
"I try to just pick my head up and go for the next deal and move on to the next round."
Leme knew he had to refocus in Springfield with so many world points on the line during the final three-day event of the season.
The 2017 Rookie of the Year was sitting ninth in the event average. Leme still had two more bulls on Championship Sunday to make up for his mistake, not to mention a 15/15 Bucking Battle matchup in less than an hour.
Leme sat down in the locker room to regroup and prep his bull rope for the 15/15 Bucking Battle.
Earlier in the day, the former semi-pro soccer player had seen that Brazilian soccer superstar Neymar had battled back in the face of adversity across the Atlantic Ocean in Paris.
Neymar was playing in front of Paris Saint-Germain's home crowd Saturday for the first time since his failed attempt to be transferred to Barcelona. The PSG fan base – the Ultras – made it their mission to harass their own player in their stadium after he publicly admitted he did not want to play for PSG.
The Ultras are some of the rowdiest fans in soccer, and they gave Neymar an earful, to put it politely.
Things only got worse for Neymar when he sailed a shot wide left during the scoreless game vs. RC Strasbourg Alsace. Meanwhile, PSG struggled mightily to get anything going.
Neymar, though, remained committed and determined.
"Until those 90 minutes and stoppage time run off, the game is still on. Anything can change," Leme explains with a smile.
Sure enough, Neymar came through in epic proportions Saturday at Parc des Princes in Paris.
Neymar went from villain to hero when he connected on a bicycle kick during stoppage time to send PSG home with a 1-0 victory in the final minute of the game.
Leme overcame his own miss this weekend, too.
Shortly after Hammerhead Blu bucked him off in 5.18 seconds, Leme went on to ride Marquis Metal Works Gangster's Wildside late Saturday evening for 88.75 points in the 15/15 Bucking Battle.
Leme remained laser focused on Sunday, riding Rusted Metal (85.5 points) and Biker Bob (92 points) to win his fourth premier series event of the season.
"He was my first pick even if I was coming back No. 1 for the draft," Leme said of Biker Bob, who surprisingly fell to Leme with the fifth selection. "He is already hard into your hand for a left-handed guy, but I think I fit him good because he is real electrical and I am electrical. Our movements match up good. Whenever I have a chance, that is going to be my pick."
It is the first time this season Leme has won an event without riding all of his bulls.
Leme said it is just one example of why you can never count yourself out of an event until it is officially over.
"Like Neymar. He was a big deal and he was going to leave the team," Leme said. "The fans were going against him, and he stayed in the game. The fans were booing him and going against him. In the stoppage time, he went and made a bicycle goal to win the game. It proves that it doesn't end until the end. He didn't let everybody being against him bother him. He kept his head up and played. He proved he can be good if he's focused. God wants him to do that. God gives me that strength, that ability, that focus."
Leme earned a monumental 720 points toward the world standings with his Springfield win and fourth-place finish in the 15/15 Bucking Battle.
The 2017 World Finals event winner has won three consecutive events at all levels of competition in 11 days to earn 1,620 world points.
Leme began the Pendleton Whisky Velocity Tour event in Window Rock, Arizona, third in the world standings and 468.34 points behind previous world leader Jess Lockwood.
The Ribas Do Rio Pardo, Brazil, native turned that deficit into an 821.66-point lead in a week and a half.
Leme has the largest lead for a No. 1 rider this season since Lockwood led Joao Ricardo Vieira by 967.5 points before he broke his collarbone on Feb. 9 at the Global Cup USA.
"We have a saying in soccer, 'A team that is winning, you don't change the players,'" Leme said. "You are already winning, why would you change anything? I am going to continue to do the same and keep the same strategy. Having fun before the events. Playing soccer (during the week). Living the life, because everything is working so great right now. Why change it?"
Leme is not naïve though.
Just as Neymar scored a last-minute goal, the 2019 PBR World Championship race may come down to the final bull at the 2019 PBR World Finals on Nov. 6-10 at T-Mobile Arena in Las Vegas.
There are still four regular-season Unleash The Beast events remaining until the World Finals, including this weekend's Fairfax Invitational on Saturday and Sunday at EagleBank Arena.
"There is a lot of minutes left," Leme said, making the soccer analogy. "I know four (events) sounds like a lower number, but there are a lot of points on the line. A lot of stuff can happen. I want to continue to focus on taking it bull by bull and ride my next event like it is my last. I want to try to get to Vegas where I can do my job."
Follow Justin Felisko on Twitter @jfelisko