Phil Lyne's versatility and drive led to unmatched rodeo career
By : Darci Miller
October 11, 2019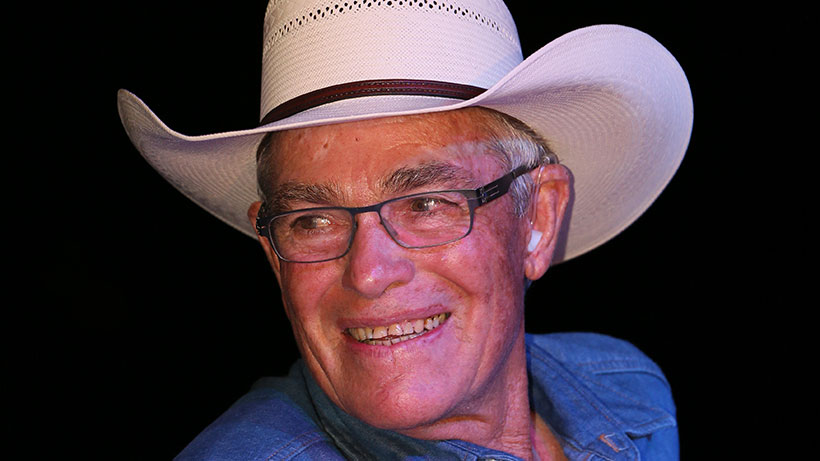 PUEBLO, Colo. – Phil Lyne first took up rodeo events when he was in preschool in the early 1950s.
His father taught him how to rope on the family's ranch, and he entered his first rodeo when he was 4 years old.
"(Life) just revolved around rodeo, ranching, hunting," Lyne said. "Probably for 10 years, it was predominantly everything revolved around rodeo. That was just a big part of my life. It was what I wanted to do."
It wasn't too long before the rodeo world all but revolved around him.
With five world titles in three different events under his belt, Lyne is one of the greatest rodeo cowboys of all time. In November, he will receive the Ty Murray Top Hand Award at the PBR Heroes & Legends Celebration in Las Vegas.
In its second year, the award connects the PBR to its historical roots in rodeo and is given to cowboys who have made significant and lasting contributions to enhance the sport of rodeo and its heritage.
Lyne broke into the professional ranks in 1969 and, in a rare feat for a cowboy, competed in five events: bareback riding, saddle bronc riding, bull riding, tie-down roping and steer wrestling.
"I didn't do it for, let's say, points," Lyne said in a video interview that will air at the Heroes & Legends Celebration. "I did it because I wanted to. That's just the way it was.
"I liked the event. Like bulldogging, I weighed 153 pounds. I did okay in college, I did okay in high school. But when I got to the big boys, 153 wasn't too good," he said with a laugh.
Lyne won the PRCA Rookie of the Year title in '69, and he earned his first world titles in 1971 when he won buckles in the all-around and tie-down roping. He duplicated the feat again in 1972.
The all-around title race in 1972 became the subject of a documentary called "The Great American Cowboy," which won the 1973 Academy Award for Best Documentary Feature and immortalized Lyne and competitor Larry Mahan in pop culture.
Mahan will join Lyne in Las Vegas as a recipient of the Top Hand Award. The two were also inducted into the ProRodeo Hall of Fame's inaugural class in 1979 and later the PBR's Ring of Honor. Mahan was named to the Ring of Honor in 1998, and Lyne joined the prestigious group in 2007.
"Phil is one of the greatest all-around hands, I think, in the game because he worked both ends of the arena," Mahan said. "His two big events in my mind were the calf roping and bull riding. And he excelled in both of those."
The respect between the two competitors is mutual.
"I never looked at it like it's a rivalry," Lyne said. "Larry, I thought he was always in a good mood. Good attitude. Lot of ability. Stayed in good shape. And was a heck of a competitor. I was glad to be around him."
Lyne retired from full-time rodeo competition in 1974 at 27 years old, returning home to get married and work on the ranch. But while he was done riding bulls as his heart was no longer in it, he continued practicing steer roping.
"When you're fixing to get on a bull and you're thinking about hunting at home or something that you should be doing or you'd like to do at home or something – I couldn't keep my concentration," Lyne said. "I wouldn't say burned out, but I didn't crave it. I'd just had all the rodeo I wanted there for a while.
"And then in the '80s, the jackpots got really, really good. I mean, really good. And that was about the time where I started getting where I could compete pretty good with them."
So Lyne made a comeback and, at the age of 43, won his last world title in steer roping in 1990.
He's the only cowboy to win the NFR average in three separate events.
"In each event, I think there's basics," Lyne said. "And I really, truly believe that a lot of people don't even know the basics, or have any idea what different steps are. If you're doing certain steps that are 25-30% successful, and you've got to do 10 of them, how can you get through a run and make a good run without making a mistake?
"I never got down on myself. I always wanted to face the fact of what I should've done and try not to do it again."
That relentless drive is what propelled him to become one of the greatest rodeo cowboys of all time, and now a recipient of the Ty Murray Top Hand Award.
"The harder you work at something, the more you're going to get out of it," Lyne said. "And rodeo's always rewarded me in different ways, but it has rewarded me throughout the years.
"It was just so great to me for those guys that I have so much respect for to have that much respect for me. It's hard for me to put it into words. It's just great."