Taylor hoping for similar rookie turnaround like Davis had in 2015
By : Justin Felisko
October 15, 2019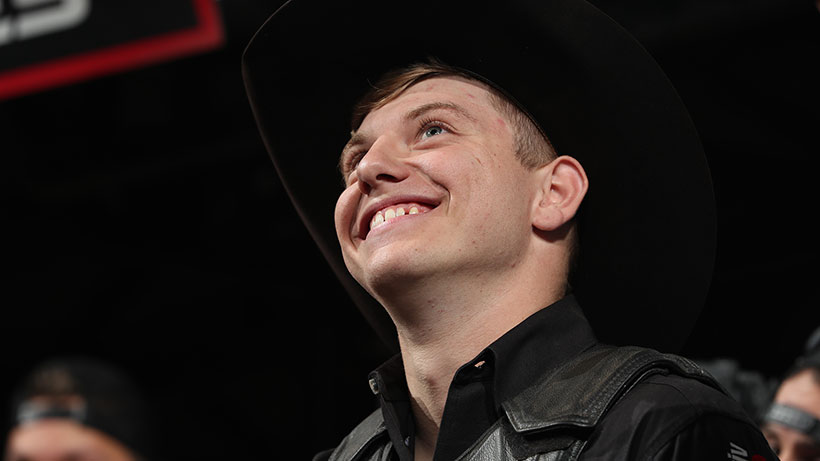 PUEBLO, Colo. – Mason Taylor has historically turned his nose up when it comes to eating his vegetables.
One thing that tastes worst than veggies, though, is losing.
It is just one reason why Taylor approached 2016 World Champion Cooper Davis for weight-loss advice last month.
Taylor had heard the rumblings from some of his friends saying he was getting "chunky," but it was not their comments that bothered him. It was rather the feeling he had on the back of the PBR's rankest bucking bulls.
The 20-year-old felt slow.
He felt out of shape.
He felt gassed once the championship round or a 15/15 Bucking Battle would come around.
Taylor knew Davis was the best person to reach out to for advice. Davis lost 24 pounds in under three months his rookie season and went on to become, at the time, just the fourth rookie to win the PBR World Finals.
"Everybody was making fun of me because I was getting a little chunky," Taylor said. "Coop told me some stuff to do and how he lost the weight."
Davis explained to Taylor that dieting would be the hardest but most important part.
It is easy to commit yourself to the gym, but watching what you eat and monitoring calories can be harder than pushing yourself to work out that much longer on the treadmill.
"My biggest struggle was the eating right," Davis said. "You can work out day in and day out, but if you are eating 4,000 calories and burning 2,000, you aren't going to lose weight that way. You basically have to burn more calories than you are consuming. I told him to stay away from the sodium, sugars and watch your calorie intake.
"He has taken it to heart because, heck, I have gone to eat with him the last few weekends and he dang sure has been paying attention to what he is eating."
Taylor returned home for the one-week Unleash The Beast break on Sept. 15 committed to changing his physique.
With less than two months until the 2019 PBR World Finals, Taylor promised to work out twice a day, while also changing his eating habits.
Taylor weighed 168 pounds at the time.
One month later and the Rookie of the Year contender heads into the Cooper Tires Take The Money and Ride this weekend in Nampa 16 pounds lighter, weighing in at 152 pounds.
"I stayed home and worked my butt off," Taylor said. "I used to go home and sleep until 1 or 2 o'clock in the afternoon, then get up and eat and not do nothing, and expect to come up here and win. It was not going to happen."
Taylor said goodbye to some of his weaknesses – bread, French fries, Dr. Pepper, Mountain Dew and other salty or fatty foods – and replaced them with steak, shrimp and brown rice, and slowly began to embrace vegetables.
If he goes out to eat on the weekends, Taylor turns down the temptation for a bun with his cheeseburger. Those French fries? Well, they have now become green beans.
What about any late-night sweet tooth urges?
The secret, Davis told Taylor, was natural honey.
"Learn to like it," Taylor said with a smile.
Taylor also made sure to download the Muscle Booster Workout Tracker mobile app, which has helped him build a custom workout plan to help with his weight loss.
The Maypearl, Texas, native is working out twice a day, with his morning routine focusing on cardio whereas the afternoon is focused on stretching and recovery.
"I am running my freaking ass off," Taylor said. "I ran a mile on the treadmill the other night with Keyshawn (Whitehorse) in Greensboro. When I am at home, we have a big long driveway and I will run it five times. It is around a mile."
Taylor also has taken up boxing again.
He was a boxer for about six years as a kid, until he was 15, before turning his focus toward bull riding full-time.
"Most people don't know this, but I grew up boxing," Taylor said. "For other cardio, I will go into the workout room and do five three-minute rounds on the heavy bag. If I don't want to do five rounds, I will do two five-minute rounds. That is how I get my cardio in. I hit the bag. I jump rope. I run. I also am doing shit outside of that. I ride a horse pretty much every day, and work cows."
The results have been evident.
Taylor has ridden five of his last six bulls and is coming off a third-place showing at the Wrangler Long Live Cowboys Classic in Greensboro, North Carolina, last weekend.
He emphatically ended his weekend with an 88.75-point ride on Hard Juice, which is the third-best ride of his career.
Taylor has reemerged as a Rookie of the Year contender with his recent performances. The No. 11-ranked bull rider is second in the rookie standings, trailing ROY leader Dalton Kasel by only 21.25 points heading into Nampa.
"I am just really cutting everything up, getting it tight," Taylor said. "As you can see, it is helping with my bull riding. I can move like I used to. I am not sluggish. I am not riding one a weekend because I am gassed. I can ride like I know how and like I used to. It has just been over the past six, seven months that I put on probably 10 to 15 pounds I didn't need.
"So once everything got off, everything is falling in place."
Taylor hopes to get down to 145 pounds, potentially as soon as the World Finals.
Coincidentally, Davis won the World Finals at 144 pounds.
Jose Vitor Leme was the last rookie to win the World Finals (2017).
The previous rookies to win the season-culminating event before Davis and Leme were Jody Newberry (2003), Luke Snyder (2001) and Ronnie Kitchens (1996).
Davis said that he sees plenty of similarities between where Taylor is at this year to where he was when he was a rookie.
The 2016 World Champion was far from gold buckle worthy until he began to shed his own weight.
In fact, Davis was ranked 16th in the world standings heading into the 2015 World Finals.
"Mason is in the same space I was whenever I was a rookie," Davis said. "He wasn't fat by any means, but the leaner you can be in this sport, the better you are. I think he knows that. He has been quizzing me week in and week out on ways that I lost weight. You can see it in his performance how much better he rides. He is riding really good right now."
Follow Justin Felisko on Twitter @jfelisko