Mack Altizer brought rock and roll to the rodeo
By : Darci Miller
October 17, 2019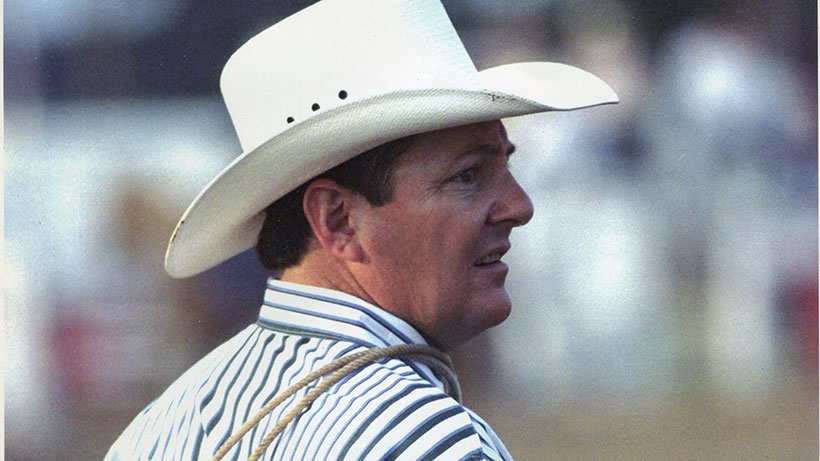 PUEBLO, Colo. – When fans attend a PBR event, they can expect to be thoroughly entertained from start to finish. With bright lights, pyrotechnics and loud music – and, of course, Flint Rasmussen or Matt Merritt – people come for the bull riding, but stay for the show.
It's a model that may not have been possible without the foresight of Mack Altizer.
Altizer competed in rodeos himself when he was young and quickly began to realize something: the amount of money he was spending was greater than the amount of money he was taking in.
"I realized competing that the cost of living was way higher than what we were able to earn," Altizer said. "And so in order for us to keep rodeoing, I realized that we had to get more money in the sport."
It was that simple equation – that money in had to be greater than money out – that led him to revolutionize the world of rodeo.
On Nov. 5, Altizer will receive the Jim Shoulders Lifetime Achievement Award at the 2019 PBR Heroes & Legends Celebration in Las Vegas. The award is given annually to non-bull riders whose efforts have helped grow the PBR.
He will be honored alongside fellow stock contractor and promoter Neal Gay, who founded the Mesquite Championship Rodeo that changed the way Western sports are consumed around the world.
"I started my rodeo company when I was 20, and Neal's been someone I looked up to my whole career," Altizer said in a video interview that will air during the Heroes & Legends Celebration. "It's an honor to get an award and share it with Neal. It's been great to work with him and around him, and he's been a big help to myself."
Altizer thought the Western world needed a bit more show business, and in 1981 he founded Bad Company Rodeo, named after the hard rock group.
"We were trying to come up with something catchy, and that was always my favorite group we used to listen to when we were rodeoing," Altizer said. "So that's kind of where we came up with Bad Company. It was catchy."
The name wasn't the only thing that was catchy. Pretty soon, Altizer would be implementing ideas that would be duplicated around the rodeo world.
Perhaps what Bad Company Rodeo is most known for is playing rock music at its rodeos. Altizer and his team would study photos and videos and noticed shots of people in the crowd clapping to the music. They decided to incorporate more of it as a simple way of making the crowd livelier and more involved.
"As a competitor, you perform better when you feed off that crowd. It's kind of like football," Altizer said. "At first a lot of old timers said you need to turn it down because they couldn't hear, and all kinds of stuff. But the compliments outweighed the negatives."
And even when the men might not have liked the new concert vibe, it was often their wives writing the checks, and that's who Altizer cared more about impressing.
"I wouldn't call it pushback," Altizer said with a grin. "They enjoyed seeing the increase in contestants, and the contestants, they were demanding it, and so that's what we paid more attention to. The bottom line."
Another Bad Company hallmark was naming bulls after rock songs. A scroll through the company's stock contractor page on Pro Bull Stats is something like a virtual stroll through the Rock & Roll Hall of Fame.
Walk This Way. Sharp Dressed Man. Danger Zone. Funky Cold Medina. Bad to the Bone. Crazy Train. La Bamba. Smooth Criminal. YMCA. Monster Mash. Wipeout. Thunderstruck. And on and on and on.
"We were real selective when I first named an animal after a song, and some songs were maybe a little heavy, too much heavy rock," Altizer said. "And so we learned to adjust the music and rename.
"But we were known for that, and our crowds grew. Almost every year we had an increase in sales for the committees as far as tickets. And then the PBR came along with it too, and it's a big part of the PBR, and it motivates the crowd and people have more of a concert experience than just a regular old rodeo."
That concert experience is what Bad Company Rodeo really leaned into, and it was no wonder that its popularity exploded.
"We tried to pick the catchy songs that people would get into and clap, and also people felt like they (got) a different experience than just sitting in the stands and eating popcorn," Altizer said. "So it was a cool experience, and people just enjoyed it. As the rodeo started, the longer you went into the rodeo, the more everybody got loosened up and got into it."
Between the atmosphere, the strong bullpen and the increased prize money, Bad Company Rodeo began attracting the biggest names in the sport. The name recognition drove even more ticket sales and sponsorships, which in turn increased the prize money even more. Eventually Altizer and Bad Company were putting on 60 rodeos per year.
"Rodeo's only going to get bigger," Altizer said. "The Western way of life has really caught on, and people like it. Everything's on an uphill drive when you talk about the growth of the sport.
"I'm just proud that rodeo's growing. And some of the ideas on sponsorship, the music – there's a lot of things being copied, and so as far as the legacy of what we've been able to accomplish, that shows us the results and makes you proud that we've been able to do those things."