Swearingen wants to be 'man of his word' and honor commitment to Panola College
By : Justin Felisko
October 16, 2019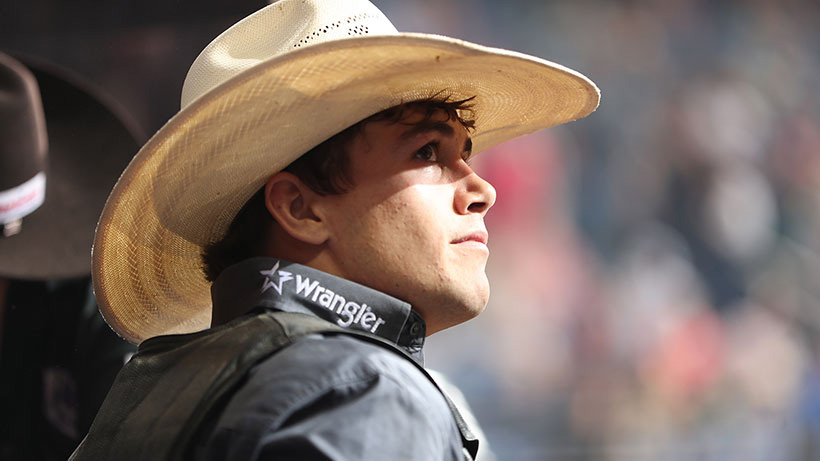 PUEBLO, Colo. – Daylon Swearingen was wading his way through the muddy rodeo grounds Tuesday in Carthage, Texas, helping sort steers and making additional preparations for Panola College's upcoming practice.
Panola College rodeo coach Jeff Collins looked on in awe and admiration at the 2019 College National Finals Rodeo bull riding champion.
"There are not many young men with that kind of integrity, character," Collins told PBR.com on Wednesday. "He is a team leader and he brings something to this program nobody else in the world can bring right now. Not only am I not surprised because I know that is Daylon, but I am just in awe of it. I am just in awe of it."
It is probably unlikely that Swearingen can juggle multiple balls in his hands, while pedaling a unicycle around a ring of fire, but the Rookie of the Year contender's ability to balance multiple obligations in 2019 continues to be an extremely impressive feat to those who know him or are quickly starting to learn of him.
Swearingen has been balancing not only a full-time professional rodeo and PBR career, but doing so while also working towards a degree in land and ranch management and competing on the rodeo team at Panola College.
"He already won the national championship last year in college and helped us win the college finals and a national championship team wise," Collins said. "To have him, he doesn't only ride bulls at our rodeos, but he rides saddle broncs and barebacks.
"He is the hardest working guy in the team. It doesn't surprise you, but he is. He just does it all, man."
Swearingen has only continued to reach some of his goals he set out for this year.
The sophomore will be the youngest bull rider to qualify for the Wrangler National Finals Rodeo and PBR world Finals in the same season once both season-ending events take place this coming November and December.
RELATED: Swearingen becomes youngest PBR/NFR bull riding qualifier
The Piffard, New York, bull rider could very easily had said goodbye to Panola College and focus only on his professional career instead of worrying about finding time on the road for his online classes or stressing about how he can balance professional events with his collegiate schedule.
Swearingen, though, is a man of his word. He refused to turn his back on his college, and the coach that has put his faith in him.
That is why Swearingen has decided to take an automatic zero in Round 1 of the Cooper Tires Take The Money And Ride Unleash The Beast event in Nampa, Idaho, on Friday night.
The PBR's competition committee has granted Swearingen an excused absence to miss Round 1 so that he can honor his collegiate obligations for Panola College.
Swearingen will ride for Panola College at the NETXCC Rodeo in Mt. Pleasant, Texas, rodeo on Friday night before catching a 6:20 a.m. flight out of Dallas/Fort Worth International Airport Saturday morning to head to Nampa for the conclusion of the Unleash The Beast regular season.
"Mostly because when I started going to school there, I told (coach) I would be there for two years," Swearingen said. "I wanted to be a man of my word."
Collins said Swearingen's actions speak loudly to not just him, but his teammates. Swearingen is turning down the opportunity to win over $30,000 to ride with his collegiate team Friday night.
"It is unreal what he has done, not just in the rodeo world, but for our team and to show the men and women around here what integrity and character is about," Collins said. "It is phenomenal. There are not many Daylon's in this world. It is unreal. He is a phenomenal man. I can go on and on about the young man. The main thing I like about him is he is honest. He is sincere. And he is humble. He is a man of great faith. I just hold him in the highest regard here."
Swearingen also has some additional goals that he would still like to accomplish in his collegiate career, not to mention also finishing up his two-year degree, which he admits has become a challenge at times this year.
Not only does Swearingen want to win back-to-back, national bull riding titles, but he also would like to win the saddle bronc national championship and lead Panola to another team victory.
"It would be cool because I can ride three events and that would be cool to win the team deal, too," Swearingen said. "We have a pretty good team and a real good coach."
Swearingen admitted his "grades have slipped" a little as he has was so focused on qualifying for the National Finals Rodeo and PBR World Finals.
"It has been hard being gone," Swearingen said.
Regardless, Swearingen remains committed to his studies, and he says he hopes that other bull riders can see that the PBR is open to being flexible when it comes to a rider's education.
Swearingen was appreciative of the competition committee's understanding.
"I am really thankful, and it is a really good opportunity," Swearingen said of collegiate rodeo. "Other young guys should take advance of it. If these schools are paying people to go rodeo, we should take advantage of it and do it.
"It is definitely hard, but in the long run I think it pays off. A (college degree) will help me in the long run and anything can happen in this sport."
Swearingen could have easily decided to just miss Nampa altogether and try to make up ground in the PBR Canada race at the PBR Canada Monster Energy event Saturday night in Abbotsford, British Columbia.
The No. 12 ranked bull rider in the world standings is sitting fifth in the PBR Canada standings.
The PBR Canada champion earns a $50,000 bonus following the 2019 PBR Monster Energy Canadian Finals, presented by Dakota Dunes Casino, on Nov. 22-23, in Saskatoon, Saskatchewan.
Instead, Swearingen felt it was only fair for him to still compete in Nampa, which is where he would have been required to be if not for his collegiate schedule.
The 2019 PBR Rookie of the Year race is shaping up a lot like the recent college bull riding title.
Swearingen trails Rookie of the Year leader Dalton Kasel, the collegiate bull riding runner-up, by only 30.41 points.
"I like being around this group of (PBR) guys," Swearingen said. "I just enjoy it. This is where I am supposed to be this week. I don't want anyone feeling like I am ducking off. I kind of feel like that because i am going to a college rodeo, but it is something I already had set."
Follow Justin Felisko on Twitter @jfelisko