Lockwood: 'To win the world title, I am going to have to win the average'
By : Justin Felisko
November 08, 2019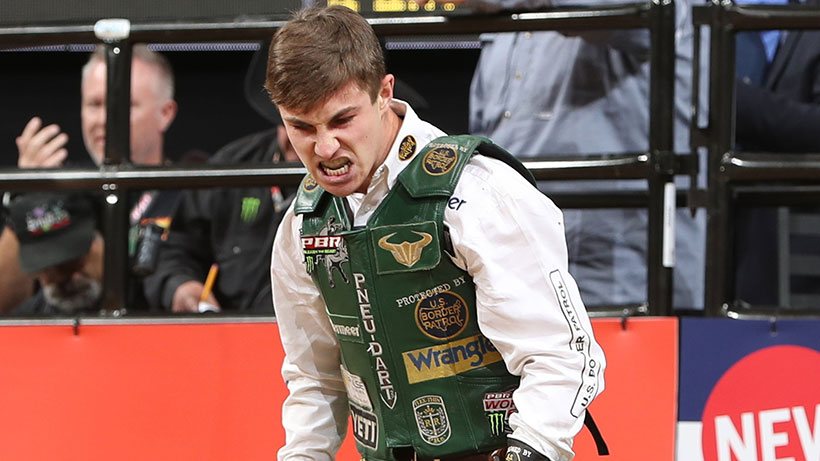 LAS VEGAS – The intensity in Jess Lockwood's face was reverberating throughout his body and up and down the stands of T-Mobile Arena Thursday night following the 2017 World Champion's 91.5-point ride on Spotted Demon.
The juxtaposition of Lockwood this week at the 2019 PBR World Finals has been an extremely composed rider outside of the arena that evolves into a fierce and determined championship contender.
It has been a cocktail Lockwood has learned to balance since winning Rookie of the Year despite an 0-for-5 showing at his first World Finals.
Lockwood has arrive to T-Mobile Arena each afternoon this week with a smile on his face, a jovial personality and a welcoming attitude.
He chats with his friends, PBR co-founders, media personalities and fans with no qualms before turning his focus toward his 1,500-pound bovine opponents inside the bucking chute.
Even after he placed the lowest among the Top 3 world title contenders during Wednesday's opening of the World Finals with an 86.5-point ride on Silver Back, Lockwood did not flinch.
"I am doing all I can do, and that is stay on the bulls that I have under me," Lockwood said Thursday. "If I stay on all of my bulls and still don't win, then I know I still did all I can do. As long as I stay on my bulls and worry about myself, I am doing all I can do to win this world title."
In fact, take away his disappointing rookie Finals and Lockwood is 9-for-14 (64.29%) with three 90-point rides at the World Finals. He finished third at the Finals in 2017 and seventh last season.
Does Lockwood think he needs to win the 2019 World Finals event title to win a second gold buckle?
"To win the world title, I am going to have to win the average, and that is staying on every bull I get," he said. "I have to ride every single bull, whether he has a good day or an off day."
Lockwood's 91.5-point ride on Spotted Demon has him second in the event average and one bull ahead of world leader Jose Vitor Leme heading into Round 3 on Friday night.
"Spotted Demon surprised me, honestly, when he went left," Lockwood said. "Out through there, he kept wanting to pull me down and he kept bringing my feet up. So when he turned back, I started spurring him because I knew if I started spurring him, I could get my butt back underneath me and my hips. I tried to stay aggressive the whole time and kind of almost lean back."
Leme still leads Lockwood by 609.16 points in the world standings, but Lockwood has the slight advantage in the event race seeing as Leme is 1-for-2 and in 10th place.
The winner of the event average earns 1,500 points toward the world standings. The event average pays out points for the Top 10 – 1,500; 720; 540; 300; 200; 125; 100; 50; 40; 25.
Lockwood's Round 2 performance also netted him the second selection for the Round 3 draft, where he picked Biker Bob – a bull Lockwood could very well ride to win Round 3 and cut into Leme's world lead.
The 22-year-old won the Unleash The Beast second-half opener in Tulsa, Oklahoma, in August with a 90-point ride aboard Biker Bob.
"I am looking for a high score," Lockwood said prior to the draft. "I am not playing it safe. I am not about getting just one I can ride. I want one that is going to give me the for sure round win."
Round 3 airs live on CBS Sports Network beginning at 11 p.m. ET and on RidePass at 10:40 p.m. ET.
Lockwood got the best of both worlds in Biker Bob. It is a bull he should ride, and one he can be a load of points on. That combination should help him stay in contention for the event average lead, not to mention a round victory.
"It was a toss-up," Lockwood said. "My good buddy Chaston Lee had his bull Night Shift in there, but it is hard to not take Biker Bob. Night Shift hasn't been around long. Chaston hasn't owned him long. When he has, he has bucked. But Biker Bob has been around the last four years. Every time he is going to be there to the left, and you are going to be anywhere from 90 to 92 on him. If you are a left-handed rider, you would be stupid not to pick him."
In a testament to Lockwood, the fact that he is even in the title race after missing three months (nine Unleash The Beast events) because of a broken collarbone shows how impressive his 2019 campaign has been. Lockwood leads the PBR with a 67.2% riding average and is 41-for-61. Leme leads the PBR with 48 qualified rides, and No. 3 Chase Outlaw has 44.
Two-time World Champion and Team USA Eagles coach Justin McBride named Lockwood to his squad for the 2020 WinStar World Casino & Resort Global Cup USA, presented by Monster Energy, during Round 2.
Rides like the one Lockwood made on Spotted Demon are why he will be representing his country's colors in Arlington, Texas, on Feb. 15-16.
"Lockwood has turned into a dominating bull rider," McBride said on CBS Sports Network. "It is not hyperbole when I talk about this guy having the opportunity to be the best the PBR has ever seen, because he has already won one World Championship and he is in great contention to win a second one and he is 21-22 years old."
Nine-time World Champion Ty Murray responded, "We are seeing greatness. I am telling you guys. To have the opportunity to see Jess Lockwood and Jose Vitor Leme go head-to-head like this, this is something the sport is going to remember for a long time. It is going to be one of the greatest matchups you have seen in sports. We are seeing two guys in the prime of their careers, at their very best, trading blows."
Following Round 2, Lockwood had a bag of ice on his riding hand due to a massive blister that had formed.
Of course, no blister is going to stop Lockwood from pursuing $1 million and a world title.
"My rosin was so dry out there, I warmed my rope up so much that it gave me a blister," Lockwood laughed. "It is literally nothing. It is like having a hangnail when I am riding and complaining about it. It is nothing."
Follow Justin Felisko on Twitter @jfelisko