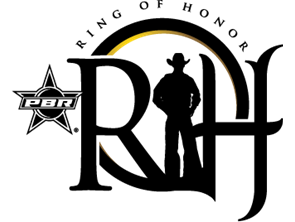 2016 Honoree:
It takes a special combo of talent and swagger to conquer some of the rankest bulls in the PBR, and 1996 World Champion Owen Washburn put both of those on full display seven years after he won his only gold buckle.
It was in Bossier City, Louisiana, in 2003 when Washburn became the first rider to conquer the unridden Hammer, who was 23-0 at the time, by riding Tony Sharp's bovine athlete during a bonus round matchup.
If that wasn't enough, the 30-year-old made it two in a row aboard Hammer by riding him again for 92.5 points to earn a then PBR record $125,210 in one event.
"Most guys that ride bulls need money, just like everybody does," Washburn said. "That is what I did for a living and I loved getting on rank bulls. That is whenever it seemed like I did my very best, especially the older I got. Whenever I got on a bull like that, and there was that much money, you don't have to convince yourself to get your motor running. You are just there."
Washburn's first ride was away from his left-riding hand, and his final ride aboard Hammer went into his hand.
The New Mexico native understood his first successful 8 seconds would be viewed as a fluke if he failed to ride Hammer the second night.
"Whenever I drew him the next night, I thought everybody would say, 'Yeah he got lucky last night and Hammer came back tonight and bucked a lot harder.' I knew that time I had to ride him just to keep everybody quiet."
Nine-time World Champion Ty Murray said, "That was a bull that gave a lot of people fits. He just rode him dead easy. Owen would do that on a regular basis."
Washburn said that you could argue the two-month stretch he had around his Hammer ride was the best run of his career.
"That was as good a stretch of bull riding that I ever had," he said. "I would make the short go and there wasn't one I didn't want. What I always think about bull riding is some people never get in the zone in life and I am thankful and grateful I got in the zone.
"There is nothing like that feeling."
Washburn was certainly "in the zone" when he won the third World Championship in PBR history in 1996. He is one of only 15 bull riders in the world that can say they are a PBR World Champion.
"When I won the world, bull riding was all I had and that was all I wanted," Washburn said. "Nothing came before bull riding and that is why you are never as good as when that is all you got. I was young that year and I was just bull riding. So much of my career was after that. I was young, gritty and all I wanted to do was ride bulls."
Murray said that Washburn had a couple of seasons where he "epitomized swagger and confidence."
"That is how you have to be," Murray said. "It is important to have that and he had it big time."
Washburn qualified for the PBR World Finals 10 times and retired from the PBR in 2005. He earned the nickname Captain Consistency during his career and will be the 43rd rider to be inducted into the PBR's Ring of Honor.
He will officially be inducted on Nov. 1 at the PBR's Heroes & Legends Celebration at South Point Hotel, Casino & Spa in Las Vegas.
"It feels good to be remembered," Washburn said. "I don't know what exactly I am supposed to feel. People would ask me about it and I didn't put much thought into it. There again, bull riding is still a part of my life and it is kind of nice for somebody to remember me and bring it up 10 years after being done.
"I am pretty humbled. It is pretty nice to be remembered after all."
Still, Washburn doesn't want his World Championship or Ring of Honor induction to define his bull riding career.
He is just thankful he was able to be his own boss and earn a living doing something he enjoyed.
"I was so lucky and happy just to be making a living doing something I love," Washburn said. "I never put a bunch of things in there like World Championships. I was just riding bulls and making a living. I would have ridden bulls for free at that time.
"I was going to ride bulls for a living and it just depended on if I had to eat baloney sandwiches or steak at the end of the day. I was going to ride bulls and I was sure thankful, and I still to this day am thankful that I got to."
Follow Justin Felisko on Twitter @jfelisko