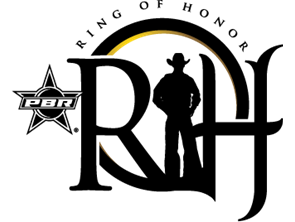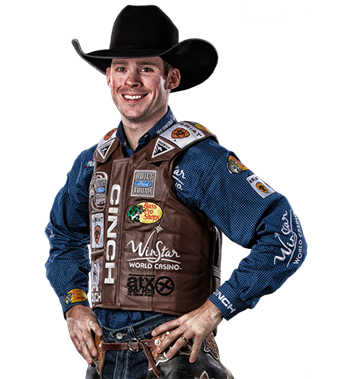 2015 Honoree:
Back when New Line Cinema released the feature film "8 Seconds" in February 1994, it forever immortalized Lane Frost as the 25-year-old face of professional bull riding.
The film, which more than 20 years later remains a favorite among the Western culture, also changed the sport in another way. It proved to be a major influence in young boys pursuing bull riding as a career.
Among those boys was a then-11-year-old Luke Snyder.
The Raymore, Missouri, native credited the spirit of what the film represented as a major influence on his own decision to pursue a career as a professional bull rider.
Like all three of the film's main characters – Cody Lambert, Tuff Hedeman and Frost – Snyder will also be inducted into the prestigious PBR Ring of Honor.
He will be the 42nd rider to be inducted later this month.
"The dang whole cast of "8 Seconds" has that ring," Snyder said, "and when I watched that movie when I was just a little kid – it was about the time that I was starting when it came out – that made me want to be a bull rider.
"Going back even further than that – Jim Shoulders, Harry Tompkins – all these guys wear that same ring and there are not very many of those rings floating around. For me to be able to have one, I don't know, it just put a cap on a career that I did my whole entire life and had some good fortune in it. Just to be able to put that ring on caps off everything."
The 33-year-old follows a tradition of honoring the great riders who have made an impact on the sport in and out of the arena.
In addition to the PBR founders – the likes of which include Ty Murray, Jim Sharp and Michael Gaffney – and World Champions that include Adriano Moraes, Justin McBride and Chris Shivers, Snyder noted the historical recognition of riders dating back to the 1950s and 1960s.
"That's what really hit home," Snyder said. "This isn't just within the PBR. It's guys like back when Jim (Shoulders) was riding in Madison Square Garden and all the stuff that's happened just throughout the sport of bull riding, whether it be Myrtis Dightman going through what he had to go through to Lane getting it posthumously awarded to him for all the stuff that he did for the sport.
"There's so much history there, it just blows my mind that I get to put it on and join that group of guys."
The Ring of Honor was created in 1996 to recognize those who have had the most profound impact. The inductees share a common bond of courage, strength and victory, and they have shown their dedication and support while playing a significant role in helping professional bull riding become what it is today.
Each inductee is presented with a ring featuring the PBR logo along with their name and year they were inducted.
"I'm sure it'll hit me more once we get out there and start seeing all the old guys and all my buddies, instead of me just sitting in the crowd excited to see who's going to get it that year," Snyder said. "It's going to really sink in when me and Jen (Snyder's wife) are sitting there looking at each other and it's me that's going to get it."
He added, "It's my World Championship. That's what it means to me."
Snyder's professional career began in 2001.
That year he won the World Finals event average and was named the PBR Rookie of the Year. At 30, he won another $220,000 at the Last Cowboy Standing event in October 2011. More than a third of his career earnings – he competed 13 years in the PBR – were won in Las Vegas.
He holds the unparalleled record of having competed in 275 consecutive Built Ford Tough Series events.
It's a record most insiders universally agree will never be broken.
At the time of Snyder's retirement in October 2013, his 913 career BFTS outs stood as a PBR record and his $1.7 million in career earnings was 12th on the all-time list of money earners. He is now 13th on the list.
Snyder said he was caught off guard this past summer when recently promoted PBR CEO Sean Gleason called with the news of his induction.
After a few minutes of small talk, Gleason simply said, "You're getting the ring in Vegas."
"I was like, 'Come again,'" recalled Snyder, who was home alone with his daughter at the time. "It caught me off guard because I was messing around with Ollie.
"He said I was getting it and it was pretty exciting."
Snyder first contemplated the idea of being inducted when he announced his retirement in the fall of 2013 upon reading comments from Lambert.
At the time of Snyder's retirement, Lambert said "there's no doubt to me" Snyder will one day wear the Ring of Honor.
"When he mentioned that in the article, and we all know Cody's opinion is very well respected around the PBR, yeah, I kind of started taking it in that it might be a possibility for me one day," Snyder said.
He never asked Lambert, who was among the first four inductees in 1996, about the comment.
However, they talked just before his final out at the Thomas & Mack Center.
According to Snyder, Lambert thanked him for his unwavering support of the PBR – his entire professional career was exclusively in the PBR – and told him that he thought of him as an ambassador of the sport.
Snyder always wanted to be thought of as a role model the same way Gaffney was for him.
"That's something that I always wanted to have be part of my career, so it was really cool hearing that come from him," Snyder said. "It felt like it was pretty heartfelt."