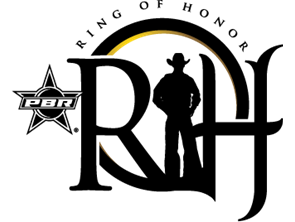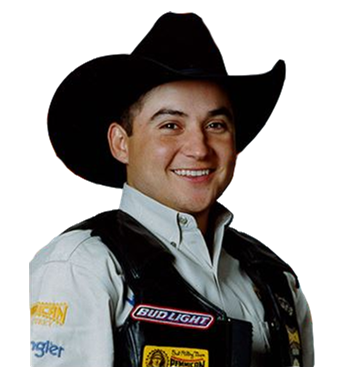 2014 Honoree:
Professional Bull Riders co-founders Adam Carrillo and Gilbert Carrillo will both be inducted into the PBR Ring of Honor this October.
The Carrillo twins retired from the PBR in 2006, competing at the Built Ford Tough World Finals from 1994-2004 and earning more than $1 million between them.
Adam Carrillo picked up four event wins during his career, including back-to-back victories in 1999 at Louisville, Kentucky, and Tunica, Mississippi. He also qualified for the World Finals nine times (1994-2001, 2004). His highest-recorded score, 94.5 points, was earned twice, once atop Jit in 1999 at the Louisville event and again aboard Washita Mud Slinger in Columbus, Georgia, in 2001.
***************************************
It's not uncommon for Gilbert Carrillo or his identical twin brother to Adam Carrillo to drive back and forth between West Texas and their respective homes in Stephenville, Texas.
These days, life is less about professional bull riding and more about the oil business they started together. In fact, the 42 year olds do darn near everything together. However, ever since Gilbert retired Carrillo Cartel from competition he said it's rare to receive a phone call from longtime PBR livestock director and fellow PBR cofounder Cody Lambert.
"I looked down and saw he was calling," said Gilbert, who impersonated Lambert's unceremonious salutation, "Gilbert, Cody Lambert."
After some small talk, Gilbert quickly said, "Cody, I don't have any more bulls and now that I retired Cartel I don't have anything for you."
Lambert wasn't call about bulls.
Instead, he simply replied, "Congratulations."
Figuring it must be some sort of dry sense of sarcasm from one of many old friends who affectionately calls the little Carrillo brothers "munchkins," Gilbert recalled laughing for a minute and then asking, "What's the joke? What did we do? What happened? Did Adam do something that I don't know about?"
"No," replied Lambert, "the Ring of Honor, it's been a long time coming."
"Really?"
"Yes."
"Well, I'll be damned," said Gilbert, who was "shocked" and speechless and unsure what to say other than 'thank you.' "One of the most prestigious things in the PBR is the Ring of Honor. Adam and I, of course, we're one of the founding members and did not get one until now."
It's been a decade-long wait.
They had been hoping and anticipating this day and, more specifically, that call for years.
"When he called, I was shocked," said Gilbert, who was then entrusted to call his brother Adam. "I thought holy shit, but now I'm done. I'm happy. If I don't raise another bull, if I don't buck another bull, I don't care."
His brother, who had joked he might wind up being inducted posthumously, would be just as thankful for the acknowledgement. However, not before Gilbert would joke around with him on the phone the way he thought Lambert had.
Adam was in Fort Worth with his son Wesley, a golfer who plays on the Junior PGA Tour, shopping for a new golf club.
When Gilbert called he told Adam, "They're cracking back out Cartel?"
"What?"
"They want to crack Cartel back out."
"Well, that's good," recalled Adam, who shocked to hear Gilbert say, "Nah, they're not. We got the Ring of Honor."
"I thought, damn right," Adam said. "I've been wanting to get this for so long.
"As far as I'm concerned, in my life and what I've accomplished in bull riding is complete. It's the only thing I've ever wanted. Now that we've got it, in my eyes, I've done everything I could.
H&L
Having to wait makes it more special and does nothing to dampen the spirit of receiving the highest recognition a bull rider can earn in the PBR.
The Ring of Honor was created in 1996 to recognize those who have had the most profound impact on bull riding, both in and out of the arena.
The 38 previous members – the Carrillo brothers along with Bobby Berger will bring the total to 41 – share a common bond of courage, strength and victory, and they have shown their dedication and support while playing a significant role in helping professional bull riding become what it is today.
Each inductee is presented with a ring featuring the PBR logo along with their name and year of induction.
The Carrillos will join a long list of legends and icons that include Lambert and onetime roommate Ty Murray along with the likes of Jim Shoulders and Larry Mahan as well as former college rodeo teammate Jerome Davis.
"It's going to be awesome," said Adam, who hasn't thought about his speech yet. He hopes to have all his thoughts collected by then and said he'll likely thank everyone from when he and Gilbert first started to when they retired, including their college coach Jim Watkins, who they've already asked to introduce them at the Heroes & Legends ceremony in Las Vegas.
Adam and Gilbert, the two youngest boys of six, were born and raised in El Paso, Texas.
Their parents John and Anne Carrillo were both raised on ranches in West Texas and likewise, the identical twins and their brothers – Tommy, Tracy, Robert and Eddie – were brought up on a farm around animals in what Adam referred to as a "cowboy atmosphere." The spent their childhood at 4H events.
Their father, who passed away in 1999, was in the military and as a member of the civil service he worked for the government at the White Sands Missile Range.
Their first glimpse of bull riding came watching their brother Tracy and another older cousin, who had been in rodeo and were now competing in college.
At 13, they got on their first bulls.
They could rope and ride and until then had only tied up heifers, got on and "turned them loose." There were no chutes, just two kids having fun, but despite lacking in stature, they stood out as soon as they started competing. Both made the short round the first time they entered an organized amateur event and Adam went on to win it.
"Shoot, one thing led to another," Adam said, "and that's what we loved. We had tunnel vision on riding bulls."
Gilbert added, "Ever since then we were on the trail. We did it for 22 years nonstop. … We lived on the road. We were like gypsies. We made money to pay for ourselves and put money away."
Lambert and Tuff Hedeman, who were both older, also grew up in El Paso.
Their brothers Gary "Roach" Hedeman, a former PBR bullfighter, and Casey Lambert were the two that helped the younger Carrillo brothers get on their first bulls, which happened to be practice bulls Tuff kept with Dustin Danley.
Their dad John had driven them to amateur events until undergoing his second open heart surgery at which time their brother Robert drove them or they traveled with a few older friends until they were old enough to drive themselves.
"Any good rodeo cowboy or bull rider is an athlete," Adam said. "They can pretty much do anything. They can be a gymnast, a boxer, you name it."
The two younger Carrillo brothers played baseball and football until their junior year in high school when rodeo took over their lives and they were competing too often to play other sports. Gilbert, who is older by five minutes, was the 1990 National High School Bull Riding Champion and won the Texas state title in 1991. Adam also won a state title, while in high school.
"Anything you could have done in the sport of bull riding, as far as growing up, we did," said Adam, who explained if one didn't win the other usually did.
After graduation, Gilbert and Adam were recruited to join the Odessa College rodeo team.
Watkins, who will introduce the brothers at their Ring of Honor induction ceremony, in October, had previously recruited Jim Sharp followed by Ty Murray and the one year the Carrillo's attended Odessa College, they were teammates with Jerome Davis.
"As a team, we were unstoppable," Adam said.
In their one season of junior college rodeo, Gilbert qualified for the College National Finals Rodeo.
Just a few years later, all five former Wranglers would eventually make up a quarter of the 20 original founders of the PBR.
The identical twins moved to Stephenville, Texas, where they still reside today, and roomed with Murray for a year before moving out on their own.
As pros – first in the PRCA and later with the PBR – they won their fair share and that's saying quite a bit considering they were firmly entrenched in what is arguably the golden era of professional bull riding.
Lambert said, "They would dominate today.
"Adam and Gilbert, in their prime, would be in the same conversation as Guilherme Marchi right now. They rode pretty damn good. They didn't ride as consistent as the great bull riders of that time, but they damn sure rode as consistent as the best bull riders of this time."
More importantly, they both rode rank bulls.
Adam and Gilbert each have two rides that rank among the Top 50 scores of all time.
Adam scored 94.5 points on Jit – a bull owned by James Harper – and two years later, at an event in Columbus, Georgia, in 2001, he was the first to ride Mudslinger before he was known as Mossy Oak Mudslinger. While his score of 94.5 points was being announced, Adam had jumped up behind the chutes to pull Ty Murray's rope before eventually celebrating the win.
"We've rode some rank bulls," said Adam, who recalled being marked 97 points at a Touring Pro Division event in Springfield, Missouri. "I was never as consistent as Gilbert, but, like Gilbert, I had my fair share of rides."
Gilbert put up 96 points on Perfect Storm, in 2001, and another 96 points a year later, in 2002, on Blueberry Wine. Lambert said, compared to other bulls, Blueberry Wine was tiny, but with Gilbert on his back he seemed bigger than he actually was.
However, when asked about the two scores, he simply replied, "My best ride I ever made – that bull would have blown away those two – was a bull called Crossfire Hurricane."
Bred, raised and hauled by D&H Cattle Company, the Pages hauled him up to Oklahoma City, in 2003, where Gilbert was marked 94 points.
"That put me back on the map," said Gilbert, who was a last-minute alternate after riding his way back from injury. However, his worst injuries came in 1993 when he sustained internal injuries that resulted in doctors removing a third of his pancreas and spleen. Two years later, in 1995, he broke his leg when a bull turned out backward in the Championship Round at an event in Cheyenne, Wyoming.
That year, at the time of his injury, he was the top-ranked rider in the PRCA and near the top in the PBR. He missed the National Finals Rodeo, but returned to the PBR and battled Hedeman down the stretch before giving way.
At the Finals, Gilbert would make his way to the chutes with the help of crutches and following his rides he would pull himself and crawl to safety.
"It was a bad deal," said Gilbert, of his leg injury.
They were 35 years old when they both decided to retire at the conclusion of the 2006 season.
Together they qualified for the World Finals 11 consecutive times – they're two of just three riders to have qualified for the Las Vegas event every year from 1994 to 2004 – and combined to win 12 Built Ford Tough Series events (Gilbert, 8; Adam 4) and more than $1 million in career earnings.
As was typical throughout both their careers, Gilbert continued to anticipate drawing the rankest bulls and relished those moments afforded him in which the bulls helped to "show us off and if we ride him, we win."
Gilbert added, "We didn't worry about the competition. We knew when we showed up at a bull riding we were either going to win it or place at it."
"How many guys can say they got to rodeo with or ride with Ty Murray or Jim Sharp or got to get on practice bulls with Lane Frost?," asked Adam, who said he and his brother are better described as entrepreneurs. "We also did stuff outside the world of bull riding."