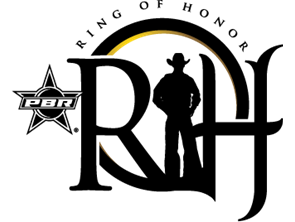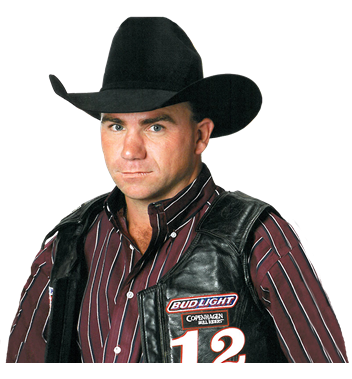 2013 Honoree:
Well, I was born in a small town / and I live in a small town / probably die in a small town / oh, those-communities…
In the early 1990s, John Mellencamp had a hit single singing about the virtues of living in a "Small Town."
Of course, he was singing about his own hometown of Seymour, Ind., but he could have just as easily been singing about Latanier, La., which is a small, mostly Pentecostal burrow (pop 3,215) 10 miles south of Alexandria, where Bubba Dunn was born and raised and will likely spend the rest of his life.
Unlike Mellencamp, who packed up and left the southern Indiana farm town in order to become an international rock star, Dunn wouldn't forego the virtues of Southern life along the Red River right in the heart of Louisiana in search of fame and fortune as a professional bull rider. The familiar family life was fortune enough for Dunn.
The bull rider had a dislike for life on the proverbial rodeo trail.
"Sitting in a car or a van all day long and just driving," Dunn said. "I ain't going to say I done my share of it, but a bunch of it and if you're going to live that lifestyle you have to stay gone. I don't know. I could sit in the van and think of 10,000 things I could be doing at home.
"I definitely didn't like the idea of being gone a month at a time. You'd go to one and you wouldn't come home. You'd hang out at so-and-so's house ― a buddy's house, wherever you were working events ― hang out there for a week and then go work two or three and then come home. Man that crap didn't set well with me."
He wasn't keen on flying either.
No, it wasn't as though he had any fear of flying. Dunn simply didn't want to be that far away from the ranch he grew up on and the ranch he eventually took over.
As a matter of fact, when Norman Curry called to invite him in 1995 to what would have been his first PBR event in Charlotte, N.C., Dunn wasn't so sure that it was such a good idea.
"He called me and he said, 'I want to invite you to come to Charlotte,'" recalled Dunn. "I said, 'Alright, well, what's there?' He said, 'A bull riding-a PBR bull riding.' I get to looking at a map and said, 'I'll have to call you back.' I got to looking on the map and thought, (darn), that's a long ways over there."
Curry called on a Tuesday and, according to Dunn, the cost of a flight for the upcoming weekend was "an astronomical figure."
On Wednesday, Dunn called Curry with his answer.
"I called him back and said, 'I don't believe I'll make that one. If you get an opening somewhere else, call me,'" Dunn said. "I just declined that one."
Later that season, he accepted an invitation to compete in Nashville, Tenn.
Dunn's career ― or the PBR portion of it anyway ― began as nonchalantly as it would unceremoniously end after the 2000 season; but when he was riding bulls, he rode Promise Land for a PBR-record 96.5 points and became the only man in history to ride Bodacious to the whistle twice. In fact, he only got on him twice and rode him easily each time.
"I got a late start in my career at the professional level," Dunn said. "I hung around home too long, so ― I missed my prime. Mentally I wasn't really wanting to travel when I started traveling and, yeah, I think, I spent my days going to ― ah, the PBR wasn't there yet in '91, '92, '93 and somewhere in there ― to me ― was my prime.
"In 1995, (heck), I had to ride Bodacious to get invited to the PBR."
"I don't think the world really got to see what that man could really do," said two-time World Champion Chris Shivers. "He rode Bodacious twice and, I think, people got to see spurts of him on TV, but I got to witness a lot of him in Louisiana when he did get on some pretty rank bulls that he could really ride when he was younger. I think he was a little bit late to come into the PBR, but he was something special as far as a bull rider goes."
RELATED: Shivers' supremity to be recognized at 2013 World Finals
Dunn grew up on a small ranch.
His daddy, Buddy, rode bulls and remembers seeing pictures of him on bareback horses. He once met some "old men" who told him stories. He only knows his daddy as a working man, who provided for his family.
When he was 5, his daddy's two younger brothers ― Bill and Ronnie ― started riding bulls. They gave little Bubba a cow bell to put on a rope of his own and he "was hooked then."
He got a bucking barrel and eventually Buddy took him to a local rodeo, where kids get on "wild, crazy cows."
"They didn't use flank ropes on them, and (they) would go through there like a balloon somebody had blowed up, so I started getting on them," Dunn said. "My daddy was really hardcore and if one of them would come through there that would fight in the box and all the other kids would run away from it, he'd call me over and say, 'Which one you getting on?' We picked the one we wanted. I'd say, 'I want that one right over there,' and he'd say, 'No, get your (stuff) and come over here. You're getting on this one.' I was like, oh, (darn), there's a reason nobody wants to get on it. It's trying to climb out of the chute ― that crazy-ass old cow."
It was all or nothing at the Dunn ranch.
He'd get on 13, sometimes 14, head of cattle at the practice pen and rode in local amateur events every Friday and Saturday night against 20 to 30 other riders-most whom that were older and more experienced than him.
Dunn still won.
He was a natural.
"I was always riding something," he said. "I can remember getting on in tennis shoes and a muscle shirt and just spurring the crap out of them ole bulls. It wasn't nothing like the PBR bulls, but to us we were big timing it."
Open events led to local and regional events, and in 1987 he started competing throughout the state. He won the state title in October 1990.
Unfortunately, his daddy died shortly after.
"I don't know," said Dunn, pausing, "it set me back."
He wasn't yet 20 and he had already lost his mamma when he was 16 years old. His younger brother was only 15 and both parents were gone.
"Here I am in the world by myself is the way I felt," said Dunn, which goes a long way in understanding why he never wanted to leave home in the first place. "I felt like I was responsible. I had to step up and take the reins. We had a place and what are you going to do, let it go to the birds? That's home."
His older sister took on a motherly role for his younger brother.
In the meantime, Dunn worked the ranch by himself.
He didn't ride bulls for almost two years.
But he was so good that when he finally climbed back in the bucking chute, he won the Louisiana state title in '92 '93 and '94, which is the same year he won the state all-around title. In spite of having a PRCA permit and an invitation to travel with Curry, he didn't mind staying close to home.
"They charted planes and all that crap," Dunn said. "I went about as hard as I was going to go and said, 'to (heck) with this. I'm going home.' I wasn't made to live on no blacktop."
Eventually he took the call from Curry and made his way to the PBR.
Although he competed only as often as he wanted to ― his most complete years were 1997 and 1999 ― he still has three scores ranked in the Top 25 all time.
"Three rides, huh," said Dunn, unaware of the longstanding accomplishment. "What were they?"
Of course, there's the 1999 event in Tampa, Fla., when he rode Promise Land for 96.5 points and later that year he had tied the previous record of 96 points when he rode Red Wolf in Charlotte.
RELATED: Red Wolf was a pure example of longevity
Yes, he did finally venture as far east as North Carolina.
That same event, which surprisingly he did not win, he also rode Hollywood for 95 points. He's the only rider in the 20-year history of the PBR to record scores of 96 and 95 points in the same regular-season event and not win.
However, he was rewarded with his only event win ― then called the Bud Lite Cup Series ― in Tampa for his efforts on Promise Land.
"I knew I had made a good ride, at the time, but I didn't really think it was going to be something that special," Dunn recalled, "but, I mean, I knew I had made a good ride. I don't know, it was like it wowed everybody else more than it wowed me.
"I just got to the whistle and done everything I could to do it. That's the way I rode bulls. I wasn't a guy that just sat still up there. If it was a good bull or a rank bull I had to be spurring him to get him rode."
He kicked loose on a January night in Florida and made a ride that nearly 15 years later illustrates how influential his style would be for a youngster named Chris Shivers. The fellow Louisiana native, who looked up to Dunn as a hero and mentor, patterned his flashy style after him.
"Bubba was a guy that knew how to ride rank bulls," said Shivers, whose rookie year in the PBR was in 1998. "He was a guy that was flashy and he used his feet a lot. He was a guy that made bulls really look good. That's where, I think, I got most of my action from. I didn't want to just sit there and be real still and just make the whistle. I wanted to be 90 and he was a guy that I felt like that was the way he approached things, so that's the direction I went in.
In any case, just as Michael Gaffney doesn't feel as though his 96.5 points on Little Yellow Jacket was worth all those points, Dunn is still unconvinced as well.
Nevertheless, he wasn't about to give back those points then and he's certainly not going to do so now.
He remembers being in the locker room when the riders gathered round longtime PBR production crew member Jay Prestin to look at the draw for the final round. Dunn said he felt as though he had a tendency to "draw in circles," meaning if he drew a rank bull once he was likely to draw him three and four times.
Promise Land was different.
He had never been on him prior to then.
Dunn was looking forward to the matchup ― "I said, 'That'll work. We can win first on him'" ― and knew Promise Land was also in his prime.
"That sucker was huge," Dunn said. "I was like this is like getting on the hood of a truck.
"I hit my head out there. I was on the back of my neck and it kind of stunned me. I got right up, but it kind of stunned me and I walked back over to the bucking chutes and I knew I had made the whistle. Ole (Cody) Lambert, he was a back judge and he jumped off the back of the bucking chutes, down into the pen there, and he walks up to me. I'm trying to get my hat back on and he said, 'That's the best damn bull ride I ever seen.' I just looked at him and was like, 'Really?'
That's the response he had when Lambert called him earlier this year.
When the co-founder and longtime livestock director phoned Dunn with the news of his induction into the Ring of Honor, Dunn, 44, had no idea what the call was about when he answered.
At the time, Dunn and his wife, Kristy, were entertaining some guests in their Louisiana home when Lambert called.
"I was floored there for a second," Dunn said. "I talk to Cody, but not very often and I thought he was calling to talk about some bulls. He said, 'I just got off a conference call and me and the guys' ― I don't know who the guys are anymore ― and he said, 'We decided we're going to give a ring to both you and Chris at the same time.'
"I said, 'Well, great.'"
It makes it that much more special said Shivers.
"Being inducted into the Ring of Honor with him just makes it a little more special," said Shivers, 34, who later added, "I think that should be pretty special for the state of Louisiana. We were two guys that represented the state pretty well. … We're pretty good people and pretty good bull riders too and that's something that I'm proud of."
Asked what his old man would think and Dunn said, "I don't know that daddy would say anything. He'd probably just sit there and he'd probably tear up a little. That's what he done when he watched me win my first Louisiana championship.
"He wasn't a guy who was going to run out there and brag on you and pat you on the back and tell you, you done good or anything like that. He sure as hell wasn't fixing to make you feel like you really done something. He was always going to be that guy to leave a room to make you try harder."
Like father, like son.
Bubba Dunn, who with Shivers will become only the 37th and 38th riders to be inducted into the Ring of Honor on Tuesday night at a ceremony in Las Vegas, makes everyone around him try harder.
byKeith Ryan Cartwright