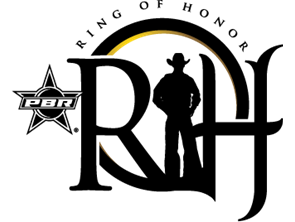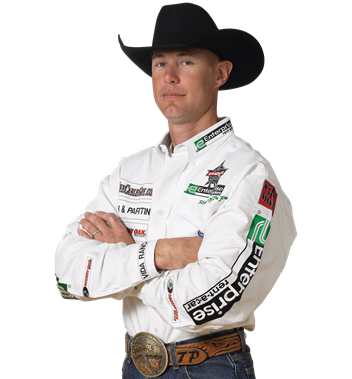 2011 Honoree:
As he watched the traditional Silver Spurs Rodeo in Kissimmee, Fla., as a young boy, Tater Porter yearned to strap on a pair of spurs and take on the toughest bull around.
Learning how to thrive in the dangerous sport would be a challenge for a youngster whose family had no rodeo or bull riding experience. But that didn't deter Porter from finding the right help and becoming one the world's top bull riders of the 2000s.
"I feel like I've worked my way from the bottom to the top," Porter said.
When he retired from the sport in 2007, Porter had more than $925,000 in Professional Bull Riders earnings, and a gold-and-silver trophy buckle that says he was a PBR World Finals average champion.
For that success and more, Porter was selected for the PBR Ring of Honor class of 2011. He and the late Brent Thurman, who died shortly after being stepped on by a bull at the 1994 National Finals Rodeo, were inducted during the inaugural PBR Legends Reunion on Oct. 25 at the MGM Grand Hotel & Casino in Las Vegas.
Porter, 40, grew up in Florida, a state that's not known for producing high-profile bull riders, but an area of the country that has an abundance of ranching and agricultural activity. During his early years, Porter's father drove a service truck and his mother worked for the forestry service.
But every time Porter attended a rodeo, he was captivated by the bull riding event. He began riding steers at 8 years old and climbed on his first bull at 11.
"I had access to a practice arena in Florida where they rode bulls every Thursday night and team roped," Porter said. "When they would finish roping the steers, I would run them in the bucking chutes on the other end and ride them."
During his teenage years, a bull rider named Joel Fordham, who competed on amateur level and in minor-league pro associations, began taking Porter to rodeos throughout the region along with other traveling partners. It helped Porter become familiar with the process of traveling to rodeos, making a prize-winning ride and then moving onto the next competition.
"Being in the truck with guys, and me being the young guy, I got picked on and stuff like that, but it made me to where I could get in the truck and go with anybody," Porter said. "It made me more well-rounded."
Porter said one of the main reasons he excelled was because he was teachable.
"I always realized that I'm never too old to learn something, and you always can pick up something along the way," Porter said.
Porter also made a point to compete against credentialed cowboys, and he continually aspired to move up to tougher levels of competition.
"You're only as good as the competition that you're riding against," Porter said.
"There's a lot of people who are stars of an amateur association and they dominate on that level. But then, they take that next step and they are at the bottom of the rung and they can't handle that. It's a case where the spotlight was on them, but when they take that next step and don't win, it takes the wind out of their sails.
"But in my case, I kept striving to go forward and win the whole time. I wanted to go to the next rung on the ladder. And even though they would put on the back burner at first, I would prove myself."
When he would enter a higher level of competition, Porter worked hard to make a great first impression. For example, Porter won a bull riding Rookie of the Year title in the International Professional Rodeo Association in the early 1990s. And when he competed in his first PBR World Finals in 1997, Porter entered the Las Vegas championships leading the rookie race. However, he was derailed in his attempt to finish the year as the top freshman after suffering a broken leg in an early round of the World Finals.
"I wanted to be the new guy to come in there and set it on fire," Porter said. "I wanted to be the new guy that people would look at. When I joined the PBR, I wanted to show that this old boy from Florida was here to win."
Porter rebounded from the leg injury and returned to the World Finals in 1998.
But he made his big move during the 2000 season.
In 2000, Porter won the coveted World Finals average title and finished third in the world title race (then called the Bud Light Cup Series) behind No. 1 finisher Chris Shivers and reserve champion Ty Murray.
At the 2000 World Finals, Porter had to put out extra effort during the last performance. He mounted three bulls (instead of two head) before claiming the average/aggregate victory.
In the fourth round, he was bucked off of a bull named Prime Time in three seconds. But judges ruled that Prime Time did not make a clean break from the chute and awarded Porter a re-ride.
On his re-ride, Porter barely stayed on for the required 8 seconds against a bull named Yellow One, owned by Terry Williams. He scored 87.5 and moved on to the final round, where he conquered Don Kish's Copenhagen Cash for a score of 93.
Porter won the World Finals average after finishing as the only rider who stayed on all five bulls. He received $225,000 for turning in the highest aggregate score and finished the year with $405,774.
Porter said he knew he had become one of the sport's elite when he could thrive in the PBR.
"There's no doubt about it, when you are winning in the PBR you are one of the elite bull riders in the world, hands-down," Porter said. "There's nothing that really compares to it. To be a part of that is an honor within itself. But to win against those guys, and then be in the Ring of Honor, that really fuels your fire."
'There's nothing that really compares to [the PBR]. To be a part of that is an honor within itself. But to win against those guys, and then be in the Ring of Honor, that really fuels your fire.'
Overall, Porter made nine PBR World Finals appearances. His last trip to the Las Vegas championships was in 2007, the same year he retired. All in all, Porter has $925,224 in PBR earnings.
After all those years of success, Porter gives simple reasons for regularly finishing in the money.
"The good Lord watching out for me is the first step," Porter said. "You also need to be a person who never shows weakness. A person needs to be humble, honest and try hard every time. You never know, when you get on a bull, that you might not get a next time. So, every time you nod your head, you need to be trying your hardest."
When he faced a very rank bull, Porter came with lots of determination.
"You want to get your mind set," Porter said. "You don't want to say to yourself, 'This bull's never been ridden.' Instead, you should say, 'I want to be the first guy to ride this bull and I'm excited to get him.'"
"I grew up with bull riding and never was deterred with the dangerous side of it, ever," Porter said. "I just looked at it as something that I loved to do. Even when the money wasn't great - and it was like that when we first started - we did it because we loved it."
Looking back, Porter says he finds lots of fulfillment from being among a group of cowboys who helped pro bull riding become lucrative.
"There were guys who paved the road in front of us." Porter said. "It was like they laid down the stones for us. Then, it was like we came along and help paved the surface for the guys who are going today to have a smooth road to travel on. Professional bull riding used to be a bumpy road with ruts in it, but today's bull riders have an interstate where they can win a bunch of money.
"My generation of bull riders started out traveling a bumpy road. Jim Shoulders and those guys traveled on an old gravel road that had lots of holes and bumps. But nowadays, the road has been paved by all of us for these boys to have an interstate to go win money a whole lot faster than we did."
During his years on the circuit, one of Porter's big assets was his upbeat personality and his genuine interest in other people. He was known for helping younger riders feel welcome, and he was a hit with fans.
"Tater is a really outgoing guy who never met a stranger," said former PBR World Finals average winner J.W. Hart. "You meet him once and he'll remember you from that day on. He'll always go out of his way to talk to anybody and everybody. He's been one of the best ambassadors for this sport that we've had. When it came to interacting with the fans, he did as good of a job as anybody I know."
'He's been one of the best ambassadors for this sport that we've had. When it came to interacting with the fans, he did as good of a job as anybody I know.'
Two-time PBR World Champion Justin McBride said he has great memories of Porter helping him during his early years in the PBR.
"He was always good to new guys who would come along," McBride said. "He was that way to Ross Coleman and me. He took us in. If you were driving somewhere, he was a guy who would sit up with you and would try to get to know you.
"Later in my career, when new guys would come around, it might take me a while to get to know a new guy who was fresh on tour. But Tater would get to know him the first week. He made a point of always getting to know the new guys and making them feel comfortable. "
Porter's knack for handling people well made a big impression of Murray, a seven-time world all-around champion who helped found the PBR.
"It was a pleasure to be in the locker room with Tater," Murray said. "Everybody likes Tater. He's been an asset to the sport both in and out of the arena. He's a true fan of the sport, an ambassador of the sport who has done a lot to bring fans to the sport."
Today, Porter works on the Vida Ranch near his home in Kenansville, Fla. It's a cow/calf operation and Porter has worked there for the past 11 years.
"I worked on the ranch even when I was riding," Porter said. "I was like all of the rest of the bull riders; I had a job during the week that I would go do. That's one of those humbling deals. No matter how much you make during the weekends riding bulls, it's always good to have something to fall back on."
"Cowboying is what I love to do," he said "It's in my blood. It's like the old saying: You'll never have to work a day in your life if you enjoy your job."
Porter also is raising a family. He and his wife, Ashley, a kindergarten teacher, have three children whose ages range from 5 to 10.
Ashley Porter said was no big surprise to watch her husband reach the higher echelons of bull riding.
"He was always extremely determined," she said. "I remember watching the PBR World Finals with him when he was not in the Top 45, and he said, 'I'll be there next year.' And sure enough, he was there the next year. Since he was in kindergarten, he knew he was going to be a bull rider and he just has that motivation and determination."
Prior to his induction into the PBR Ring of Honor, Porter knew it would be a neon night that he would will never forget.
"I'll say it just like J.W. Hart said it when he was inducted - it probably will be the biggest honor than I've ever gotten because I never won a world title," Porter said. "This will be like my world title. I've dedicated everything that I have to the PBR. I love the sport and I'm passionate about it. Just to be honored like this in front of my peers means the world to me."
By Keith Ryan Cartwright