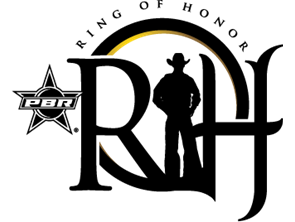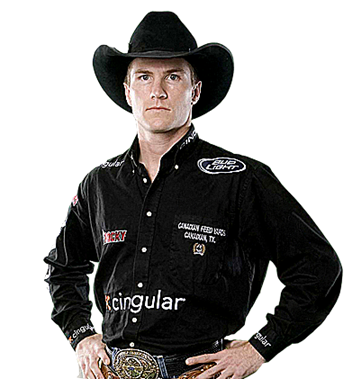 2009 Honoree:
One of the most naturally talented bull riders in history, McBride set a host of records in his career. The two-time World Champion broke the single-season event wins record with eight, the most career event wins with 32, and was the richest cowboy in history, topping $5 million in career earnings. That mark was not broken until 2014 when Silvano Alves broke the $5.1 million mark with his third PBR World Championship. A year later, J.B. Mauney became the PBR's first six million dollar man.
When Justin McBride made his debut in Bakersfield, Calif., he was still a kid from Nebraska, who couldn't even believe he got to put his gear bag in the locker room.
Ty Murray was there. So were Aaron Semas, Jim Sharp, Troy Dunn, Bubba Dunn, and Norman Curry. They may not have been what they were in their prime, but each of them had an intimidating presence.
McBride recalled seeing Semas in a hotel elevator once after finishing fourth.
"I'm pretty sure he didn't know my name," McBride said, "but he recognized me from the bull riding. Of course, I knew exactly who he was. He told me, 'Good job.'"
A week later, in Odessa, Texas, McBride drew Hollywood.
Curry had ridden him a week earlier, and told the newcomer, "All you have to do is keep your head down, and he rides pretty good."
"I always thought that was nice of him to come lie to me that," McBride said, "because there was nothing easy about that bull. But he went out of his way to at least make me think I wasn't going to die that day."
McBride rode the bull for 93 points, winning the first of his record-setting 32 event wins.
But looking back, McBride said he's most proud of something entirely different: stickers.
Competing on television at the highest level of professional bull riding meant sponsor obligations. That meant that longtime PBR employee Jinx Clower had to fasten a series of sponsor stickers on the new kid's protective vest.
"That's when you knew you had arrived, when you got stickers on your vest," McBride said. "For me, it was such a huge deal. I remember I was so proud I had stickers on my vest and they were the real stickers."
McBride and fellow newcomer Ross Coleman - who both went to college at UNLV - befriended J.W. Hart. He in turn introduced them to Semas. With each event, McBride was made to feel welcome by more and more of his own heroes.
He quickly learned, though, what it meant to be a pro.
"Winning was everything. They were from a different school than guys are from now," McBride said. "It wasn't acceptable to be OK at it. They were hard-asses."
If a young rider wasn't performing up to expectations, "they didn't beat around the bush about it. They would let you know."
The founders of the PBR were at the tail end of their careers. McBride considers himself lucky to have experienced that.
It was one thing to be good, but learning how to win was entirely different.
McBride said "it was fun to walk into the locker room" as a rookie, and that from one event to another he never knew who was going to win. Bucking off three or more bulls in a row was unheard of, and on the rare occasion that it happened, he remembers those riders "getting made fun of pretty severely. They weren't afraid to hurt your feelings."
McBride was never one to make excuses. "When I did buck off, I remember always wanting to dig a hole and hide," he said. "I didn't want to face any of the embarrassment." He learned early on that the greats didn't allow others to blame their shortcomings on bad bulls.
"They were brutally honest," said McBride. If someone use the draw as excuse, "somebody would run him into the ground. That would get nipped in bud quick. It just wasn't allowed.
"If you were a sissy, a crybaby or a whiner, they wouldn't have anything to do with you."
But the new kid was thought of as tough and gritty, and in his third season he won five events.
He had always taken every opportunity to put his bag next to the greats' when he walked into the locker room, and by then he had become fast friends with Murray.
"After I got to know Ty a little bit, I would call him in the morning and see what he was having for breakfast," said McBride.
When Murray asked why, McBride replied, "You aren't getting one up on me. If you're doing it, I'm doing it."
"If he drank two beers after the event, then I drank two beers after the event," McBride said. "I just wanted to do it the way they did it."
It worked.
McBride won the world title in 2005 and again in 2007. He holds the record for the most event wins in a single season (8) and his career earnings of $5.1 million was the high water mark until J.B. Mauney broke $6 million in 2015.
While he always looked forward to the camaraderie of the locker room in the early part of his career, that wasn't the case in the later years.
In fact, he would separate himself from the other riders, and often sat alone in the shower area.
Mediocrity had never been accepted, but the younger riders hadn't seemed to have learned that lesson. Today, McBride can look at the draw and have a pretty good idea of who has a chance of winning.
In a new era, coaching may become the norm.
"I've always felt, on the coaching side of things, that a guy needs somebody to help him … who knows more about it than he does," McBride explained. "You can't have somebody who sucks as bad as you do trying to fix you. You need somebody who's great at it.
"I always had that. I always had somebody there who was better than me, understood it better than I did, and could always point things out."
McBride retired from the sport at the conclusion of the 2008 season.
He has no regrets about stepping away at the prime of his career. Nor has he lost the memories of those stickers he so proudly wore on his vest - even if he wasn't so fond of them later in his career.
"When I started, I wanted those stickers," he said, "but it's so funny because later in my career those stickers meant money, and so I was pretty tough on the guys who put stickers on your vest about where stuff went on mine. I wore the bare necessities.
"It's funny, because when I first came around, I wanted them to plaster every one of them on my vest, so, yeah, stickers used to be a big deal for me. It was like getting drafted and getting your jersey. It meant you were there. Then it was the Top 45 guys in the world, and it really meant something to me to be part of that."
By Keith Ryan Cartwright