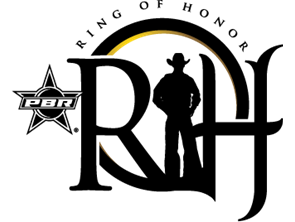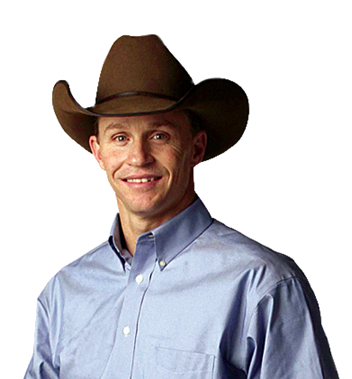 2002 Honoree:
Murray is the greatest all-around cowboy who has ever lived. His seven PRCA all-around titles, his two PRCA bull riding titles and his remarkable career in the PBR earned the PBR co-founder the appropriate moniker "King of the Cowboys."
At 13, Ty Murray went to live with Larry Mahan for the summer.
He traveled from his childhood home in Arizona, arriving in Colorado thinking Mahan was going to spend the better part of three months teaching him everything there was to know about bull riding.
Mahan had other ideas.
"He never taught me one thing about riding," Murray said, "but he taught me about the more important things of being a champion and what goes along with that. Learning how to talk in public, learning how to talk to the media, learning how to give real thoughts and not just, 'Yeah, everything worked out good.' To give real answers. And he gave me a ton of great advice."
Mahan was the one who told Murray to secure an agent, so that he could focus on competing and let his representatives worry about the business side of being a professional athlete.
It was Mahan's belief that if you're not doing it in the arena, you don't need an agent.
"My only focus needed to be in the arena," Murray explained, "and that's invaluable advice."
The advice about making himself available to the media also served him well, even in retirement.
Murray said the PBR was born as a means of making the sport better for its fans, and a huge part of that comes from storytelling. That wasn't always the case. When he retired from bull riding, he was simply known as a nine-time World Champion with the nickname "King of the Cowboys." No one really knew him.
"When you get to know somebody - good, bad or indifferent - it makes all sports more interesting," he said. "It takes away that thing where you feel like you're just watching a red team and a blue team. You have a vested interest."
For years, riders were identified by the buckles they wore. Only a few wore the gold buckle of a World Champion. There were also those who wore black hats, brown hats or white hats.
There were very few fans who knew all the memorable rides and wrecks.
It wasn't until years after Murray had given up riding, and well after he had co-founded the PBR, that PBR fans and casual observers got to hear the stories behind his amateur titles and the dedication it took resume his professional pursuits after sustaining three consecutive career-threatening injuries.
It wasn't that he was being cagey. He simply hadn't been asked to about himself.
"I would say that's fair," Murray said. "I don't even know if I thought about it then. I don't even know that that even crossed my mind. I tried to do a good job with the media. I never turned anything down. That was something that Larry Mahan taught me when I was 13.
"He said, 'Make time for them. All it will ever do is help you and help your sport.'"
"That was some of the best advice that I ever got," he continued, "and it's something that has helped me in my career tremendously, and it's helped the sport a lot, I think. I wasn't inclined to be that way without him giving me a heads-up to that when I was 13."
The 41-year-old, who makes his home in Stephenville, Texas, with his wife Jewel and their son Kase Townes, is focused on giving the tried-and-true fans a deep understanding of what the sport is about, and growing its popularity.
The challenges remain.
It's still hard for some to appreciate a sport they don't fully understand.
As Tommy Lasorda once explained, a coach can easily make baseball players out of bull riders, but the reverse isn't necessarily true.
"I'm passionate to get more people to see and understand that," Murray said, "and I'm passionate to see the guys that do this sport get the credit that they have due. It's hard.
"This goes back to the ESPY (awards) thing and how it chaps my (rear), because what is athleticism? What is sport? This has it in spades. This has it in ways that other sports can't even dream of."
The ESPYs have yet to nominate a bull rider in any category, while snowmobilers and surfers have made the list. Bowlers and jockeys even have their own categories.
Murray said it's not about belittling other sports, but if someone considers speed, quickness and reaction time to be athleticism, then professional bull riding has it. If they want to talk about coordination, body awareness and air sense, it has that, too. It also has pressure and the need to compartmentalize the fact that it's the most dangerous sport on earth.
He compares teaching those elements to a bricklayer building a house. Every opportunity with the media is considered a brick.
Whether it's him or another rider appearing on television or doing an interview with a national magazine, each media hit represents a building block.
Last year, during the Fourth of July weekend, he and Jewel played a major role in hosting a John Wayne marathon on AMC. Murray is about to film an episode of a new Discovery Channel series called "The Real Deal," which is about a family that deals in sports memorabilia.
However, according to Murray, his stint on "Dancing with the Stars" brought more eyes to the PBR and the western way of life than any other opportunity. For several weeks during his time on the ABC series, it was the No. 1 rated program on television.
"I'm not saying it gained more fans," he said, "but it put this sport in front of more people than this sport has ever had, and that's a brick. That's a big brick. That's several bricks."
When it comes to television, Murray said he's most proud of the weekly telecast from each of the Built Ford Tough Series events.
Back when he rode in the PRCA, television was virtually nonexistent - aside from a few special telecasts. And in his words, the early PBR telecasts were atrocious.
"It's no longer: 'This is a good guy from Muscle Shoals, Ala., and he's a great family man. There he goes. Aw, it didn't work out too good for him,'" he said. "I feel like we've grown a ton there, and I feel like you almost have to go back and watch an old telecast to truly appreciate it."
In recent years, it's become a real sports broadcast with up-to-date statistics and storytelling. The BFTS has become one of the most visually captivating sports on TV, and the storytelling has become a true, honest depiction of the competitors.
Good, bad or even embarrassing, Murray said every sport, including the PBR, has characters, and it's important to him that viewers get to know the cast while becoming familiar with the nuances of the sport.
"When you say 'storytelling,' you're not saying telling stories," he said. "You're saying you have real information and real data pertaining to the individuals. It just gives you a reason to care. It's the simplest way to put it and it's the most important."
Murray noted that just this weekend, with the help of a translator, he was able to sit with Silvano Alves and really get to know the No. 1 ranked bull rider in the world.
What he discovered and what he can share this weekend when the BFTS is broadcast on CBS is the fact that Alves is shy - if not outright bashful - and is clearly uncomfortable talking about himself as the top contender for this year's world title.
At the same, Murray also learned that Alves' goal is to win four gold buckles.
Without sharing that kind of information, "it's just a red team and blue team," or in the case of the PBR, it would still be nothing more than 40 riders wearing black, brown or white cowboy hats.
By Keith Ryan Cartwright