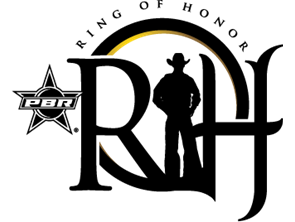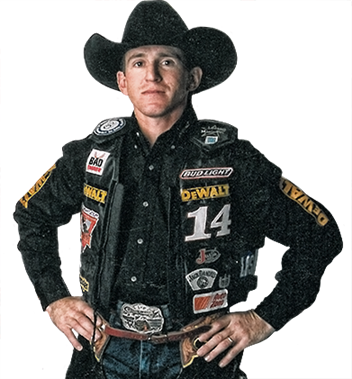 2000 Honoree:
Branger was the National Intercollegiate Rodeo Association bull riding titlist in 1985, and then turned pro. Despite that auspicious beginning, he retired in 2000 without a world title. His peers agree that he may be the greatest bull rider never to wear the crown.
Heroes & Legends: Clint Branger
By Keith Ryan Cartwright
Every morning, Clint Branger wakes up, looks out the window, and sees what he calls "a gift from God."
He lives on the ranch where he was born and raised, at the base of the Beartooth Mountains just outside of Roscoe, Mont.
The land has been in the Branger family since the late 1800s. Four generations of Branger men have sacrificed much through the years to keep it.
It's where Branger knows he belongs.
"I worked my whole life riding bulls so that I could come back and be where I'm at," he said. "Where I am right now is my gold buckle."
The first of the Branger men found his way to Montana in 1890.
He and three sons - John, Dave and Chris - turned what was once an unsettled piece of land into a working ranch. The firstborn for each of the younger men were named after their fathers - Johnny, David and Chrissie.
At some point "the beaver colony got a little large" for all the people living in the old rock house, so Chris bought out the homesteaders at the base of the mountain and moved his family to another house on the property.
In the summer, there were 100 head of horses, and people would come from all over take part in trail rides. But to the dismay of family members, Johnny wound up selling the upper portion of the guest ranch.
Clint's grandfather Chris died in 1959 at the age of 62, and that's when his father Chrissie put aside his bronc riding career. He wasn't ready to quit competing, but it was either that or sell the rest of the ranch.
"He chose to stay here," Clint said proudly of his father's decision.
That decision has kept the Branger name on the mountain all these years.
Ranching is hard work, and in those days, it was especially hard. Clint's father used to put up hay using a wagon. Clint remembers when his father finally got a machine: "It was the most decrepit Brigs & Stratton bailer with an engine on it.
"I would just beat it to death because it was so frustrating trying to bail hay with that darn thing," he said.
Some folks called Clint's father tight, and in some ways he was. Clint thinks of him as frugal. Growing up in the Depression and having gone through the Korean War, he wasn't about to spend money if he didn't have to.
For years, a framed photo of Clint's great-grandfather has been standing inside a granite arch hidden high up in the mountains. No one knew exactly where that arch was located, but last summer Clint found it.
"It was a feeling comparable to a 90-plus-point bull ride," he added. "It was a feeling comparable to the best feeling I ever had in my life. It was a very proud moment - very spiritual, very Godlike, very humbling and very exhilarating.
"Life came around full circle."
Clint said he found it at 9,800 feet with the help of a friend, who had done some research.
Now, hanging next to the 100-year-old is photo is one of Clint, taken one year ago, standing in the same place.
"I won the lotto when I was born and raised on this place," Branger said.
Branger graduated from Absarokee High School in 1983, and two years later won the national collegiate bull riding while attending Northwest College in nearby Powell, Wyo. That same year he turned pro, but it took until his third season to qualify for the first of his eight National Finals Rodeo appearances.
In 1988, he began traveling with Lane Frost, Tuff Hedeman and Jim Sharp.
Two years later, he nearly won a world title when Outlaw Willie bucked him off in the 10th round of the NFR. He finished second in the world standings behind Jim Sharp. He was third in 1992, the same year he and 19 others agreed to invest $1,000 each to form the PBR.
In 1994, Branger was poised to win the first PBR title when he drew Bodacious in the final round.
Although he would ride him a year later for 92 points, that particular day in Las Vegas he slapped the bull at 7.8 seconds, and Adriano Moraes won the gold buckle. Under the current point system, though, Branger would still have won the title despite the buckoff.
"To be honest with you, I think I wanted it so bad that when it came down to it, it just never happened," he said.
Despite never having won a world title, Branger is considered a giant among giants.
He competed during the most competitive era in the sport's history.
Ted Nuce, Ty Murray, Troy Dunn, Jerome Davis, Sharp, Moraes and Hedeman all won titles during his career, and still Clint Branger means as much to bull riding as those who wear a gold buckle.
He's long been considered the greatest rider never to win a title, and is often compared to Dan Marino, the record-setting NFL quarterback who never won a Super Bowl. However, Cody Lambert only partially agrees.
"I think he was better than that," said Lambert. "I don't think that does justice to Clint."
Lambert likens Branger's career to Karl Malone's 1997 season, in which he was named the NBA's Most Valuable Player, but still lost in the NBA Finals to the Michael Jordan-led Chicago Bulls.
"He could have just as easily been a many-time World Champion," said Lambert, who called that particular era of professional bull riding "a different kind of competition. He just happened to come along when Tuff, Lane, Jim and Ted Nuce were in their prime. Everyone has great respect for Clint."
A four-year series of injuries - two broken ankles, a broken leg and a shattered eye socket - culminated in 1995 with a broken neck.
Branger said he should have retired then. After missing the better part of the entire '96 season, he returned, but was never the same. He was still capable of making the occasional 90-point ride, but he never regained the same sense of balance on his left side.
"I just wasn't the same bull rider anymore," he said. "Because of that, I was wanting to come home, told to come home."
In '95 he had begun leasing the ranch from his parents. Bull riding was no longer a priority. It became harder to leave home and easier to admit that his career had come to an end.
A big reason he rode for five more years was that he didn't think he could afford to quit. Looking back, he said he's lucky not to have injured himself any more than he did. "My mind wasn't on bull riding," he said, "it was back here."
Still wiry in stature, he'll always be remembered for being fundamentally sound and for rarely getting pulled out of position. He was able to ride every type of bull he drew. Even today, many of the top riders look up to Branger - Dustin Elliott among them -pattern their own careers after his, and try to emulate his picture-perfect style.
He retired in early 2000.
That same year, he was inducted into the Ring of Honor.
In the decade since his retirement, Branger has been relatively absent from PBR events.
He's been known to come to the annual event in Billings, a 70-mile drive from his ranch, but said he tends to head home by the time the rider introductions take place. Every now and then he'll go to Las Vegas to see old friends, enjoy a steak dinner, and share stories and laughs.
"What place do I have in the sport of professional bull riding as a 47-year-old, washed-up, ex-bull rider?" he asks himself. "What place do I have? Where do I fit in?
"The less I have to talk about my past, the better off I am. To be very clear with you, I did it from the time I was 12 years old until I was 34 years old. I got it out of my system. I got bull riding out of my system. I don't sit around and wish I did this and wish I did that. I don't sit around and wish I'd a won that. I just don't do it. I have not missed it one single day.
"Life went on in a very positive direction."
Life is great for Branger today, but shortly after his retirement, alcohol ruined his personal life in much the same way that the neck injury cut short his professional career.
He separated from his wife Amy, and according Branger, they eventually divorced for no other reason than they had spent so much money on lawyers and legal fees. "I just signed the papers," he said.
Eventually he sought the help of Alcoholics Anonymous.
"That's been a huge gift," Branger said. "It's truly a gift given to me by God that I can live at peace with myself and with everybody else."
Sober for the first time in years, he was able to reconcile with his ex-wife, and they remarried. They live together on the family ranch with their 11-year-old son Jake, a fifth-generation Branger who will one day inherit the ranch.
Full circle
"I am thankful today that I didn't (win a World Championship), because I don't have any pressure," he said. "I'm not pulled. I'm not called and asked to go and sell the sport - to make it better - and I would feel obligated to do it.
"I can just be who I want to be. Not really a hermit, but you have to be here, you have to be on the land or else you're not going to know what's going on or you're going to fail. You can't be in town petting the brass monkey."
Branger sees the world differently than he has at any other time. "I'm more at peace with myself and what life deals you," he said.
Although it might be from afar, Branger sees what the PBR has become, and appreciates it.
But the 12-step program, which is ongoing, also taught him to be thankful for what he has - a renewed appreciation for the sacrifices of his own father made on behalf of the family.
Chris Branger turned 80 years old last month.
"I told him that day, 'I love you and thank you for everything you did,'" Clint shared. "'I can remember when I look out the window, it's your gift to me.' I don't know how much of that he can understand, but he - that same day I almost broke down, but I said, 'You're the toughest (SOB) I ever met.' That brings tears to my eyes just to say that, because he truly is.
"He gave everything he had his whole life just to be a cowboy."
The elder Branger is physically worn down from years of work. Eight months before his birthday, doctors feared he had pneumonia. Clint said the chest X-ray of his father, which he plans to keep, was more knotted up and shattered-looking than any X-ray of a bull rider he had ever seen in his life.
He's now in the advanced stages of Alzheimer's and suffers from dementia, but still recognizes his son.
They spent a day together earlier this spring.
Clint picked his father up from Cedar Wood Villa, in Red Lodge, Mont., where he now lives, and took him back to the mountain for what will likely turn out to be the last visit. Clint raises bucking horses and took his father to see them, and watched a herd of elk come out of woods. They shared a burger and an ice cream sandwich for lunch, took a nap and went back to town.
On the drive, the elder Branger asked his son, "What country are we in?"
"We're in Montana, Dad," he replied. "Montana."
Lost in his thoughts, Clint's father smiled. To no one in particular, he said, "Sure good to look at some familiar ground again."
"For him to say that to me was one of the greatest days of my life," said Clint, adding how happy it made him knowing his father still recognized the land he ranched, hunted and lived on his entire life.
It's the same land that Clint Branger sees every morning when he wakes up, looks out the window and remembers, "Of all the places I ever went, I never thought I was going to somewhere other than back to here. I never had a doubt in my mind about it.
"This is my gold buckle. I'm here with it every day. I don't abuse it, I shine it, I polish it, I have good days and bad days, but I work on it every day to make it better, more productive. The reason I'm here is because of my career in the PBR and what went on here."