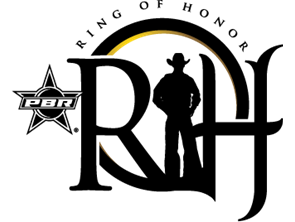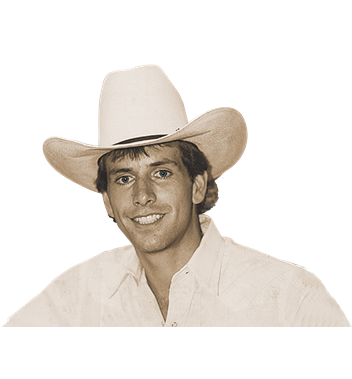 1999 Honoree:
Lane was born on October 12, 1963. At that time, his parents lived in Lapoint, Utah. However, Lanes Father Clyde was rodeoing at the time and Lane's mother, Elsie went to stay with her parents in Kim, Co., while she waited for Lane to arrive.
Lane was born in the hospital at La Junta, Co., the closest hospital to Kim. His full name is Lane Clyde Frost.
Lane has an older sister, Robin, and a younger brother, Cody. When Lane was killed in Cheyenne he was 25, he was 5' 11"and weighed 145 lbs Lane, at the early age of 5 months, was interested in the bull riding events at the rodeos his parents attended.
Mrs. Frost is fond of the memory of Lane awakening during the bull riding event, and he would cry when his parents stood up to leave early, If they returned to watch the bull riding he would quiet down.
His mom made his first pair of chaps for him. She admits to hoping he "would out-grow this bull riding thing."
Lane started riding little dairy calves on the family dairy farm in Randlett, UT when he was 5 or 6. He was 9 when he first got on a bull.
However, to the relief of his family, he met Don Gay around that time, and Don told Lane that he should just ride calves and steers until his bones were more fully developed.
Mrs. Frost says that they had been telling Lane the same thing, but of course he listened to Don! At the age of 15 Lane started to ride bulls on a regular basis. Before that, he had been competing on calves and steers.
Lane's first rodeo awards were won in 1974, when he was 10, at the "Little Buckaroos" Rodeos held in and around the Uintah Basin of UT.
Lane stayed on a bucking Shetland Pony to win first in bareback, took second in calf roping and rode a calf in the "bull riding" event to place third.
While rodeoing wasn't the way of life his parents exactly wanted for him, (especially the bulls!) they never discouraged him, and helped him whenever they could.
Lane spent his first 14 years in Utah, doing chores on the dairy farm his parents owned, and later competing in various rodeo events. When Lane was in junior high school (7th & 8th grade), in Vernal, Utah he was very good in wrestling.
He wrestled at about 75 pounds. During these two years he had 51 matches with 45 wins, 4 losses and 2 tied matches.
Lane also continued competing in the "Little Britches Rodeos", and any other rodeo he could enter, until his parents moved the family to Lane, OK. in 1978 to escape the harsh Utah winters.
Lane Liked the fact that there were more youth rodeos in Oklahoma then in Utah. Lane's mom says that, while they did not encourage Lane to ride bulls, they did support him in his decision.
Lane began his freshman year at Atoka High School, his sister Robin began her senior year there, and Cody was in 4th grade at Lane Elementary.
continue reading about Lane and his career at LaneFrost.com
--source: LaneFrost.com