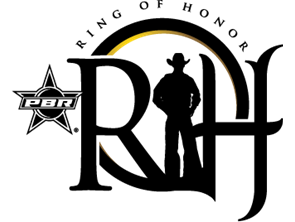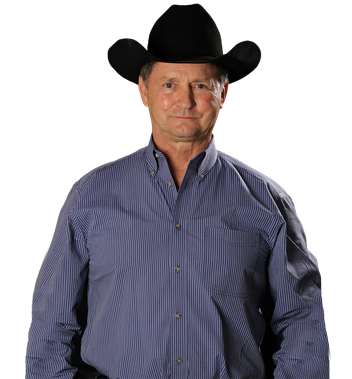 1999 Honoree:
After qualifying for the NFR an impressive 11 times, Robinson eventually became involved the business side of the sport. He realized that traditional rodeo was using archaic ideas and systems, and helped to modernize the sport.
Heroes & Legends: Jerome Robinson
By Keith Ryan Cartwright
There's a decades-old story about Jerome Robinson that is shared among bull riders.
It seems Robinson, who turned pro in 1967, was driving all night from one rodeo to another. In the morning, he pulled off the highway to find a place to shower and clean up before continuing on his way.
He wanted to avoid being charged a room fee for little more than an hour's use, so he walked the halls of the motel looking for a room where the occupants had already left.
Eventually he came upon a door cracked open for the maid service.
"I get the credit for that," said Robinson, "but it wasn't really me.
"Well, we may have done it once, but somehow the story got around that we were doing it all the time. I can kind of remember (Jody Tatone) doing it one time, but it made me too nervous."
Tatone was a social science major in college with aspirations of attending law school.
A gifted athlete, he didn't get on his first bull until he was 20 years old. He never did become a lawyer, but he qualified for the National Finals Rodeo four years in row from 1978 until 1981, and again in the mid-80s.
The true story is that Tatone's parents owned a motel, and he was the one who hatched the plan for the two of them to shower up after a night of driving without paying for a room. One morning they went into a Marriott, and Tatone walked the halls, touching each door until one swung open.
"We traveled a lot," Robinson said, "so somehow I got the notoriety for it, but it wasn't me."
Over the years, Robinson has seen plenty.
He was in the arena the night of Tuff Hedeman's infamous matchup with Bodacious.
Robinson was the second man to reach him as he lay on the dirt. He still remembers the ash-white pallor of Hedeman's face moments before blood sprayed from his nose like a faucet.
He still recalls - with vivid details - how the skin on Hedeman's face looked as though it had been burned. He was conscious and mad at himself. Once they applied compression to his nose to stop the bleeding, Hedeman stood up and walked out of the arena.
"He didn't get his name Tuff for being a sissy," Robinson said. "There are not too many people who would have walked out of there. He's tough."
Robinson was also in Las Vegas in 1999 for what he believes was "the best night of bull riding I ever saw" - perhaps the greatest night of bull riding in PBR history,
It took place on a Friday night, and the pen featured the same 15 bulls that would be used two days later in the championship round of the Finals.
Looking back on it, he figures that if the same scoring scale used today was used then, there would have been 10 or more rides marked 90 points or more. The one he remembers most is Jaron Nunnemaker's ride on Panhandle Slim.
Nunnemaker rode him that night for 94 points.
Robinson, who said his own style would have fit Little Yellow Jacket, was in awe of Nunnemaker, and eventually Ty Murray, for how easy they made it look. Murray rode the bull later in the short round for 94 points to win the Finals average.
"Both of them were outstanding rides," said Robinson, who in 17 previous Finals said that "If I missed seeing 20 rides, I think that would be a lot."
He saw his first bull riding at the age of 3, when his grandmother drove him from Brandon, Neb., to Denver for the National Western Stock Show and Rodeo.
After nearly 10 years of riding calves, steers and cows, he got on his first bull when he was 13 at a junior rodeo in North Platte, Neb. For the first jump or two, it was a lot like riding a cow.
"But as soon as he turned back," Robinson recalled, "all I saw was his belly going up over the top of me."
He attended Colorado State University and was a sophomore when he got his PRCA card, but said he wasn't ready for pro rodeos. That year he went to 10 events and earned between $700 and $800.
His two best years as a pro came in 1974 and 1975, when he finished fourth in the PRCA world standings.
He estimates he got on more than 3,000 bulls throughout his career, and there were years where he was attempting as many as 250 in a single season.
Since retiring in the early 80s, he's been just as busy.
For years he held a bull riding school at his ranch outside Fort Collins, Colo. Cody Lambert attended when he was 13 years old. Michael Gaffney and Owen Washburn were even younger when they first came to Robinson's school.
"The truth of it was when Cody was 13, he knew how to ride," Robinson said. "He had been on enough stock at 13 that he was making the right moves."
Lambert has credited Robinson as an early influence.
Robinson said the PBR co-founder is being generous, but later admitted that if he indeed had any influence on him, it had to do with stressing the importance of chute procedures.
According to Robinson, a rider can't control what happens once he nods his head. However, he can control almost everything that happens in the chute. He taught his students that by rehearsing their chute routines over and over, they wouldn't have to think about it once they climbed in, and that eventually it would become automatic.
He said Lambert already had a routine, but that he helped to hone it into one he would use throughout his career.
Robinson, who was inducted into the Ring of Honor in 1999, has plenty of other memories to share. He tells each story as if it happened yesterday.
He's been to so many cities and events through the years he can't remember them all, but he has two maps hanging on a wall in his office.
One map is of the United States, and "well over 200 pins" represent all the cities in which he's ridden during his career. Some of those cities he's been to 10 to 15 times as rider and even more as a producer and promoter of PBR events.
The other map shows the entire world, and has pins stuck in Japan, Finland, France, Italy, Venezuela, Oman, Costa Rica and other countries where he's helped produce what he calls "wild west" bull riding events. Two more pins stick out from Peru and Columbia - two countries he never visited, but to which he sent his own personal crew.
Once he relayed this information, it was time to go again. "OK, I've got to get on this plane," he said abruptly.
After spending a week in Costa Rica, Robinson had been home only a couple of days before heading off to Wisconsin for the first of six Built Ford Tough Series events in six weeks' time.
Then he's heading to Las Vegas for what will be his 18th consecutive World Finals as arena director.