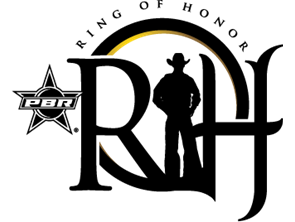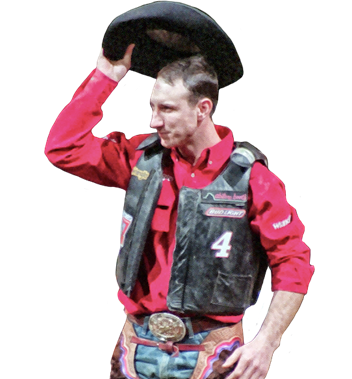 1998 Honoree:
Davis was the 1995 PRCA World Champion bull rider and a top PBR athlete. He is now a top bucking bull breeder, and mentor to a new generation of PBR stars.
Heroes & Legends: Jerome Davis
By Keith Ryan Cartwright
In April of 1992, Jerome Davis was just happy to be in the same Scottsdale, Ariz., motel room as his heroes. He hadn't been out of high school for a year when he became the youngest of the 20 founding members of the PBR.
Sitting toward the back of the room, the 19-year-old from North Carolina was all smiles.
"I had a vision, kind of like they did, but I was so young - it was my rookie year - and so fresh that I was just going to do whatever my heroes (did)," said Davis, who joined with established legends like Ty Murray, Ted Nuce, Jim Sharp and Clint Branger. "All (those) guys were guys I looked up to. They were my Elvis."
"For them to ask me to be part and to think that I had a future made me feel good."
Davis graduated from high school in June of 1991. A few days later, he packed his gear bag and drove his van from Archdale, N.C., out to Odessa, Texas.
"My daddy was out back cooking hamburgers and I told him I was heading to Texas," Davis recalled. "He kind of knew that I was going sometime, but he didn't know when. He said, 'When will you be back?' I said, 'Probably Christmas.' He said, 'Bear down and win a bunch.'
"That's all that was said and I was gone. That's just kind of the way it was."
Davis traveled from one PRCA event to another with Cody Custer and David Fournier, while sharing a trailer home with five other members of the Odessa College rodeo team.
Rent for the outdated trailer in a rundown mobile home park was $200 a month.
"Ours was the only one anybody lived in," he said. "The others (were) too ragged out, and ours probably didn't need anybody in it, but we were in college and it was good. That's the time when I forked the money over."
Davis said, "It's so far back, sometimes it's hard to put it all together." He doesn't recall hearing anything about the meeting of the PBR's eventual founders until Custer and Fournier invited him to join them that day.
At the end of the meeting he didn't have enough money in his bank account to write out a check for the full $1,000. Instead he gave promoter Sam Applebaum a check for $500 with the promise of paying the balance a week later.
Afterward, he didn't think much of it - he likened the meeting and the plans that came from it to planting a seed and hoping it would grow. But a year later, they began planning the first PBR event.
In 1993, at the National Finals Rodeo, the PBR founders who qualified for the bull riding event all agreed to don PBR jackets - which were easily identified by the distinct red and black sleeves - for the entire week.
"I thought, 'Man, I'm not going to get to wear my NFR jacket,'" Davis said, "but I was excited to wear that PBR jacket. We were trying to make a statement, and I guess we did, but you could tell there was a lot of jealousy."
In 1994, the PBR began hosting events.
All 20 founders agreed that while they would continue competing at PRCA events, none of them would enter BRO (Bull Riders Only) events.
Davis said for a kid like himself, who couldn't even write a check for $1,000 a year earlier, it was financially difficult to turn down the $3,000 show-up fee he was being offered by the BRO, "but it was the right thing to do."
"Things like that, back then, got sacrificed that people never did get to see," he continued, "and it wasn't just me either. It happened with everybody.
"In all, I think, it's been good for everybody. It's been good for rodeo and certainly good for the PBR."