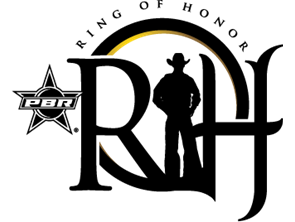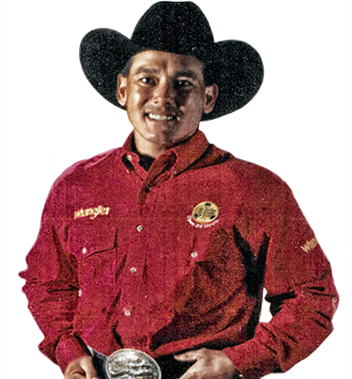 1996 Honoree:
Nuce qualified for the NFR 14 years in a row — an unmatched record. He was the 1985 PRCA World Champion bull rider, finished second in the world four times and won the 1994 PBR World Finals.
Looking back at his storied career, Ted Nuce said that one of the most important talents of a successful bull rider is knowing how to get off a bull and get away safely.
The 50-year-old native of Escalon, Calif., employs that same philosophy today.
Although he hasn't ridden bulls professionally in nearly 20 years, he is as passionate now about playing the stock market as he once was about climbing into a bucking chute and nodding his head.
"Trading and riding bulls have a lot in common," he said. "The most important thing is you manage your risk."
Four years ago, he and his family relocated from California to Stephenville, Texas.
He and his wife Stephanie, who has a real estate license, felt as though their home state had become overregulated and overtaxed. They opted for a more business-friendly environment, and chose to raise their family in the Cowboy Capital of the World.
"I like the commonsense way of Texas life," Nuce said.
Stephenville is a fitting place for the one of the most celebrated bull riders of all time and his family to call home.
Nuce began his professional career in 1982. Three years later, he won a world title, and four times after that he would finish second in the PRCA standings.
A year after winning the gold buckle, he battled Tuff Hedeman all season before finishing runner-up for the first of three years in a row. In 1987, he went to the National Finals Rodeo with a lead, only to lose out to Lane Frost.
Jim Sharp beat him in 1988 - the same year Nuce won a gold medal at the Winter Olympics in Calgary, Alberta.
The Olympic bull riding event came down to the final round, with Hedeman in the lead and both Nuce and Frost close behind. Nuce drew Hill Street, a bull who had bucked off Frost in an earlier round, and made the whistle to take the lead. Frost rode as well, but was still third in the average when Hedeman bucked off, giving Nuce the gold medal.
One of the most "incredible moments" of his career came later that night, when he stood on the podium in front of 80,000 sports fans and had the gold medal hung from his neck.
In 1991, he finished second in the world to Hedeman for a second time. A year later, he and 19 other legendary riders each invested $1,000 to form the PBR. In 1994, he won the first PBR World Finals event to cap a career in which he set a record by qualifying for the National Finals Rodeo 14 years in a row.
It's a record Cody Lambert said will never be broken.
"I rode against a lot of great bull riders," said Nuce, who was a member of the inaugural class of the PBR Ring of Honor in 1996. "It happens in all different eras, but I think in our era, in my era, I rode against some really tough bull riders. There were some real legends."
Early in his career, he rode against the likes of Donnie Gay and Denny Flynn, as well as his travel partner Charlie Sampson. In the second half of his career, he rode with Hedeman, Frost and Sharp.
Nuce also rode with Ty Murray, Troy Dunn, Adriano Moraes and Lambert.
Often, people will talk about having been born a decade or even a century too late. Other times they're said to have been ahead of their time.
Not Nuce. He's thankful to have come along when he did.
His rookie year, he watched and learned from Sampson. He not only saw a great bull rider win a world title, but he took note that Sampson was always positive. It was a lesson he had previously been taught by Larry Mahan and Gary Leffew.
"It's an attitude that when everything is going wrong, you're prepared to win," Nuce said. "I picked up on that stuff early, and really took it to heart."
There was a passion that drove him to ride. If there was rodeo or bull riding event with $1,000 or more available to the winner, Nuce was there.
"I truly loved riding bulls," he said. "I loved it so much, at one point, if I couldn't ride bulls, I didn't care if I lived. I had very strong emotions about riding bulls."
Those deep-seated feelings, which he said lasted from 1984 through about 1992, made it difficult to quit.
"Fortunately, now I have a family, and my family is very important to me," he explained, "and I love trading the stock market."
His latest passion was fueled by the success of the PBR.
As he watched it grow and "turn into a real nice business," he became more and more fascinated in how other businesses worked.
"I'm interested in how big money moves in and out of the market," he said.
Today, he can honestly say he has no regrets. And he's maintained a professional and personal life driven by passion.
"It has to come naturally," Nuce said. "That's something that has to come from within. You have to love something so much that practice is play - when you're practicing, all you're doing is playing. You love it so much that you would rather do it than anything else in the world.
"If you don't have a true passion, when tough times come you won't last. You'll quit. If you have real passion, it only makes you stronger, it makes you better, it makes you go home and practice harder."
--Keith Ryan Cartwright