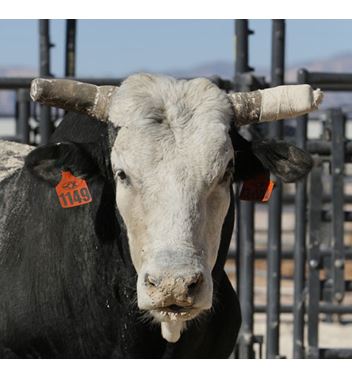 2018 Honoree:
Pearl Harbor was going strong until the very end, passing away in late April on stock contractor Chad Berger's ranch in North Dakota. Just 6 years old at the time of his passing, Pearl Harbor was 61-6 at all levels of the PBR and was unridden on the 25th PBR: Unleash The Beast in 2018, including three 47-plus bull scores in his last four outs.
"If you're going to be the best, you've got to ride the best," 2017 PBR World Champion Jess Lockwood said. "So whenever you get the chance at bulls like Pearl Harbor, that's the ones you want."
Berger purchased Pearl Harbor when the bull was 5 years old, but had his eye on him since he was a 2-year-old.
"I've flanked a jillion bulls in my life and none of them made my hair stand up like that one, every single time," Berger said. "I was just like a dad throwing his kid in the wrestling ring when he was about 5 years old and just cheering him on. My heart just swelled when I watched him buck and buck them guys off."
While Pearl Harbor did plenty of bucking off, on the rare occasion he was ridden, the sky was the limit when it came to the score. The highest was a monster 94.25 points courtesy of J.B. Mauney in Sioux Falls, South Dakota, in April of 2016. Berger thinks that ride is better than some of the highest-scored rides in PBR history.
Pearl Harbor was in contention for the World Champion bull crown at the time of his passing and went on to win the 2018 regular-season title.
"Not a day goes by that I don't think about that bull and how much he's going to be missed around here," Berger said. "I'd give everything you see here in front of you and start over with him."