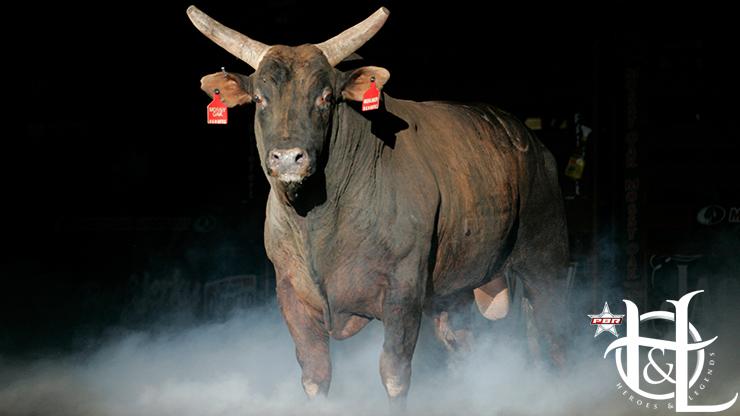 2017 Honoree:
2004 World Champion Mike Lee remembers it like yesterday.
It was 13 years ago when the 21-year-old bull rider from Decatur, Texas, was making a stunning come-from-behind run at the 2004 World Championship inside the Thomas & Mack Center in Las Vegas.
PBR Director of Livestock Cody Lambert recalled earlier this month that no one had thought Lee was truly in the running for a world title that year.
"He wasn't one of the guys we were really talking about until a couple days into the Finals," Lambert recalled.
Yet after riding his first three bulls at the Finals, Lee was ready to show the world what the third-year bull rider could really do.
With the World Championship on the line, as well as the 2004 World Finals event title, Lee lowered himself into the bucking chute aboard the D&H Cattle Company superstar bull Mossy Oak Mudslinger.
Lee knew he had one of the greatest bulls in PBR history underneath him, but that didn't faze him one bit.
Instead, he went to work on Mudslinger for a career-high 93.75 points. The massive score helped him become the first bull rider in PBR history to win the World Championship and the World Finals event title in the same season.
"He bucked every time," Lee said. "He wasn't nasty. He didn't do anything real bad. He wasn't real bad in the chute. He just went out there and did his job. He bucked honest. He was a great bull to win off of. He wasn't easy, but you could win some money if you stayed in the middle of him."
Lee won $1.3 million thanks to that ride aboard Mossy Oak Mudslinger, and he was one of 27 riders that ever reached the 8-second mark aboard this year's 2017 Brand of Honor recipient.
Mossy Oak Mudslinger was honored on Tuesday night at South Point Hotel & Casino during the 2017 Heroes & Legends Ceremony. Also honored were Ring of Honor inductees Lyle Sankey and Ricky Bolin, Jim Shoulders Award winners Doug Scott and Bill Selman and Sharon Shoulders Award winner Julie Carrillo, who's daughter Cheney received a standing ovation as she accepted the award in honor of her mother with a heartfelt speech. Julie passed away in June from stage-4 colon cancer.
Two-time World Champion Justin McBride acknowledged Cheney as the "strongest teenager girl" he knows prior to introducing Mudsligner Tuesday evening.
The 2006 World Champion Bull is the seventh bovine athlete to receive the Brand of Honor, which is awarded to a bull for his exemplary performance throughout his career.
"He was that first bull to step into that role of being a star," McBride said. "The Pages have been bringing great bulls you could win on for a long time. Mudslinger was one of those bulls."
H.D. Page said, "I want to thank the PBR for recognizing Mudslinger with the award. Mudslinger means the world to us. Mudslinger came along at a time in my life whenever I was down in the dumps and I couldn't ride bulls anymore and I was struggling to figure out what I wanted to do. I knew I didn't want to farm. I can just remember bucking that bull when he was a calf and the energy. I got goosebumps like I used to get when I crawled on top of one. I never felt that until that moment.
"It is something we get addicted to as stock contractors when you have great bulls like that. It is an adrenaline rush that you can't experience like getting on a bull."
Mossy Oak Mudslinger was 66-27 in 93 Built Ford Tough Series outs with an average bull score of 45.88 points. He was a bull riders loved to get on as well. In his career, he carried a cowboy to a BFTS round win 15 times.
"Mudslinger was a bull that came on the scene as a 3-year-old and was spectacular," PBR Director of Livestock Cody Lambert said earlier this month. "He was only ridden once that year. He brought it every time. He had a great style of bucking. He was in the air spinning and kicking."
A year after Lee won the world title, Mudslinger went on to be named the high-money bull of the season, earning the most money for the riders that made 8 seconds on him.
"There were not a lot of bulls like him," Lee said. "Back then the genetics weren't there, but he was part of the genetics that got us here. He had a lot of suck back, and he would pull guys over the top of his head. He fit me. I liked him. He was into my hand, sucked back and was pretty to watch."
Every rider knew payday was awaiting when they got in the chute aboard Mudslinger.
In that same season, a young, bull riding superstar by the name of Guilherme Marchi went on to ride Mudslinger for 92 points in Kansas City, Missouri, for his second career victory.
The Leme, Brazil, bull rider was one of seven riders that conquered Mossy Oak Mudslinger in 2005. Every one of them was 90 or more points.
"He was right there, away from hand, and he was very consistent," Marchi said. "All the time he was right there to the left. Everybody wanted to get on him. You knew if you ride him, you would be 89-plus.
"He was a really good bull. He was a good producer. H.D. and the fans miss him a lot."
Lee and Marchi were two of the many riders, including three-time World Champion Silvano Alves and two-time World Champion J.B. Mauney, that were in attendance for Tuesday's ceremony.
After failing to win a world title in his first five years, Mossy Oak Mudslinger was able to go out on top in 2006 by being voted the World Champion Bull.
The last rider he faced was Marchi.
The end result?
A 5.1-second buckoff and a 46.5-point bull score at the 2006 World Finals.
"He deserves the Brand of Honor," Marchi concluded. "He was a very special bull for a long time."