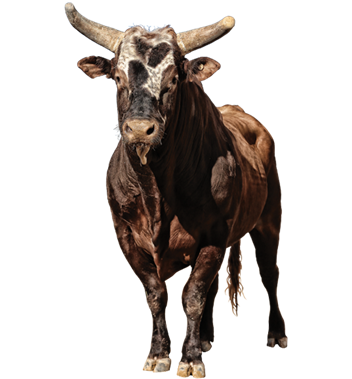 2016 Honoree:
PUEBLO, Colo. - Julio Moreno knows there will be a flood of emotions when he pulls up to the South Point Arena and unloads Bushwacker for the Heroes & Legends celebration.
The three-time World Champion Bull is this year's recipient of the Brand of Honor, which is awarded to a bull for his exemplary performance throughout his career.
"It is awesome to be able to retire him and all of a sudden he can come back in there and win," Moreno said. "He has accomplished everything now in this sport. Hopefully, (his late handler) Kent Cox is smiling about it."
Moreno has shed tears of happiness and sadness in Las Vegas throughout his lifetime as a PBR stock contractor, but in November he will likely cry tears of pure joy once again as he watches his bull get honored.
"Last time we were leaving Vegas a couple of years ago, I thought that would be the last time he would see Vegas," Moreno said. "Now to bring him back that is pretty good. A lot of times you hear horror stories about this bull or this horse getting inducted somewhere and they are not alive."
There is also the possibility of Bushwacker actually receiving his award on stage at the South Point Arena. And, yes, it makes complete sense for there to be a spectacle surrounding Bushwacker one more time in Las Vegas.
During his six-year Built Ford Tough Series career, Bushwacker brought the sport of professional bull riding to new levels and became a world-famous superstar. At the time of his retirement in 2014, PBR co-founder and Director of Livestock Cody Lambert said Bushwacker was right up there with other legendary animal athletes Secretariat and Seabiscuit.
However, Lambert took Bushwacker's impact on the PBR one step further when asked about what the champion bovine has meant to the PBR. Without hesitating, Lambert placed Bushwacker in an elite class of PBR legends.
He rambled off names like the PBR's first World Champion and three-time champ Adriano Moraes. He then brought up two-time World Champions Chris Shivers and Justin McBride when trying to put into context just how important Bushwacker has been to the organization.
"He is as important to the sport as any of the riders we have ever had and more famous than most of them and more well known," Lambert said. "We will have all of the great bulls from now on, and all of the great bull riders from now on, and we will never replace Bushwacker or Chris Shivers or Justin McBride or Adriano."
"We have fans that don't know any of the riders' names that know Bushwacker," Lambert said. "Lots of them. It's a level that no animal has taken it to so far – until Bushwacker."
Part of his popularity stemmed from a dominance like no other bull in the history of the sport.
Bushwacker's record speaks for itself. He bucked off 64 of his 66 opponents in six years on the BFTS, and dumped 84 of his 87 foes since his first out in 2009. He won World Championships in 2011, 2013 and 2014 to join Little Yellow Jacket as the only three time World Champion Bulls.
Then, of course, there were the 42 consecutive buckoffs on the Built Ford Tough Series – a PBR record – until J.B. Mauney's historic 95.25-point ride in Tulsa, Oklahoma, in August 2013.
Bushwacker's rivalry with Mauney also added to the bovine athlete's legendary status. The two went head-to-head 13 times at all levels of competition and all but one time did Bushwacker not embarrass Mauney.
The legendary bovine's rivalry with Mauney will forever remain historic for PBR fans past, present and future.
The two squared off 13 times at all levels of competition and only once was Mauney successful.
It was a rivalry that turned into a battle between two foes with the utmost respect for the other. Call it David versus Goliath or Beowulf versus Grendel. No matter what analogy is preferred, the two formed one of the sport's biggest rivalries.
Bushwacker's saga really took life against Mauney in January 2011 in Anaheim, California. Bushwacker made Mauney look like a helpless Cirque de Soleil performer. Bushwacker (47.75 points) erupted high into the air and tossed the 2009 World Finals event winner toward the rafters of the Honda Center, before gravity saved Mauney in mid-air and brought him crashing back to earth in 2.67 seconds.
"He really, really fired and got in the air as high as he could, and J.B. was riding as good as he can be, and Bushwacker spun him like a ragdoll," Moreno recalled of his favorite memory. "Flung him like an airplane.
"They all took notice. That is really what caught everyone's attention."
Bushwacker has bucked off four World Champions in his career: Mauney, Mike Lee, Guilherme Marchi and Silvano Alves.
"The bull bucked for a long time, so he deserves it," Mauney said.
According to Probullstats.com, Bushwacker has the third-highest average bull score in PBR history. His 46.16-point average marking ranks only behind Dillinger's 46.83 points in 49 outs and Bodacious' 46.4 points in five outs. Bushwacker's average score is also slightly better than Little Yellow Jacket's (46.13).
Bushwacker's son Clifford recently made his BFTS debut last week in San Jose, California. Chase Outlaw rode Clifford for 82.75 points.
Bushwacker is the sixth bull to be honored with the Brand of Honor. Little Yellow Jacket (2011), Dillinger (2012), Red Wolf (2013), Bones (2014) and Chicken on a Chain (2015) are previous winners.
Bushwacker and Little Yellow Jacket are the only three-time World Champion Bulls.
Moreno didn't even blink an eye when asked if Bushwacker could still compete for a World Championship.
"Oh, yeah," Moreno concluded. "By all means, especially right now."
Follow Justin Felisko on Twitter @jfelisko.