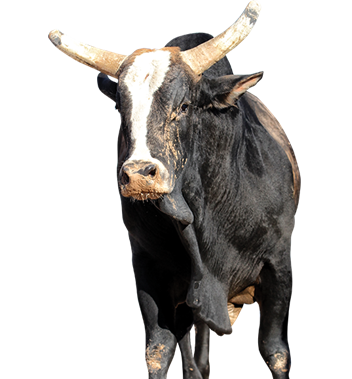 2015 Honoree:
Weighing in at more than 2,100 pounds, it didn't take a lot for Chicken on a Chain to make his presence felt at BFTS events.
He was near impossible to miss.
His horns have been described by those who have been hit by them as baseball bats.
His size and angry demeanor intimidated many of the top PBR riders in the world, but he was a freak of nature. Despite being the biggest, he wasn't only strong. He was equally athletic.
"I have a couple scars," said Robson Palermo. "One under my chin and one on my head."
Chicken on a Chain was arguably a-once-in-a-lifetime bull for his owner Jeff Robinson, who partnered with Larry the Cable Guy and Mike Tedesco.
"You've heard me say 1,000 times, it's a good thing he has broad shoulders," said Robinson. "He's carried me a long way."
Chicken put Robinson and his Mars Hill, North Carolina, ranch on the map virtually overnight.
This year, the PBR will honor the soon-to-be 15-year-old Chicken on a Chain with the Brand of Honor next week in Las Vegas.
Created in 2011, the annual award honors legendary bulls from throughout PBR history. From the beginning, the organization has recognized that there are two great athletes in every ride – the rider and the bull – and the Brand of Honor is the natural extension of that recognition.
Previous winners include Little Yellow Jacket (2011), Dillinger (2012), Red Wolf (2013) and Bones (2014).
"This puts him where I think he deserves to be alongside the all-time greats," Robinson said. "There will be a World Champion (Bull) every year, but that doesn't mean all those will end up in the Ring of Honor.
"That's pretty elite company."
In a seven-year career, Chicken on a Chain recorded more than 125 total outs
"I would dare say there's never been a bull hauled as many miles as that bull either," Robinson said.
He lived in North Carolina and was hauled from South Florida up to Maine, out to California and Oregon, Idaho, Montana and, of course, Las Vegas. He earned his way to the World Finals seven times.
And everywhere else in between.
"There are not many bulls that can go that long, travel as many miles as he's traveled and still be that good," said J.B. Mauney.
Robinson bought him in 2006 and nearly sold him by season's end. However, he held onto the future legendary bull and in 2007 he was voted the World Champion Bull.
Nowadays, the top riders vote for World Champion Bull contenders, who then compete for the title in two outs at the World Finals.
Chicken on a Chain finished his career with 130 outs – 80 of which were at Built Ford Tough Series events. He holds a career average of 45 points per out. He's the only bull in PBR history with more than 100 outs and an average career score of 45 or higher.
He's fourth on the list of all-time 90-point ride producers and he was the high-marked bull 41 times out of his 80 BFTS. Thirteen of the 27 times he was ridden in his career, the rider won the round.
"I have the best memories ever," Robinson said. "They rode him for 93 in Detroit and they should have been 96 or 97 on him, when (Justin) McBride won the title for the first time (in 2005), to the last out on him when (Chris) Shivers got on him. He's had all the greats on him."
His most famous outing was likely the time Renato Nunes rode him in St. Louis for 95.75 points.
Nunes was in the prime of his career – he won the title in 2010 – at the time of the 2008 matchup that still ranks among the Top 15 scores in the 22-year history of the PBR.
"That's right when Renato came on the scene and that bull fit him perfect," Robinson recalled. "That's one of those special times in history."
Despite the recent popularity of three-time World Champion Bull Bushwacker, the legend of Chicken remains one of the single most popular figures – man or beast – in the PBR.
Since his retirement, he's been hauled to various PBR events in a personal trailer meant to allow fans to see him and have their photo taken with him.
Robinson said despite being eight years removed from Chicken's title, people still ask about the bull wherever he goes.
Robinson said that Chicken on a Chains receiving the Brand of Honor is "all about him," but that that it will also "be right up there with the two or three biggest things I ever had anything to do with."
Longtime PBR Livestock Director Cody Lambert called Robinson with the news this past summer.
That too was a special moment for Robinson, who said Lambert called him in 2007 when Chicken was voted World Champion Bull and again in 2010 when he won his first of four consecutive Stock Contractor of the Year awards.
Nevertheless, he was not expecting the call.
"There were some other bulls in the conversation," Robinson said. "Bushwacker could have got it this year. Mudslinger could have got it.
"I knew it would come sometime, but when you have a bull of the year or you're in the running for Stock Contractor of the Year you sort of expect certain things. This one, I wasn't expecting to get that call. No."
Robinson admitted he does daydream about days gone by.
From time to time, he'll ask himself, "What if?"
What if Chicken on a Chain was competing today with the publicity the PBR has? What if he had a chance to compete against Bushwacker and Asteroid? What if he was competing this year?
"Yeah, you always think about the great ones, but you can't get caught up in the world of what ifs either," Robinson said.
Mauney added, "He'll go down as being one of the best bulls ever."