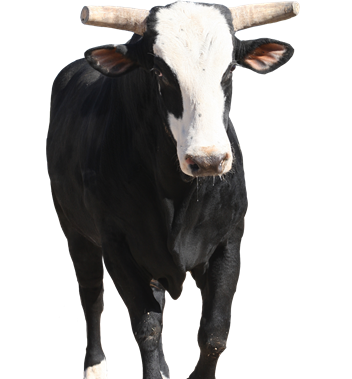 2014 Honoree:
His career was brief, yet illustrious.
Bones competed for just four years – only three of which were on the Built Ford Tough Series – and yet he managed to win two World Champion Bull titles.
From start to finish he was bucked only 45 times, which includes a mere 34 times at BFTS events. However, it was enough to forever leave an indelible mark in the minds of the best bull riders in the world.
"He's one of the few bulls I can actually say that I got on more than one time that I didn't ride," said two-time World Champion Justin McBride, who was 0-for-2 in 2008. "There's not very many of them."
In fact, there are only two: Blueberry Wine and Bones.
McBride first matched up with Bones in 2008 at the second to last regular-season BFTS event in Columbus, Ohio.
Aside from a 47-point mark two months earlier when Bones bucked off McKennon Wimberly, in Nashville, Tennessee, McBride was unfamiliar with the then 5-year-old bull. Actually, most people were unfamiliar with Bones and wondered if the high-marked outing was something of a fluke.
He had made his BFTS debut a year earlier, in March 2007, when Clayton Williams earned a re-ride.
Bones didn't return to the BFTS until June when he bucked off former World Champion Ednei Caminhas in Orlando, Florida, and when McBride selected him in the Built Ford Tough Championship Round, Bones had bucked off all five riders he faced in 2008, including eventual World Champion Guilherme Marchi.
Aside from the 47-point effort, Bones was consistently marked between 44.25 and 45.25 points.
"I thought it would be a good time to see what he was made of," McBride recalled. "I felt really good, at that point, and pretty confident and, ah, he was the real deal. He was big time stuff."
As would be his trademark, Bones got steep and his front-end dropped out of sight.
McBride went 6.6 seconds and as was habit by that point his career, he vowed it would never happen again, but, according to McBride, the comment proved to be a bigger mistake than the one he made that caused him to get rocked back on his arm and ultimately bucked off.
"I rolled into the Finals and picked him in the draft and he bucked me off even quicker," McBride said. "He had done nothing, but gotten better. I mean, he really handed it to me at the Finals."
Truth be told, he "handed it" to all three riders who got on him Las Vegas that year.
McBride chose him in Round 2.
Bones started to the right and once again got steep, raised McBride up and just like that brought the Nebraska-native over his shoulder onto the dirt in 4.7 seconds.
"It had been a long time since a bull had treated me that way," McBride said.
Zack Brown bucked off in 2.8 seconds in Round 4 and then Marchi lasted only 4 seconds in the final round. More importantly, Bones collected scores of 47 points, 46.5 points and a career best 47.25 points to win his first World Champion Bull title.
Bones was no longer unknown or unproven.
He was a World Champion Bull.
According to longtime PBR livestock director Cody Lambert, Bones drew tough riders and proved he was the best bull.
He certainly stood out.
Two years later, Lambert said it wasn't a shock, but it was a surprise when he out-performed the heavily favored Bushwacker to win his second title in 2010. Everyone, including Lambert, thought a young Bushwacker was going to win the title, but Bones beat him with a strong finish.
He had been ridden four times in the past years, but flawless against the best when it came to the World Finals.
Bones took care of J.B. Mauney, who had been the first to ride him in 2009 for 93.5 points, in 4 seconds flat and judges marked him 45.25 points. Some will argue he was underscored and that, perhaps, the judges were anticipating an 8-second ride from Mauney and were caught off guard.
But in the final round it was déjà vu all over again when Bones and Marchi met up—again.
J.W. Hart said that, at the time, Marchi tied his hand so far down the side of his bulls he was never going to be able to keep up with a bull like Bones whenever he made the direction change back to the left – away from Marchi's hand – that had bucked off all but four riders in his career.
Marchi was 0-for-3 at that point and the right-hander had little confidence in himself. Bones bucked him off in 2 seconds and was marked 47.25 points for the surprising world title winning score.
"For him to be able to come back and win the other one," McBride said, "is what was really impressive.
"They're both really cool, but for different reasons. The first because he come out of nowhere and won it, and the second one he kind of come out of nowhere to win too because there were other bulls that people were really high on. He showed up to the Finals and was the best bull."
Owner Tom Teague announced Bones' retirement at the start of the 2011 season.
Four years after being retired in the prime of his career, the three-time World Finals qualifier and two-time World Champion Bull with an average score of 45.56 points on the BFTS will be awarded this year's Brand of Honor at the annual Heroes & Legends Ceremony in Las Vegas.
The Brand of Honor was created in 2011 to honor legendary bulls of the PBR.
From the beginning, the organization has recognized that there are two great athletes in every ride and the Brand is the natural extension of that recognition, honoring those animals whose spirit and skill have surpassed even the highest expectation.
Bones follows previous honorees Red Wolf (2013), Dillinger (2012) and Little Yellow Jacket (2011).
"It's no surprise," Lambert said. "He's one of the best bulls the PBR's ever seen."
Lambert added, "There are very few bulls that physically have what Bones had and then can put it together time after time and use that physical ability. I don't know if people take them for granted or not, but I know that people forget them very fast once they're not there anymore. It's hard for people to remember how good they were physically. They remember, 'Yeah, that was a great bull,' but it seems like years and years ago and it was just a few years back."
In winning a pair of titles he beat out bulls like Bushwacker and Voodoo Child. Lambert also compared him to other greats, the likes of which include Mr. T and 105 of Dell Hall.
McBride lists Bones among the best he's ever matched up with.
In fact, he said Bones was harder than Mossy Oak Mudslinger and that although Little Yellow Jacket is currently the only three-time World Champion Bull, McBride feels like Bones was harder than him. He compares Bones with Rampage, Hollywood and other big bulls capable of getting steep.
"Bulls that could jerk a rider down," he added.
Like Lambert, McBride was not surprised to hear Bones was being honored this year.
"Absolutely not," he said emphatically. "Bones is every bit as good if not better than those bulls.
"He's still in the conversation with the greats. Today, I think, he'd be in there pushing Bushwacker. … I think Bones would be right there in the conversation with those bulls each and every weekend. Bones had days where he got the 47.5 marks."
Lambert added, "He has moves that only Bushwacker has. He had ability that only Bushwacker has right now."
The legend of Bones was made all the more spectacular given his yearling year.
Lee Holt, who worked with Teague, gave him his name because the 10-month old was nothing more than a "bag of bones" when he arrived in Graham, North Carolina, which is about 30 minutes east of Greensboro.
Holt said, "He was the poorest little thing."
Born March 31, 2003, they had to move Bones from the pasture with other calves to the barn, where he was alone, because he wasn't big enough to either defend himself or get enough to eat. With each passing year he filled out into a muscular 1,550 pounds.
Bones' mother was a daughter of White Water. His father was Bone Collector, who was also known for his jumping ability.
Throughout his career, Bones had the same mentality and chute demeanor as Bushwacker. He was relaxed and wasn't a mean bull either.
During his final season, Lambert exclaimed that Bones excelled in all five categories: buck, kick, direction change, intensity and degree of difficulty.
Lambert noted that Bones was able to get his front feet three or four feet off the ground, while he was in the air, and then break over. Bones also had a feel for knowing what he was up against and, like Bushwacker, was only at his best when he faced guys like McBride and Marchi or Mike Lee.
In describing Bones as a true competitor, Lambert said, "He had his best days when he was against the best riders. He looked as close to impossible to ride as Bushwacker."
Lambert added, "In my mind, he's the second best bull we've ever seen in the PBR."
Coming from Lambert, that's saying a lot.
Teague, who had previously been part of five World Champion Bull titles – Little Yellow Jacket, 3, Mossy Oak Mudslinger and Big Buck – had a special place in his heart for Bones. In the past, he was a part-owner in the title-winning bulls and had bought into them, whereas, he had raised Bones from.
This was different.
"What I like about (Bones) is that bull was born and raised on a Teague ranch," said Boyce Knox, who handled and hauled Teague's bulls for years. "He wasn't a bull that (Tom) went out and bought and paid a bunch of money for. That makes it real special—to raise one, it takes more than money to do that."
"Everybody told me that it would be different," Teague said. "They were right. It's totally different."
Bones was only 7 years old when Teague announced the retirement.
Teague said, "I had kindly made my mind up that if he did win it, I was going to retire him."
"Tom and Bobby and Sid Steiner are all real good friends," Lambert explained, "and Tom related it a lot to their careers. I know that's what he was thinking about."
In 1973, Bobby Steiner had turned 22 only two weeks prior to winning the PRCA title in bull riding. The last round of the National Finals Rodeo was broadcast on Wide World of Sports and when they asked him what was next and the flamboyant Steiner replied, "I'm hanging up my rope."
Steiner went home to Austin, Texas, where he and his bride Joleen raised two sons Tommy Shane and Sid.
Three decades later, Sid won a world title as a steer wrestler, in 2002, and did the same in an interview with ESPN2.
"I think that always meant something to Tom," McBride said. "Bobby Steiner has always been a good friend of Tom Teague and that's how Bobby's career was. He won one and quit."
However, McBride said the comparison is apples to oranges because "Bobby got to make that decision for himself. I don't think Tom ever wanted anything taken away from Bones. He didn't want to see him at the top and then lose a step and lesser bulls beat him. Tom's a very prideful guy."
Lambert agreed.
He added, "(Teague) was worried if something happened and (Bones) got hurt bucking another year after he already won two Championships, he'd have felt bad. He would have felt greedy for doing it, so he wanted to retire him when there was no doubt he was the Champion."
"He had a great rider on him and he had a great score," said Teague, when talking about the decision to retire Bones after his second title, "and what more can you ask for out of a bull? That was just it and I couldn't be happier with him."
Like McBride, who retired in the prime of his career with two titles to his name, some have argued Bones would have tied or even beaten Little Yellow Jacket's record of three titles. Instead, Bushwacker will try and match the record in his final season.
But no one will ever know for sure.
"The big difference is, I get to make that decision for myself and when you're talking about a bucking bull somebody – the contractor or the owner – is going to make that decision for the bull," McBride said. "I think Tom was attached to Bones a little more than he ever was any other bull. I mean, he was a part owner of Little Yellow Jacket and a part owner of Mudslinger – some great, great bulls – but Bones was the one he raised. He was very attached to Bones and he didn't ever want to ask too much of him.
"He was really special to Tom and he wanted him to go out on top."
Teague concluded, "I'm tickled to death with the way it ended and it's a great ending."