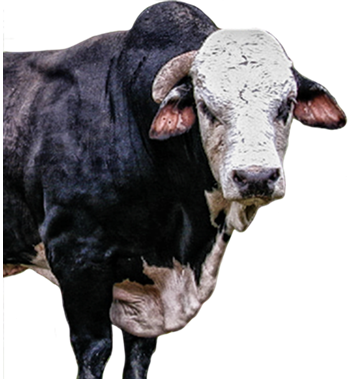 2012 Honoree:
Owned by Herrington Cattle Co., Dillinger was the first back-to-back and two-time World Champion Bull in 2000 and 2001. One of the most-recognized athletes in the PBR, the black bull with the white face retired in 2002 after sustaining a leg injury.
"We say we've never had a back-to-back champion, but that is only in the human category," said PBR Founder and Livestock Director Cody Lambert, who was inducted into the Ring of Honor as a member of the inaugural class in 1996. "Dillinger won two years in a row, and he was battling with Little Yellow Jacket, Blueberry Wine, and Mossy Oak Mudslinger when injury took him out of the game. He was a lot bigger than those bulls, weighing about 1,800 pounds in his prime.
"He had the same tools that they had with lots of speed and agility with power added in. All great athletes come in different sizes and shapes or even different species, but they all have one thing in common and that's competitive desire. Dillinger brought that on every trip."
Dillinger had a career buckoff rate of 85.11 percent in Built Ford Tough Series events. He was ridden only seven times in 47 outs, including four round wins, and his average bull score was 46.83. He is a member of the www.ProBullStats.com Hall of Fame, and ranks first with an average mark of 46.888.
Dillinger was ridden for 96.5 points by two-time PBR World Champion Chris Shivers at the 2001 PBR Built Ford Tough World Finals — the highest score in World Finals history — and tied for the highest score in the PBR record books. Dillinger was also part of five of the 50 highest scores in PBR history, including 95.5 points for Jim Sharp at Fort Worth, Texas, in 2002; 95 points for 2002 PBR World Champion Ednei Caminhas in 2001 at Columbus, Ga., 94.5 points for Caminhas at the World Finals in 2000, and 94.5 points for Corey Navarre at the World Finals in 2001. He was a part of three of the Top 10 scores in World Finals history.