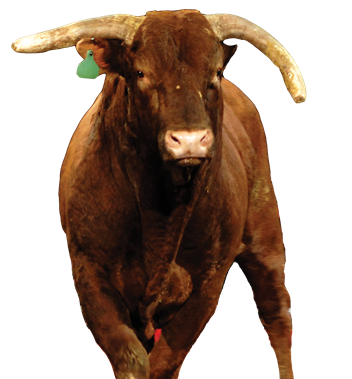 2011 Honoree:
Little Yellow Jacket knew when the lights were bright and the cameras were rolling.
The PBR's only animal to earn three World Champion Bull titles, Little Yellow Jacket, a 1,800-pound brownish-red rapid-fire spinner, was a primetime competitor who just sensed he was special.
From the night he debuted on the Professional Bull Riders' top-tier tour in 1999 at Billings, Mont., until the afternoon he was retired at the 2005 World Finals in Las Vegas, Little Yellow Jacket either would help a rider earn a score in the elite 90s or he'd serve up a dirt sandwich.
And then, after each stunning performance, it was like he'd take a bow by singling out his owner.
"He would find me, come right to me, and he'd look up, and I would in effect say: 'Good Job!' And then he'd turn around and walk off," said Joe Berger, a longtime North Dakota stock contractor who raised and co-owned Little Yellow Jacket during his highly remarkable seven years on the circuit. "That's why I say he was almost humanlike."
Little Yellow Jacket died on Sept. 19 in Graham, N.C, at 15 years old.
However, his legend lives on. The late Little Yellow Jacket became the first recipient of the Brand of Honor, which is presented each year to a bull for exemplary performance. He was honored in Las Vegas prior to the Oct. 26-30 PBR Built Ford Tough World Finals.
Owned by Joe Berger, Tom Teague, and Bernie Taupin, Little Yellow Jacket won the PBR World Champion Bull title in 2002, 2003 and 2004. He is immortalized in a statue located in front of the PBR headquarters in Pueblo, Colo., along with Adriano Moraes, the PBR's only three-time World Champion bull rider.
Teague, a thriving North Carolina businessman who eventually bought the bull outright and cared for him during his later years, also remembers Little Yellow Jacket being enamored with his stellar performances.
"They'd put him in the chute and he'd go out, throw the guy off and would prance around, and it was like he was saying, 'I knew I could bust your rear,'" Teague said. "But if a rider happened to ride him, he'd better look out, because Little Yellow Jacket just might try to hook him."
Little Yellow Jacket transcended his sport in 2003 when he bucked off two-time world champion Chris Shivers in less than 2 seconds on a live NBC broadcast from a PBR tour stop in Colorado Springs, Colo. He earned his owners $50,000 for his victory while keeping Shivers from collecting $1 million.
Though Shivers took being dumped hard at the time, the legendary cowboy views the bout as a great promotion for pro bull riding.
"That's probably one of the biggest moments in PBR history, and I'm just glad that I was involved in it," Shivers said.
Little Yellow Jacket competed in the PBR from 1999-2005. He had a buckoff rate of 84.4 percent, and an average buckoff time of 2.66 seconds. The 14 riders who made a qualified ride on him had an average score of 93.
Michael Gaffney, the 1997 PBR World Champion, rode Little Yellow Jacket for 96.5 points at Nampa, Idaho, in 2004, tying the PBR record for highest score.
"He was the ultimate bull," Gaffney said. "He had the attitude and the heart and everything else."
Little Yellow Jacket also commands respect from Ty Murray, the seven-time world all-around champion and a PBR co-founder. Murray turned in a 90.5 at the 1999 PBR World Finals in Las Vegas - the first time Little Yellow Jacket had been ridden on the PBR's marquee tour.
"He then was a young bull that I had no idea about," Murray said. "And when I got off of him, I told Cody Lambert, 'Wow! That bull is the real deal!"
Little Yellow Jacket's first outing on the PBR's top tour was in 1999 when he bucked off Eddie Fisher at a regular-season tour stop in Billings. His last performance was during the 2004 World Finals when he disqualified Gerardo Venegas in the final round.
Little Yellow Jacket also was on the card during the second round of the '99 World Finals, and helped Cody Whitney score 94.75.
Lambert, the PBR's longtime livestock director, said he was impressed with Little Yellow Jacket's longevity. Lambert pointed out that the bull would help riders score in the 90s despite getting older.
"He's the greatest bull that the PBR has ever seen," Lambert said. "He won three world titles, and no other bull has ever done that."
By Keith Ryan Cartwright