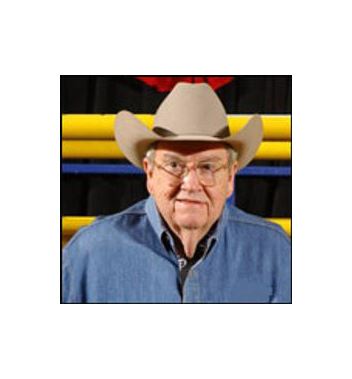 2018 Honoree:
In 1979, Dr. J. Pat Evans was working a competition called Rodeo Superstars with athletic trainer Don Andrews when he realized something.
Rodeo athletes didn't have the same type of treatment options as athletes in other sports.
It was a conversation that sparked something of a revolution in Western sports and changed the face of how cowboys receive medical treatment.
Today, if you see a cowboy at a PBR event being worked on by a member of the sports medicine team, you're witnessing the impact of Dr. J. Pat Evans.
The Texas native is considered the grandfather of Western sports medicine and was the first physician to treat cowboys as what they are: professional athletes.
Evans will be honored with the Jim Shoulders Lifetime Achievement Award at the PBR's annual Heroes & Legends Celebration in Las Vegas on Nov. 6.
In the lead-up to the ceremony, RideTV's series "PBR Heroes & Legends" will feature the 2018 honorees with an episode each week. Evans's airs at 8 p.m. ET on Tuesday night.
Evans attended Whitworth College on a football scholarship, becoming an athletic trainer after an injury ended his competitive career. He went on to attend the Grady Vaught School of Physical Therapy, and then the University of Texas Southwestern Medical School and became a Board Certified Orthopedic Surgeon.
It was Evans' football background that ultimately led him to the Western world.
He was the team physician for the Dallas Cowboys from 1970-1989 and served in the same role for the Dallas Mavericks from 1980-1992.
Evans began covering rodeos in the '70s for Walt Garrison, a fullback for the Cowboys who also competed as a steer wrestler at pro rodeos. It was at one of these events that he and Andrews began to envision true sports medicine for the rodeo athlete.
It became a reality in 1980 at the National Finals Rodeo: with the blessing of the PRCA and the financial backing of John Justin Jr., the Justin Sportsmedicine Team was born.

Dr. J. Pat Evans (third from right, back row) and the Justin Sportsmedicine Team. Photo: Dan Hubbell.
Though initially viewed with skepticism, Evans eventually gained the trust of the athletes he worked with.
"It caught on and they realized we could help them and do something for them," Evans told Ride TV.
Evans believed that pain means your body's talking to you. If you listen to it, and take the appropriate amount of time, you can heal it correctly. His philosophy quickly caught on with even the most hard-headed cowboys. They knew he was looking after their best interests and, ultimately, extending the lifespan of their careers.
"He should've been born 100 years earlier and have his office above the livery stable in one of those old west towns," Bill Ziegler, an athletic trainer on the Justin Sportsmedicine Team, said. "That's just the way he was and that's where he fit in."
Ironically, this old-fashioned rodeo doctor helped bring the rodeo world into the 21st century.
His desire to build relationships with the athletes was his calling card, one he passed on to Dr. Tandy Freeman, who was brought on in Evans' stead after his retirement. Freeman has been the official on-site doctor for the PBR since 1995 and is himself a Jim Shoulders Lifetime Achievement Award honoree.
Evans' work has resulted in first-class medical care at more than 150 rodeos across North America and a network of physicians and therapists treating thousands of cowboys.
"It meant a lot to me for these guys to be able to compete and continue their activities," Evans said.
Thanks to him, cowboys are treated like Cowboys.