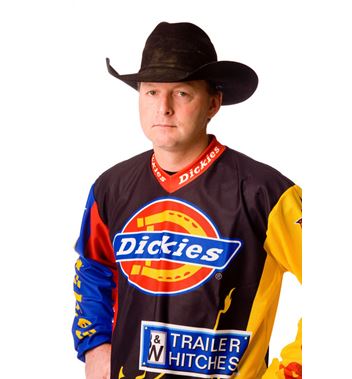 2018 Honoree:
Though his office was on the dirt in an arena full of people, Joe Baumgartner's job was to be invisible.
One of the best bullfighters in PBR history, Baumgartner's modus operandi was to stay out of the way for as long as possible. His reasoning? If a bull spots bullfighters too early, some will come after them during the ride. So he would stay off to the side, making himself small until the ride was over.
And even when the ride was over and it was time for Baumgartner to step in, he wanted to be in and out. Sneak in, get the bull out, help the rider up.
Simple. Invisible.
He's not quite invisible anymore.
Baumgartner will be honored with the Jim Shoulders Lifetime Achievement Award at the PBR's annual Heroes & Legends Celebration in Las Vegas on Nov. 6.
In the lead-up to the ceremony, RideTV's series PBR Heroes & Legends will feature each honoree with an episode each week. Baumgartner's airs at 8 p.m. ET on Tuesday night.
It's an auspicious honor for a man whose career didn't necessarily start off that way.
While many cowboys grow up on the back of an animal of some sort, Baumgartner didn't get into the rodeo world until he was a teenager. When he was 16 years old, he began working for a man who owned bucking bulls and had a rodeo.
There was a need for a bullfighter. Baumgartner figured he'd give it a shot.
He found it exciting and pretty easy – if putting one's life and limb on the line to protect cowboys from 1,800-pound bucking bulls can be considered easy – and the rest, as they say, is history.
Baumgartner retired in 2011 after 23 years of bullfighting, 18 consecutive PBR World Finals and 14 National Finals Rodeo appearances. He fought tens of thousands of bulls – he's estimated to have fought 6,000 bulls in Las Vegas alone – and won the Professional Rodeo Cowboys Association Bullfighter of the Year Award from 2004-2007. He was inducted into the ProRodeo Hall of Fame in 2013.
When he retired, Baumgartner wanted to do so quietly, a mindset befitting a man who spent his career focusing on others.
He never paid any mind to how badly he could be hurt; as long as all the bull riders could walk out of the arena and do it again the next day, he was happy.
Baumgartner managed to keep both himself and the riders out of harm's way for the majority of his career. He avoided injuries in the early part of his career because of his height and long limbs. According to Shorty Gorham, who Baumgartner mentored and worked alongside, he had a long stride, enabling him to stay back until the last possible second and get his hand on a bull in three steps, reaching out and getting his hands on a bull's head quickly.
"When he got to be an old fart he sustained a few injuries," Gorham told PBR.com in 2011, "but they were old-fart injuries, and he was able to outlast a lot of guys. If there's an Iron Man of bullfighters, I would have to say that Joe would be the man."
Baumgartner's injuries include broken ankles, broken legs, pinched nerves in his back, broken bones in his eye sockets, concussions and a torn ACL and PCL. His hands were constantly getting beat up but, as he didn't need his hands to run, he would often play through the pain.
But as long as all the cowboys could go home to their families unscathed, he was content.
When Baumgartner first started bullfighting, salaries were low enough that it was difficult to make a living doing it. Nowadays, an elite bullfighter can make a comfortable living, and Baumgartner takes pride in improving the conditions for the next generation.
For his part, Gorham stuck to Baumgartner when they were teamed together at an event in the late '90s. After a mishap in the arena – Gorham's rookie mistake caused a pileup that Baumgartner had to step in and save – Gorham spoke to the older bullfighter about his mistake, and a mentorship was born.
"I was like a stray dog," Gorham said. "He fed me once and I never would leave him, so he finally felt sorry for me and started helping me.
"He's been a hero of mine and helped me throughout my whole career."
Two decades later, Gorham is one of the premier bullfighters in the world. He joined the PBR in 2006 and has worked the PBR World Finals each of the last 13 years. He also founded American Freestyle Bullfighting, an extreme sport that pits one freestyle bullfighter against a Spanish fighting bull, intent on creating a new generation of Western sports superstars.
With his legacy carrying on in such a way, it's possible that Baumgartner's biggest contributions to bullfighting haven't even come to fruition yet.
Not bad for a man who wanted to stay invisible.